Archive for the 'Quilter's Three' Category
November 24th, 2013 - The Stash
Well, it was a good week here for the stash. Nothing added! Finally! But then nothing was used either. I did complete a comfort quilt that was all accounted for last week.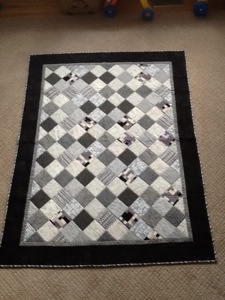 This is for a guy whose only interest is crossword puzzles. Not that we make comfort quilts to order but we do have some man-themed fabrics like golf and fishing. I had a plan to make this look like a crossword puzzle but it was evolving into something way too intricate for a comfort quilt. I ended up sticking to my original plan of graphic fabrics, no florals here. A little square spiral in the border and it's done.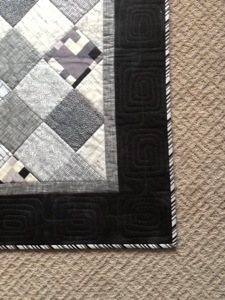 One more to finish up and then it's my sewing time for the next month. So many plans in my head, I hope I get to some of them.
My quilty friends and I  are" The Quilters Three". We've made many comfort quilts over the years. Some patterns are so easy to whip up and quilt, that we tend to over use them. Other patterns with 20 or more triangles in each block, get put by the wayside. Too much work and it takes way too long. We're behind on our quilts and it seems that every time I talk to somebody, there's another quilt that needs to be handed out. So I'll stick with the easy, tried and true patterns for our quilts.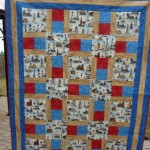 Okay, let's try this again. I had this post all ready to go and none of the photos showed up. What gives? Anyway, this is one of the 3 nautical comfort quilts that I made in the last couple of weeks. The pattern is from a Sulky book and we call it the Cottage Quilt. The book sample had cottages in it, so the name stuck.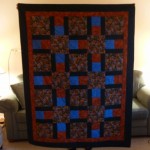 Here's the "Where's Waldo" version of the same quilt. Betty's husband thought that's what it looked like but I don't see Waldo anywhere. The fabric is actually houses that look like they are from a hilly region of Italy or Europe somewhere. No Waldo!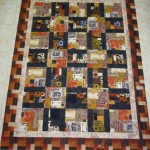 And another version. I just love this fabric. It reminds me of a paper collage from Tim Holtz. There's typewriter keys, manila tags and file folder tabs all strewn about. And the small border fabric is called Fingerpaint. I wish I had it in every colour.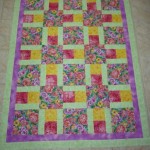 And finally, a floral version of the Cottage Quilt. The colurs used here make the pattern really visible.  I really like the versatility of this pattern. Every time I make one, it's a treat to see how it's going to turn out.
 That's the show for today. I hope you enjoyed it.
 I've been very busy this week so far. Yards of fabric used up and a few yards given away.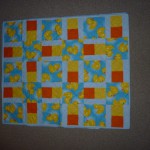 I made 2 of these quilts for my niece's friend. My niece and I cut it out last year, maybe in October and she was supposed to sew it together. Well that never happened. She asked me to do, so I did.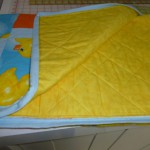 I made one with a yellow backing.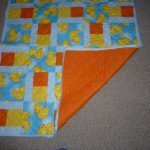 And one with orange backing. Her friend picked out the fabric and it was supposed to be one quilt. There was enough fabric to make 2  toddler sized quilts. All Becky has to do is sew done the binding. I think she can manage that.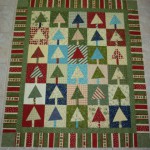 My next project was Trees For Sale. All that needs to be done is the quilting part. I have the backing sized and the binding joined and pressed, ready to be sewn on. That will be another day.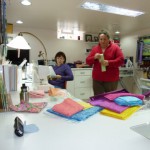 "The Quilters Three" met up this week to do some sewing. Here's Betty and Debbie getting set up to do some power sewing.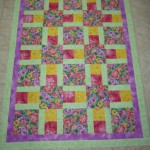 I made this quilt top up in one day. Debbie had all the big center squares cut out and all I had to do was pick out some cordinating fabric and go to town.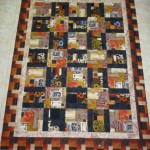 And while I was adding the borders to the floral quilt, I thought we should have  been making a quilt for my BIL who was having major surgery this week. I had some fabric in my stash for the top  but  I  couldn't find any for the backing that went with it. So I had to buy a few yards of fabric but I only got exactly what I needed. Yeah me!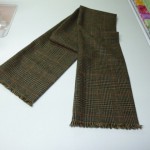 And while I was in the mood, I made 3 scarves out of some wool that was bought last year. My son thought this fabric would make a great scarf. To get the required length, I had to buy 2 yards and I figured I only needed 17″ for one. So I made 2 more out of the rest and told my son to give them to his friends.
 Now I'm off to iron the backing fabric for my BIL quilt and get that quilted for him. He had neuro-surgery yesterday and was home today but back in for pain tonight. I think they discharged him too soon.
Have a great evening.
Mary-Kay
A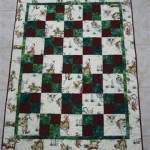 nd ready to go. I finished the comfort quilt and it's ready to be delivered. I hope the little boy enjoys it.
 I stitched in the ditch around the border and grid quilted the body of it. It was the fasted way I could get it done.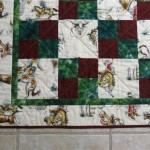 I had this  cowboy/rodeo fabric left over from a pillowcase that I made my great-niece. She was into horses for a while.
Now I wish you all good night.
Mary-Kay
The quilt top for the little boy is done. I didn't think I could get it done this fast.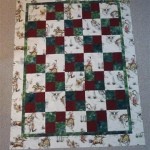 I used a cowboy/rodeo print and some red and green 4-patches. My son thought it looked to much like a Christmas quilt.  I guess it sort of does in this picture  but in real life it doesn't. Oh well, I'm sure the little guy will like it no matter what it is. I had everything cut out so putting it together went quick.
I thought I had some pre-washed backings but none matched to my liking. So while the backing is in the wash I'll make the binding and cut some batting. Have a great night!
Mary-Kay
I received an e-mail from a friend who wanted to know if  The Quilter's Three was still making quilts? She askes for a quilt for a 4 year old boy who has inoperable cancer. I e-mailed her back and said I would have a quilt by the weekend. Then she e-mails me back again and  said the little guy was on morphine for pain and wasn't sure how long he was going to last. How sad! Anyway, she didn't want me to make a quilt just in case the boy passed away before I was done. I talked to my sister and she suggested that I make one and if he doesn't get it , it would be there just in case we needed it for another boy. Would you make one or just wait?
 I thought about this all last night. Finally about 9:30 p.m. I decided I was going to make a real quick quilt for this boy. It's a 4-patch  mixed with a 6″ square that's a cowboy print.. I thought it would make a nice boys quilt and I can get it done in a couple of days.
Okay I'm off to sew and I'll post some pics as soon as it's done.
By the way. it's all from my stash, so I'll have some fabric used for next week's report.
Mary-Kay
….is trying to use up some of the fabric that I bought on the weekend.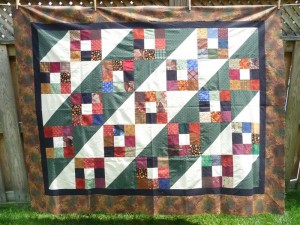 I made the border for this comfort quilt. My friends and I swapped 9-patches  for this.I think it's a pattern from a Fons and Porter "Easy Quilts" magazine.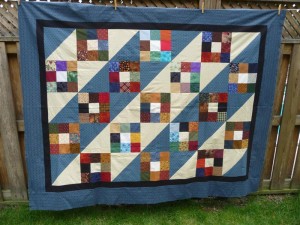 And I made this one too. I think I like the blue one better but then I always like blue.  Like my new quilt hanger? My old ones were very cranky every time I asked them to hold up a quilt so I could get a picture of it. So I went to the hardware store and bought some clothesline and 2 screw hooks. My son drilled the holes for the hooks, screwed the hooks in  and then tied a fancy knot in the line. Voila! A new quilt hanger. It doesn't complain  or hang the quilts crooked. The only thing about this is if it rains, no pictures. I think I will even use it in the winter.
Have a great week (which is almost over)
Mary-Kay
 but I hardly ever post anything lately. Only on stash-busting Sundays. I can never seem to find the time or the camera  etc…. You know how it is. Anyway I have been very busy, sewing up a storm. I made 8 baby quilts from my stash of flannels.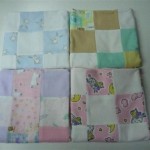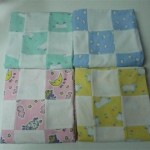 I still have some flannel in my stash but am planning on making a few more baby quilts.  All I have left to do to is quilt and bind them. I have the backing cut out but not the binding. And today I picked up the batting on sale at Fabricland.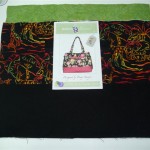 I worked on the "Bow Tucks Tote" from my stash . I don't really want to make fabric handles so I'm going to look for a different handle like leather or vinyl. I know there is nowhere here in Windsor and I have looked at Joanns with no luck either. It will have to be a internet search instead. So this project gets to sit a bit longer.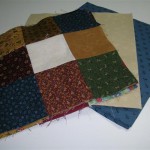 Now I'm working on some comfort quilts. The Quilters Three met yesterday and swapped our 9-patch blocks we made. These will be combined with half square triangle blocks, some borders and will make a nice size quilt. We were only supposed to make 17 9-patch blocks but I thought that we were supposed to make 35 blocks. So I have enough to make 2 quilts which is good because it's nice to have an extra comfort quilt on hand, just in case.
 I still have to quilt the "Music Quilt". I'd like to get that done before my vacation ends. And I'd like to quilt a few of the baby quilts and I am going to make the half-square traiangle blocks tonight. I would also like to get the shade hardware for my bathroom shade and for my Mom's kitchen windows. And when I make her shades that will be more stash fabric used up. I've had it for a year now. It's aging quite nicely and should be ready to be used any day now.
Well I have to get a move on it if I want to finish a few things before this week is over.
Happy Quilting!
Mary-Kay
I don't know if I showed a picture of the parrot quilt .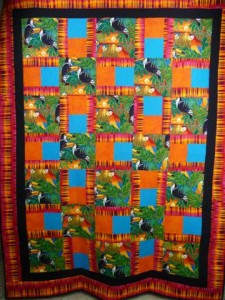 This is it. I quilted all around the parrots and the leaves. I'm very happy with the way it turned out. The person it is intended for likes anything to do with the south. Whenever I see him, he always has on a Hawaiian print shirt. I haven't heard if he likes it or even if he has it yet. I guess I had better find out. As soon as I am done this post I am going to call my sister and find out.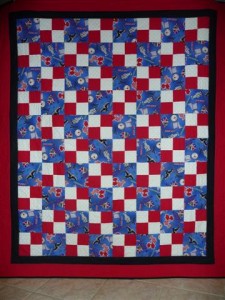 This quilt is intended for one of my brothers who is ill. He is a Montreal Canadien fan or he was when we were kids. I quilted "Montreal Canadiens are the greatest hockey team in the world" around the border and various names of players from the 60's that I thought were notable. One time when we were kids, my parents were making a reel-to-reel tape of us kids reading or saying things and that is what my brother said. I still remember it to this day. I hope he does too.
Well that's all for now.
Mary-Kay
 I did it! I've finally got the Dresden Plates completed.  It was a pain in the butt. The pattern needs to be reworked, Lots of cutting after it's sewn  and I think that it wastes material. But I like the finished result.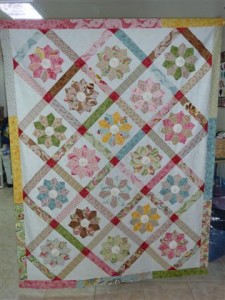 Now all that needs to be done is the quilting part. I might even make a fabric purchase for the backing. I really like the background fabric so I'd like to use that if it's still available.  Now to tally up the fabric used for my stash report tomorrow.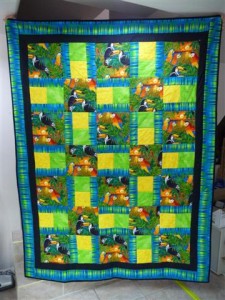 Remember the three quilts the Quilters Three made in January. Well here is one all quilted and ready to be given to comfort somebody.
That's all for now.
Talk to you later.
Mary-Kay