A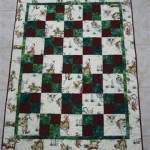 nd ready to go. I finished the comfort quilt and it's ready to be delivered. I hope the little boy enjoys it.
 I stitched in the ditch around the border and grid quilted the body of it. It was the fasted way I could get it done.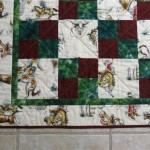 I had this  cowboy/rodeo fabric left over from a pillowcase that I made my great-niece. She was into horses for a while.
Now I wish you all good night.
Mary-Kay
One Response to "All Wrapped Up"
Allie Says:
September 30th, 2009 at 7:19 pm

Great job – boy you're quick! I got ONE row put on my quilt today. ONE.
Leave a Reply