Archive for March, 2009
Holy mackerel. I can't believe that March is almost over. What have I been doing for the last 3 months? Not much! Anyway I have started on the music quilt but haven't gotten very far. Computer issues. I got a new mouse and keyboard and the mouse still doesn't want to work. The hubby had better get busy and fix it or else I'll being one crazy person. It drives me nuts when things don't work!
Okay enough of that, here's my stash report.
Fabric added this week: 0 yds (hurray for that)
 Fabric added year-to-date: 35.67 yds
Fabric used this week: 2.2 yds
Fabric used year-to-date: 48.23 yds
Net fabric busted: 12.56 yds
I better start sewing like a mad woman to get to my goal which is to have used 100 yards net.  So on that note , I'm going to start sewing right now. Bye bye
Mary-Kay
And I mean that. Tonight my son is having a little party for his 16th birthday which was a few days ago. Sixteen young adults and we have to supervise. Loud music, laughing and  movies. I think I'll just stay in my sewing room and peek out every 10 minutes or so and make sure that there is no funny business going on. Parents have been dropping their young off and making sure that we are going to be here at all times. As if I'd leave a bunch of 16 year olds unsupervised. No way! Anyway, I have to go and order pizza.
Talk to you all tomorrow and maybe I'll still be sane.
Mary-Kay
Well, I've actually started the music quilt that I intend to give to the school to raffle  to raise money for their trip next year. The music teacher loved the first block and I showed her a picture of a quilt with the same blocks and she got the idea. She is not a quilter. I will post pictures later as I don't know where the camera is at this moment.
Speaking pf cameras, last night, hubby and I went to a couple of computer stores. I needed a new keyboard and mouse and he neede some backup thingie. I have been looking around for a new camera and the one I thought I wanted is no longer to be found. The guy at one shop said they cleared it out  last month. So what does that mean? He said that when the store does this, it usually means a whole new line is coming in. Seeing as my son is taking photography next year, I think that I will wait and see if he wants to get a bigger and better camera and I'll just use his smaller model which takes great pics as far as I'm concerned.
 Anyway I'm off to get an ultrasound on my knee to see what that swelling is on the back of it. I'll sew some more blocks and post a pic later.
Happy stitching
Mary-Kay
Once again I have added more fabric than I have used. But, it's for a specific purpose like backing and binding, not for the stash. I even visited a quilt shop with a pocket full of cash and the intention of buying and came away with 2 patterns and a datebook. The fabric added was purchased for me by my sister.  So here's my report.
Fabric Added This Week: 5 yds
Fabric Added Year-to-date: 35.67 yds
Fabric Used This Week: .8 yds
Fabric Used Year-to-date: 46.03 yds
Net Fabric Busted: 10.36 yds
 My fabric busted keeps getting smaller. I wonder what seems to be the problem. Oh it could be that I keep on buying more fabric. Shame on me!!!!!! Oh well, maybe I'll have better luck next week. I hardly sewed this week and my free-motion foot broke so that set me back a few days. Right in the middle of quilting a project. I had to wait and go over to Detroit to get a foot because there isn't a Husqvarna/Viking dealer in town.  I could have ordered one from London but then I'd have to wait to have it shipped and I'm a rather impatient sort. Oh well, I needed gas also so it was a good trip.
That's all for today.
Mary-Kay
March 17th, 2009 - Last Week
 I forgot that last week wasn't spent  just cutting up scraps and cleaning my cutting table. I also made a pair of pajama pants for my sister, Connie. She is the "Liar" of the family and doesn't even know how to sew.
That sounds awful but she is a liar. One time my other sister, Annette and I had a table at a craft show. We were given one badge that said "Crafter" for free coffee and goodies. So Connie wore the badge to go get us some coffee. Annette's friend walked up and pointed to Annette and said "crafter", pointed to me and said "crafter" then pointed to Connie and said "Liar". which is true. She definitely isn't a crafter but is the best craft supporter that I know.
Anyway back to the pjs. It only took me 3 hours to make them from start to finish. I have not heard if they fit or not. But it got more stuff out of my sewing room. Connie's material so it's not part of my stash. And I took that wall hangingto my friend's house. She loved it and that's more stuff gone. Brenda asked me if I counted the fabric she gave me to make my own wall hanging but I didn't because I used it right away. I only counted what fabric I added and then of that what I used. When it's finished I'll count the backing as stash busted.
 My hubby is always asking me if I went on my blog. He left a comment for me on my fabric buying. Like I didn't tell him I was going to buy something for borders for the wall hanging. He thinks he "busted" me. He's such a goof some times but I love him anyway.
That's all for now. Happy St Patty's Day!
Mary-Kay
 I hardly sewed at all this week. I was  busy cleaning off the cutting table. There were the remants of 4 or 5 quilts piled up there plus a few quilts to be quilted. No room to work.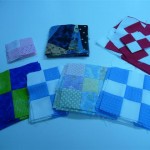 Sorry but this picture appears blue to me. But this is what I did all week. Cut up leftover pieces and make 4 and 9 patches out of them. I also cut up the leftovers from my tote bag and made some 4.5″ squares. I think I'm going to make a small zippered bag to match the large Kwik tote bag. I now have way too many strips and squares so I better  start on some kind of scrappy quilt.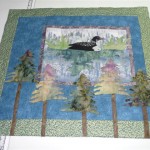 This belongs to a lady I taught quilting to at the community center a few years back. She asked me to quilt it for her. She brought it over on Friday and said that there was no hurry and gave me the leftover pieces and pattern.  I had the quilting done on Friday night and started making my own wall hanging. I just had to use my own border fabrics. So………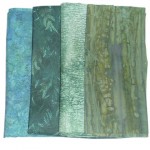 Off to the quilt store on Saturday to get some coordinating fabrics. None in my stash . And do I get just what I need?  But NO!!!!! I have to buy a meter of each and a quarter meter for some of the applique. But batiks are so nice. I also like the Fusion fabric in the one I quilted but the store I went to didn't have that colour  and I didn't feel like shopping around. Impatient.
So here's this week's stash report.  Shouldn't the net fabric used be getting bigger not smaller?
 Fabric Added This Week: 3.47 yds
Fabric Added Year To Date: 30.67 yds
 Fabric Used This Week: .66 yds
Fabric Used Year To Date: 45.23 yds
Net Fabric Busted: 14.56 yds
Hey I still used more overall than I bought. So that's okay. Right?
 Mary-Kay
I don't know if I showed a picture of the parrot quilt .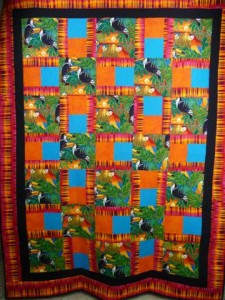 This is it. I quilted all around the parrots and the leaves. I'm very happy with the way it turned out. The person it is intended for likes anything to do with the south. Whenever I see him, he always has on a Hawaiian print shirt. I haven't heard if he likes it or even if he has it yet. I guess I had better find out. As soon as I am done this post I am going to call my sister and find out.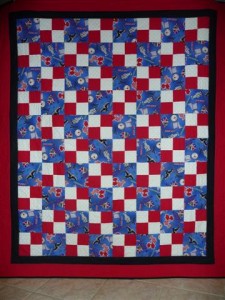 This quilt is intended for one of my brothers who is ill. He is a Montreal Canadien fan or he was when we were kids. I quilted "Montreal Canadiens are the greatest hockey team in the world" around the border and various names of players from the 60's that I thought were notable. One time when we were kids, my parents were making a reel-to-reel tape of us kids reading or saying things and that is what my brother said. I still remember it to this day. I hope he does too.
Well that's all for now.
Mary-Kay
Daylight saving time! What exactly does it mean and who cares? I still get up in the dark only now it's an hour earlier. In the summer, it'll still be dark. And it takes a week to get used to the earlier time. What is the right time anyway?
Okay enough of that. On to the stash report. More fabric added again this week. But it's for the music quilt that I have to start one day. But I have so  many projects on the go that it's hard to start something new and there is no space to work in. My sewing room is a mess! I worked all week on the surprise baby quilt and it's now on it's way to Calgary  and I sure hope they like it. Grandpa thought it was beautiful.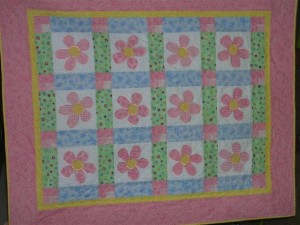 I have made this quilt 2 times and it's a quick and easy quilt to  make.  I really like the results. Both times I made it, I ran out of the pink thread that I used to satin-stitch around the flowers. You'd think I would remember after the first time. Guaranteed I'll remember the 3rd time. I bought some extra large spools of the pink thread so next time I won't run out.
Okat here are my numbers for the week.
Fabric Added this Week: 2 yds
Fabric Added Year To Date: 27.2 yds
Fabric Used This Week: 2.53 yds
Fabric Used Year To Date: 44.57 yds
Net Fabric Busted: 17.37 yds
 Now on to some sewing on this rainy Sunday. I hope it stops raining on Monday because I hate to deliver mail in the rain.
Mary-Kay
Wow, I can't believe it's March already. In a couple of weeks, spring starts all over again. Isn't that amazing. That means hopefully no more snow and cold blustery days. I can hardly wait.
Now on to the stash  report.
Fabric Added This Week: 0 yards
Fabric Added Year To Date: 25.2 yards
Fabric used This Week: 2.5 yards
Fabric Used Year To Date: 42.04 yards
Net Fabric Busted: 16.84 yards
Now if I keep this up I'll bust about 100 yards for the year which is my goal. That means I can't add too much fabric and if I do I had better use it up right away.
Well I have to get busy making my surprise great niece a baby quilt. She is perfectly healthy so far. Let's pray she stays that way and they enjoy their new bundle of love.
Happy quilting.
Mary-Kay