Archive for December, 2013
I haven't been able to get anything done. Too many things going on in this house and with my very large family. Every time I think I could spend some time sewing, there's an emergency happening or someone is coming to visit or I have to do something for my mom or babysit or……. You know how it goes. Anyway, I think I'm changing my phone number or moving to a deserted island that has electricity and running water. That's all!  So on that note, here are my numbers for this year.
Fabric used YTD: 151.23 yds
Fabric added YTD: 208.99 yds
Net fabric busted: -57.76 yds
One good thing is that these numbers are better than last year. I've been keeping a running total since I started doing stash busting reports and I can say that my sewing room  is well insulated. This coming year will be a year of finishing projects and using up some of this stash. As of December 31, 2013, I will be retired and the stash cash will be reduced considerably. I have lots of new techniques that I want to try out and an embroidery program that I can finally take the time to figure out. All fun things, I hope!
I hope everyone had a Merry Christmas and enjoys the New Year!
Once again I over-quilted a quilt. But it looks great!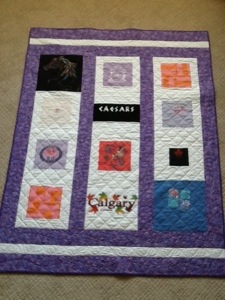 I should have stippled on the t-shirt parts but I didn't think of it at the time. And All I could think of quilting in the sashing part was feathers. I think I did a pretty good job of it. Now to deliver it and start quilting the next one. One down and 24 more to go. And best of all, only 5 more days of work! Yippee!!! I can't wait!
Just a quick post. Lucas is coming over today and it will be play time. He's so funny and quite the smart cookie. I don't remember having so much fun when my boys were little. Maybe I did too many other thing like cleaning and cooking when they were babies but when Lucas is here, all we do is play.
Fabric used this week: 7.55 yds
Fabric used YTD: 151.23 yds
Fabric added this week: 0 yds
Fabric added YTD: 208.99 yds
Net fabric busted: -57.76 yds
So, if I make 6 or 7 quilts in the next month, I'll break even. As if! Have a great week.