It's been a while since I posted, 8 weeks to be exact. A lot has been going on but not much in the sewing department.
My longarm is up and running. Finally!!!! What a big relief that was. We weren't sure if it was going to run but the service guys assured us it was worth the time and effort. And they were spot on! It hasn't been used all that much and it's a work horse, made to pump out quilts. Well, that's exactly what it's going to be doing. Between my sister and I, there are about 50 quilt tops in the queue. That's a lot of batting. I better find a great sale.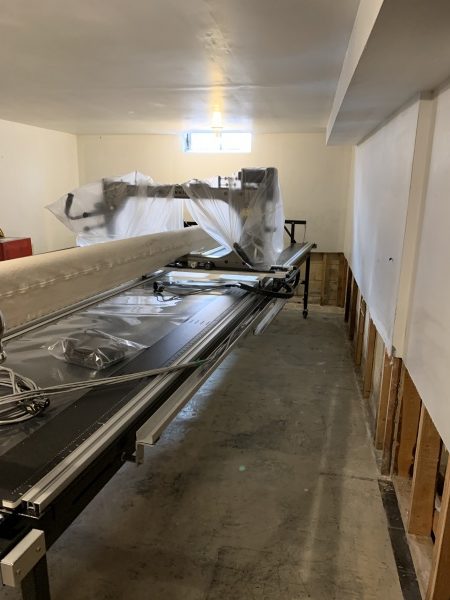 Now with this machine being in my mom's basement and it looking like a dungeon, we started renovating the whole basement. Wooden panelling in 2 rooms with no insulation was ripped out 2 years ago after a flood. The longarm room had drywall that was cut up 2′ from the floor but strapped with 2 x 2's instead of 2 x 4's, so there is no room for electrical boxes. So my husband and I ripped everything out down to the cement walls. We replaced the window in the longarm room and are currently working on the lights and plugs. Once this is all done, it will be a really nice space for quilting and for anyone who is over to come and visit in. My mom only has her upstairs for visitors and we are a rather large family.
Today will be my first try at longarming on the Gammill, now named Margaret, aka Maggie. Kind of like the Iron Lady. I have watched enough YouTube videos on the basics that I think I'm ready to give it a shot.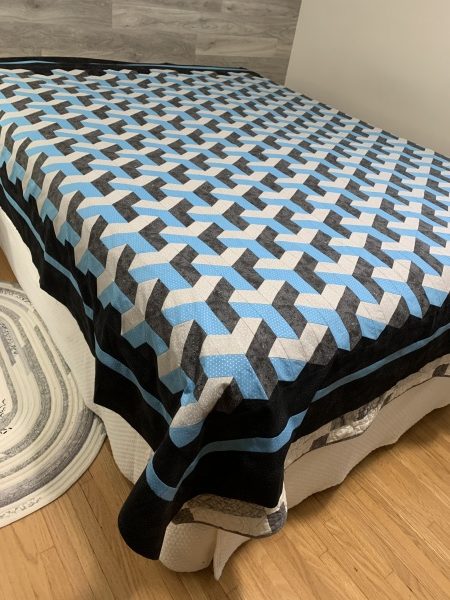 I finished this quilt top. What a pain in the butt! Lesson learned, never make a double/queen sized tumbling block quilt. Every seam/point has to be matched perfectly. That was a lot of pinning. And the one time I decide to measure the top before adding the borders, I get one side that's all wafflely. I will have to rework that side and get it to lay flat before I quilt it. This is a customer quilt so it better be perfect!
In the stash department, it's not moving that much. I was kind of waiting to make backs in case this machine was a dud. Now I will be using up so much fabric that maybe I will end up in the good! Here are my numbers.
Fabric used since the last report: 17.51 yds
Fabric used YTD: 156.96 yds
Fabric added since the last report: 12.3 yds
Fabric added YTD: 183.06 yds
Net fabric busted: -26.1 yds
Now how many backs is that? If I used 3.77 yds for a lap quilt, that would be about 7 quilt backings. Some are bigger, some are only baby quilts. Now to start cutting.
And here's the 15 Minutes to Stitch review.
Since I last posted, I have managed to sew almost every day except this last week. I only sewed for 5 hours and that was yesterday. I just had to sew something. The rest of this week was renovations. I would have felt guilty if I sewed while my hubby did renos at my mothers house. The other weeks, I sewed most days. I lost a few days with travel time to a retreat in northern Michigan. Anyway, I stitched an average of 18.7 hours per week. Not bad when you consider I only stitched for 5 hours this last week. Retreating makes for good numbers.
I'm linking up to Kate at Life in Pieces for the 15 Minutes to Stitch challenge and with Donna at quiltpaintcreate for the Stash Report. I hope everyone has a great week!
4 Responses to "Long Time, No Post"
Leave a Reply