Archive for September, 2009
A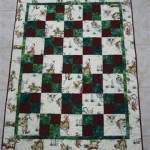 nd ready to go. I finished the comfort quilt and it's ready to be delivered. I hope the little boy enjoys it.
 I stitched in the ditch around the border and grid quilted the body of it. It was the fasted way I could get it done.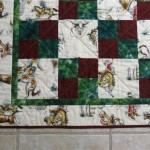 I had this  cowboy/rodeo fabric left over from a pillowcase that I made my great-niece. She was into horses for a while.
Now I wish you all good night.
Mary-Kay
The quilt top for the little boy is done. I didn't think I could get it done this fast.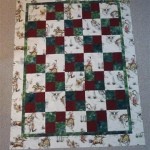 I used a cowboy/rodeo print and some red and green 4-patches. My son thought it looked to much like a Christmas quilt.  I guess it sort of does in this picture  but in real life it doesn't. Oh well, I'm sure the little guy will like it no matter what it is. I had everything cut out so putting it together went quick.
I thought I had some pre-washed backings but none matched to my liking. So while the backing is in the wash I'll make the binding and cut some batting. Have a great night!
Mary-Kay
I received an e-mail from a friend who wanted to know if  The Quilter's Three was still making quilts? She askes for a quilt for a 4 year old boy who has inoperable cancer. I e-mailed her back and said I would have a quilt by the weekend. Then she e-mails me back again and  said the little guy was on morphine for pain and wasn't sure how long he was going to last. How sad! Anyway, she didn't want me to make a quilt just in case the boy passed away before I was done. I talked to my sister and she suggested that I make one and if he doesn't get it , it would be there just in case we needed it for another boy. Would you make one or just wait?
 I thought about this all last night. Finally about 9:30 p.m. I decided I was going to make a real quick quilt for this boy. It's a 4-patch  mixed with a 6″ square that's a cowboy print.. I thought it would make a nice boys quilt and I can get it done in a couple of days.
Okay I'm off to sew and I'll post some pics as soon as it's done.
By the way. it's all from my stash, so I'll have some fabric used for next week's report.
Mary-Kay
Well, you all know that I went to the sewing show yesterday but I didn't buy any fabric there. No, I had my sister bring me the fabric I needed to finish something I started last week. I only needed 3.25″ .She said that there was maybe 4 yards left on the bolt so I said I would take it all. All ended up being 8.5 yards.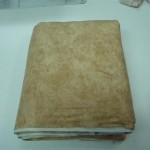 But it's a great colour for all those fall quilts I'm going to be making….next year! Not my usual colour of fabric but I think it will be  a great addition to my stash.
Fabric added this week: 8.5 yds
Fabric added YTD: 224.69 yds
Fabric used this week: 3.25 inches or 0.09 yds
Fabric used YTD: 161.29 yds
Net fabric busted: -63.4 yds
At least the sewing room is all tidy and I don't have to leave the recent addition on the counter. I'll just place it in the appropriate spot.
Happy quilting.
Mary-Kay
 P.S. I forgot a few things that I got at the show. A new ironing board cover, mine looks like crap and a large roll of Golden Threads paper.
September 26th, 2009 - My Stash
Judy wants to see some pictures of other quilters stashes. So here goes.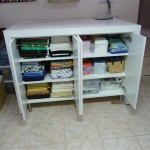 I condensed a lot of piles that were on the counter and reorganized my shelves. I managed to fit all the fqs under the cutting table and the whites, browns and blacks plus some fabric that is from specific lines that I want to keep together.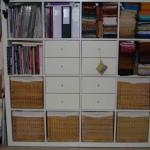 I also have this Expedit shelf from Ikea with the Bana baskets that are chock full of fabric. Every shelf but the three that have books on them is full. I can't squeeze another piece in there. When I bought the cutting table I reorganized the baskest and drawers by colour. I can't believe how much fabric of one colour that I have-one basket is just pink. On top there are 4 small baskets of scraps. I have to do another scrappy quilt or 2 or 3 or 4…..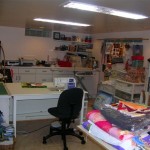 This is looking into my sewing room. I think it looks really messy but I've cleaned it up and hopefully it stays that way. I have lots of stuff hanging  and piled up on the counter. It's hard to be creative when you don't have enough space to lay things out.
What's your stash look like?
Mary-Kay
 From the sewing show that is. I didn't buy all that much, just some Texture Magic, thread and a crystal applicator with some hot-fix crystals. But my sister met up with me and brought me some fabric I needed to finish up a quilt I had started during the week. She drove down from Charlevoix, MI with her hubby and they are going back right after so they can play cards with their friends tonight. My BIL  must love driving and he also has a brand new Nitro to make  the driving more enjoyable.
And I met up with a few other people.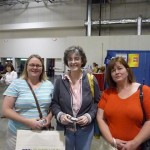 Pam on the right from Mama Spark's World and Allie in the middle from Allie Oops Sweet Happy Life. I had lots of fun and I enjoyed meeting them. I see on Allie's blog that her hubby thinks we are all stalkers. Ha,ha!  Sometimes I think that but never about quilting.
Have a great evening.
Mary-Kay
… to the American Sewing Expo in Novi, MI. I hope I don't blow the budget there or increase the stash. I don't usually buy fabric, just gadgets and look at all the cool stuff. My sister is planning to meet me there and a blogger friend Mama Spark whose real name I don't know. But that's okay because I didn't know what IRL meant either. I'm not all that techno savy and I don't know the lingo. 
 Anyway I've was busy making the X-block quilt and I ran out of  fabric. I need 3.25 inches of the background fabric to make 4 more squares. My sister is going to bring me some. Isn't she great!  And with all the leftover pieces I thought of making a few journal covers. They seem to be all the rage right now. I just have to figure out how to make one. It shouldn't be all that hard. I let you know.
 Tonight is a non-sewing night. We have a fund raiser to attend and I don't think I'll be sewing after that. Then it's early to bed, hopefully, and early to rise so I can go to the Sewing Expo. It only takes about 45 minutes to get there but sometimes the border traffic is backed up for whatever reasons. I 'll catch up on sleep on Sunday or spend all day ogling all the goodies I bought. I'll try to remember to take some pictures and post them on Sunday.
See you then.
Mary-Kay
 Well, it's been another week of no fabric buying! I actually finished a few projects that have been sitting around here. I even got out  a project that was all cut out and completed the top.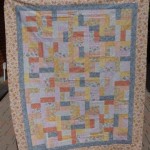 This is Fun With Fats by Brenda Sutherland, an Ontario pattern designer. I've had this pattern for quite a few years and I've even made it once already.It takes 12 fat quartersto make the center part. This is a very easy pattern to put together.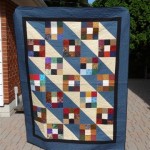 I've shown you this quilt before but that was just the top. This is the completed quilt, label and all. This is one of the comfort quilts that my 2 friends and I make.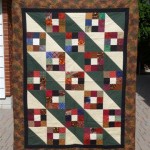 And here's another colour variation . At first I liked the blue one better but once I finished both of them, I like the brown/green one better.  And I'm not even a brown kind of person. Blue is one of my favourite colours.
Now to the good stuff.
Fabric added this week: O yds
Fabric added YTD: 216.19 yds
Fabric used this week: 4.58 yds
Fabric used YTD: 161.2 yds
Net fabric busted: -54.99 yds
Slowly but surely that negative number is getting smaller. There's still hope for me to reach my goal or at least getting somewhere in the positves. Have a great week!
Mary-Kay
Another week goes by and nothing added to this stash. Hurray for me!!! And I spent all of today in a quilt store. All I bought was threads and some Texture Magic. I've been waiting to get some of that stuff and can't wait to play with it more. I took a class called Thread Talk which was all about Superior Threads and their products. I learned how to use the various threads and where to put them (some go only in the bobbin) and I got to play with a piece of Texture Magic which is a really cool product. I have lots of ideas for it and I wonder if I should have bought more of it. Oh well – at least someone in Windsor carries it now.
Fabric added this week: 0 yds
Fabric added YTD: 216.19 yds
Fabric used this week: 1.73 yds
Fabric used YTD: 156.62 yds
Net fabric busted: -59.57 yds
Have a great week and maybe if I get off my butt I'll post some pics of the Texture Magic.
Mary-Kay
Well, Deb and I finally dyed some fabric. Not yards of it like some of the dyers do but a little bit of each colour.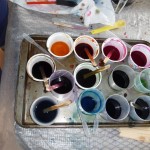 Here's our assortment of dyes. I think we had 13 different colours. It was loads of fun and yes I would do it again. Once you get started it's not all that hard.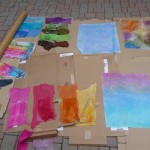 I did some cheesecloth, some dryer sheets and  dye catchers in every colour. There's lots  of embellishments  for future projects. I also dyed some dyers cloth but mostly in varigated colours.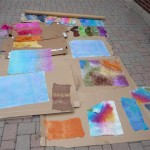 A nice assortment of colours. I really like the blues we dyed but that's one of my favourite colours.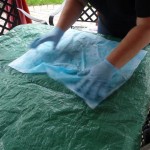 Here's me, pretending I know what I'm doing. Not!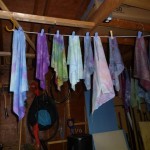 The drying shed. It started to rain while we had all the fabric laid out on cardboard on the patio. My son quickly rigged up 2 lines in the garage for us to use.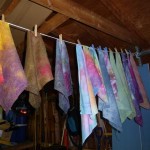 More colours. We weren't trying to make the fabric all one colour. It was truly an experiment for both of us. As we dyed, we would come up with more ideas and that produced more colour variations.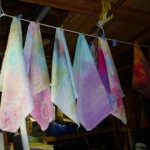 I think we  lean toward the blues and purple colour variations. And a little bit of green thrown in.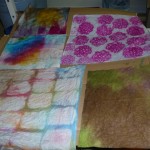 Deb experimented using glue as a resist (bottom left) and a coaster as a stamp(top right). I like the way they turned out. The glue resist one looks like mason jars. Possibilities!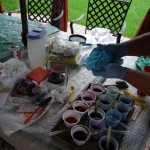 It was fun just playing around and mushing in the colours. We had little spray bottles and eye droppers that I picked up from Sally's Beauty Supply. The spray bottles only held about 6 pumps of dye. We were always filling them up. And the eye droppers worked great to get the dye exactly where you wanted it. Most of the time!
 My youngest son dyed a landscape for Deb. He made like he was oil painting. It turned out really nice but I forgot to get a picture of it. Once you add some layers of bits of fabric on top and a little thread play it's going to make a really nice wallhanging. Next time we mix up some colour I'm going to get him to do one for me too.
That's it for Deb's and M-K's dyeing adventure #1. Happy stitching!
Mary-Kay