Archive for September, 2018
There is not much going on over here in the stitching department. Too much drama in this house for me to stitch. My son's family is splitting up and there are 2 little munchkins in the mix. My son cannot drive due to medical reasons and all I seem to do is drive back and forth across town. Yup, my car is getting lots of miles put on it which doesn't matter much because it's warranty has expired.
And that's another story. I bought a 7 year warranty in December 2011. So you would think it expires in December 2018. But that's not the date the manufacturer uses. They use the date the car is put in service which was August 2011. So shame on my for not noticing it sooner. The other issue was that it was in for service in April and they said the noise was from the winter tires. We changed the tires and it still had the same issue, wheel bearing, but we were so busy and couldn't get the car in until last week. Well, seeing as it's not under warranty anymore and even though it was in for the same thing, it would cost us over 1000- to get it fixed. Boy, was I mad! Still am. Needless to say #1-I am never buying a car from Windsor MINI, here in Windsor ON and #2- I am never buying a MINI again. Too many issues with getting it fixed. When it comes time to buy another car, it's going to be a car that any mechanic can fix.
So in the sewing department, I did not buy any more fabric. Woo hoo!! I did manage to use a few yards and I finished a stitchery that I have been working on for a few years now.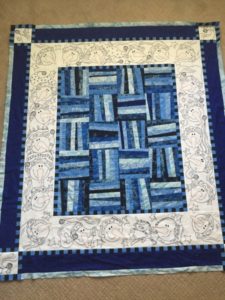 Not a very good picture but Cool Guys is done! Ready to be quilted.  It seemed to take forever to stitch all those snowmen faces and hats.  The noses where supposed to be appliqued pieces of material, I think, but I chose to outline stitch them in orange perle cotton just like the snowmen. The coolest part about this quilt is the only fabric from my  actual stash is the white and the dark blue border. The center blocks , the light blue outer border and the small blue and dark blue checked border are all from a bag of scraps I bought from Island Batiks. It's the fabric that's left over from when they make 10″ squares. I can't believe how much fabric was in there. I didn't count it in my stash because I wouldn't know how.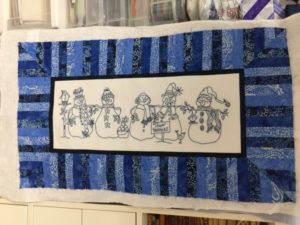 And I used some of it for a  border of another stitchery project too. Plus there's more than enough to make a quilt or 2. Best deal on fabric ever!
Now for some numbers.
Fabric used this week: 3.78 yds
Fabric used YTD: 139.3 yds
Fabric added this week: 0 yds
Fabric added YTD: 197.25 yds
Net fabric busted: -57.95 yds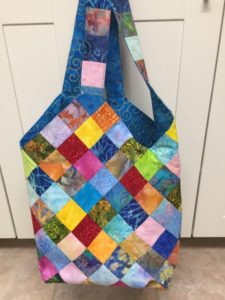 I made this Mondo Bag this week. I have it listed on my Etsy site, TheQuiltingJunkie. I have a few of the Quilt Smart panels to make a few more. I was thinking of making a Christmas one and maybe a scrappy one, just to use up some scraps.
In the 15 Minutes to Stitch department, I seem to sew in spurts rather than every day. I managed to stitch on average 2.3 hours per day. Some days I don't go in my sewing room and other days I sew for hours. On the days I don't sew, I feel all antsy, like I should be in there using some of that fabric. I am a little crabby on those non-sewing days. What I would really like is to sew every single day, all day with no interuptions.  Right and I'm the tooth fairy too!
I'm linking up with Donna at quiltpaintcreate for the Stash Report and with Kate at Life in Pieces for the 15 Minutes to Sew.
I hope everyone has a great week!
That's right. There's no stash busting going on here. It seems that there is a lot of stash enhancing going on. Since my last post, I have accumulated 57 plus yards of fabric. Most of it was on sale! Woo hoo! But now I need to sew like a crazy person to meet my goal of busting 200 yards of fabric. I will start on that next week.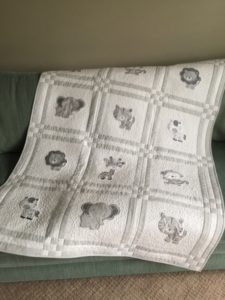 This is the second time I have made this quilt. It was a great machine embroidered applique design I bought off Etsy. Very well designed and digitized.   Next time, I'm making it in colour.
Here are my numbers.
Fabric used this week: 8.04 yds
Fabric used YTD: 135.92 yds
Fabric added this week: 57.94 yds
Fabric added YTD: 197.25 yds
Net fabric busted: -69.37 yds
There are 16 Sundays left this year and I need to use 269.37 yards of fabric. That amounts to 16.83 yards of fabric used each week. Now what can I make in a week, 16 times to reach my total? On my mark, get set, go!
Now on the 15 Minutes to Sew front, I think I've got that covered. Too bad I didn't use much of my fabric this week. I had to go to a family baby shower and my mother-in-law wanted me to make a few things. She bought the fabric and we sewed for 38.5 hours, making up little baby things.
We made 5 self-binding receiving blankets, 3 bibs, 3 burp cloths and 4 nighties (2 newborn and 2 – 6month sized) I also embroidered 4 onsies.  I think I spent more time figuring out how to hoop and embroider the onsies than making all that other stuff.  And let me say that not all the designs you can buy off Etsy are created equal. But I enjoyed making the stuff just not the clothing part. Give me quilts and blankets or just let me embroider the clothes but don't ask me to make those tiny little clothes. Much too fiddly for me.
No pictures of the embroidered onsies. I forgot and it was so last minute that I had to stuff them in the basket. Plus I had to hand sew on the label on the quilt I made. Can't forget that.
Anyway since I last posted, I have managed to sew for 12 hours week one , 20 hours week two  (and I babysit the munchkins for 4 days) and last week, 38.5 hours. I think I even managed to get 15 minutes in every day. Yes, life is good!
I am linking up with Donna at quiltpaintcreate for the stash report and with Kate at LifeinPieces for 15 Minutes to Sew.
Have a great week!