Archive for February, 2010
Unlike most people in Ontario, I had to work today. No rest for us postal workers. No wonder we're nuts. Anyway I don't have the wall space for a design wall so I'll have to use my floor.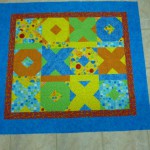 Here's a little quilt that I finished last week. It's called X's and O's by Valerie Krueger of Hearts to Holly quilt shop. I like the bright colours and I like the fact that there are no points to match. Nice and easy to put together. And nice and bright too! I hope the  recipient of this quilt loves it. I know I would. It just needs to be quilted and bound.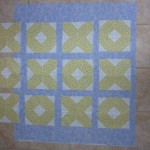 I showed the above quilt to my SIL and she wasn't thrilled with the colours, a bit too busy for her tastes. Then I said I would make one in 2 colours and she thought that she would like that much better. I need to finish this one by the end of the month. Binding and all.
Have a great day.
Mary-Kay
 I can't believe I have already used almost 50 yards of fabric and it's only week 7. I checked last year's efforts and I have doubled those totals for this week. But in week 8  I must of had a break down because I apparently purchased 20 yards of stash. Hmm… I hope I stay out of the shops this upcoming week. It gives me great satisfaction to use what I already have when making a quilt. I feel like I've saved hundreds of dollars and I should be rewarded. No, skip that part. I'm doing myself a huge favour by using my stash. I'm saving all the money that I would have spent on fabric for a long-arm machine. And hopefully I can do this all year. Just stay out of the stores or if I have to go there don't bring extra money or credit cards.
Fabric added this week: 0 yds again
Fabric added YTD: 5.25 yds
Fabric used this week: 1.78 yds
Fabric used YTD: 55.2yds
Net fabric busted: 49.95 yds
 So I have actually used 55.2 yards but there's those few purchases that take me under the 50 yard total. I will resolve to exceed that this week. Yeah!
  I hope the weather is better for everyone including me and all this snow melts.
 Oh and before I forget, Happy Valentine's Day to everyone out there. Have a great week!
Mary-Kay
How many baby quilts can you make in a month? Just last Saturday, my hubby thought that I should make a few baby quilts to have on hand for those just in case scenarios. I think he jinxed me. I now need 3 baby quilts before March 14th. Can I do it?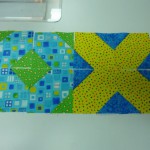 This is 2 samples of the blocks for baby quilt #1. The pattern is X's and O's  by Valerie Krueger from Hearts to Holly in Charlevoix, MI. She is the owner's daughter and she has a few patterns exclusive to Hearts to Holly. You should check out her patterns, they use a Holly Bunch which is a 12 pack of fat quarters.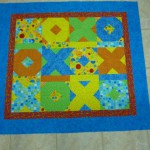 This is the finished top. I really like how easy the pattern went together. A few fat quarters and away I went.  No matching at all which makes it very easy for someone like me. Nothing to reverse sew because the points don't match. The pattern originally required a Holly Bunch but I didn't want to make a baby quilt that big, so Ionly used 6 fqs and it's just the right size.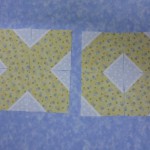 This is going to be quilt #2. I'm going to use  the same fabric for the blocks and have the blue as sashing around each block. I have all the fabric cut for the blocks and I'm ready to start sewing. Maybe I can get it done this weekend. And it's all from my stash. And quilt #3 will be  in all  pinks and it's all from my stash too!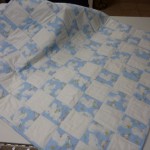 This is a little quickie baby quilt for my neighbour to give as a shower gift. I love using flannel, it's so soft and cozy. And it's really simple to make. I used 4″ squares in 2 colours and alternated them and voila! a quilt is born. I stitched along the sewing lines with that chicken-scratch stitch in white thread. Or is it a feather-stitch? Who knows?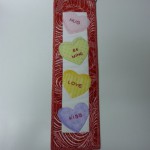 And last but not least. This is the hanging of the month from Patchabilities. The local quilt shop Quilting Confections has this set up as a block of the month. Each month is a different theme with a different hanger. great for gift giving or some last minute gift.
 This is also a quilt-a-thon weekend over at Patchwork Times with Judy being the hostess. Check it out and see what everyone is doing. Have a great weekend and happy sewing.
Mary-Kay
I started my challenge quilt. And you'll all be impressed to know that it's all from my stash.  And it's been there for a while, years in fact. I don't know why I never started it. I really like the batiks so maybe that's why. Who knows?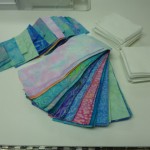 This is all the fabric cut up and ready to be sewn together. I'm going to make this a twin size.  One of my friends left me a comment that I should make it a queen but I don't have enough of the backing or any like batiks. So twin it will stay.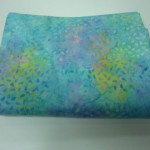 This is going to be the backing fabric. I just love this stuff. I wish I had more of it.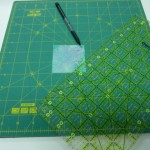 I started marking the sewing line on the corner squares. I have 240 squares to mark but I'm not doing them all at the same time. Maybe 40 at a time.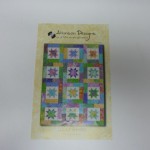 And this is going to be the finished product. I can't wait to get a few squares done to see how it all looks together.
  But first, I must finish a few baby quilts that I've been commisioned to make. 
Mary-Kay
February 7th, 2010 - It's Time
….to start getting rid of some of the crap we've accumulated over the years. My laundry room has so much stuff in piles on the floor that there's barely room to walk. I didn't even finish putting the Christmas decorations away until today. We even took down the outside lights. Two things accomplished today. But my kids think I'm really crabby because I can't stand the mess anymore. I think it's time they started putting all their stuff away or else it's going in the trash. I wonder how long I can keep getting them to believe me. Hmmm…..
Actually, all this stash busting effort has got me thinking of other areas of my house. Like my kitchen. How long do I keep a coffee maker on the counter before we decide we don't need it? We usually drink instant coffee and I can't remember the last time we made a pot of coffee, like maybe a year ago or more. And if I get rid of that and the blender, maybe I can get that stand mixer I secretly want but don't need. Or maybe get rid of the 4-slice toaster and get a 2-slice one. Smaller is better. We never make more than 2 slices at a time unless we are doing a brunch and that hasn't happened some time.
Okay enough grousing and time to get back to work. Actually I'm going to do a little bit of sewing. I have to make 3 baby quilts in the next month. I just made that flannel  one last week and my DH thought that I should have a few on hand because there always seems to be the need for them.  Well yesterday, my SIL called and asked me to make a boy one for a friend who is due in mid March. Then I got invited to a baby shower in mid March. I also have one to make for a frind of my sister's. I have started that one and am going to make all 3 the same. I'll post pictures when I have something to show.
That's all for now. For all you superbowl shoppers, I hope you didn't get too much stash fabric.
Mary-Kay
Here goes the news.
Fabric added this week: .75 yds (3 BOM's)
Fabric added YTD: 5.25 yds
Fabric used this week: 6.92 yds
Fabric used YTD: 53.42  yds
Net fabric busted: 48.17 yds
 I have sewn just a little bit this week. I cut out a lot of fabric and now I'd better get busy and sew it up. Have a great week.
Mary-Kay