How many baby quilts can you make in a month? Just last Saturday, my hubby thought that I should make a few baby quilts to have on hand for those just in case scenarios. I think he jinxed me. I now need 3 baby quilts before March 14th. Can I do it?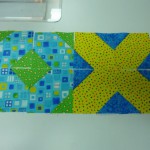 This is 2 samples of the blocks for baby quilt #1. The pattern is X's and O's  by Valerie Krueger from Hearts to Holly in Charlevoix, MI. She is the owner's daughter and she has a few patterns exclusive to Hearts to Holly. You should check out her patterns, they use a Holly Bunch which is a 12 pack of fat quarters.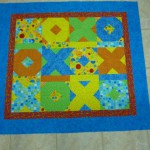 This is the finished top. I really like how easy the pattern went together. A few fat quarters and away I went.  No matching at all which makes it very easy for someone like me. Nothing to reverse sew because the points don't match. The pattern originally required a Holly Bunch but I didn't want to make a baby quilt that big, so Ionly used 6 fqs and it's just the right size.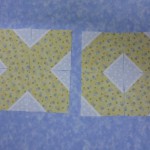 This is going to be quilt #2. I'm going to use  the same fabric for the blocks and have the blue as sashing around each block. I have all the fabric cut for the blocks and I'm ready to start sewing. Maybe I can get it done this weekend. And it's all from my stash. And quilt #3 will be  in all  pinks and it's all from my stash too!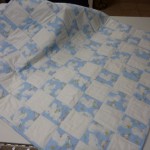 This is a little quickie baby quilt for my neighbour to give as a shower gift. I love using flannel, it's so soft and cozy. And it's really simple to make. I used 4″ squares in 2 colours and alternated them and voila! a quilt is born. I stitched along the sewing lines with that chicken-scratch stitch in white thread. Or is it a feather-stitch? Who knows?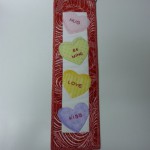 And last but not least. This is the hanging of the month from Patchabilities. The local quilt shop Quilting Confections has this set up as a block of the month. Each month is a different theme with a different hanger. great for gift giving or some last minute gift.
 This is also a quilt-a-thon weekend over at Patchwork Times with Judy being the hostess. Check it out and see what everyone is doing. Have a great weekend and happy sewing.
Mary-Kay
Leave a Reply