Happy New Year to all! I hope everyone had a great holiday. I certainly did. My favourite part was how much time I got to spend quilting. Oh and my grandkids and family! My family celebrates Christmas usually on the Saturday after Christmas. So my sister and family came down on the 27th and she ended up staying until Jan 5. After all the family get togethers were over, we started quilting.
My sister brought down 8 tops to be quilted and we got them all done! No pictures but we learned just what this machine can do. The first quilt we loaded was a repair quilt. I thought for the first quilt my sister is going to do, this had to be the worst one. But we made it look like a million bucks. My nephew's girlfriend was really happy with how it turned out. She thought it was just getting a patch on the back. I took the back completely off, removed all the batting and got rid of all the tied pieces. We used a sheet for the backing with new batting and quilted the heck out of it. New binding and it was done in 2 days. Another quilt top saved!
What I figured out was how to make the Edge2Egde design bigger, less or more rows and how to draw a trim box around applique parts. I knew how to draw trim out the end part but not in the middle of a block. We used many different backings beside quilting fabric. Flannel, polar fleece and Minky. I love Minky! I was always nervous to use it, thinking it would stretch. Now it's no problem. And since I love it so much, I bought some similar fabric at Joann's and quilted 5 tops with it.
Here are few of my quilts I did in the last week.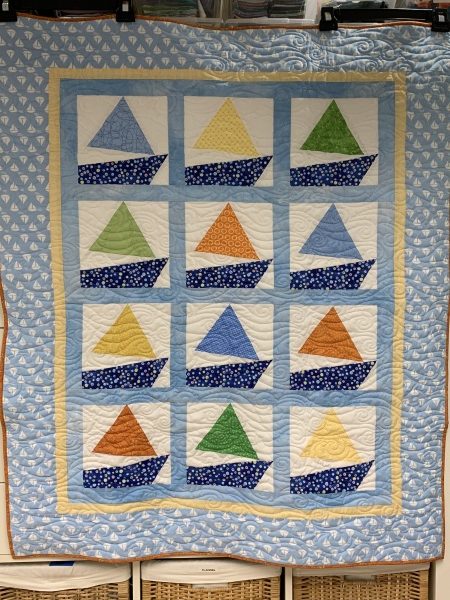 I've had this quilt kit for a few years and never got around to making it. Finally made it up last year and quilted it this year. Another one completely done.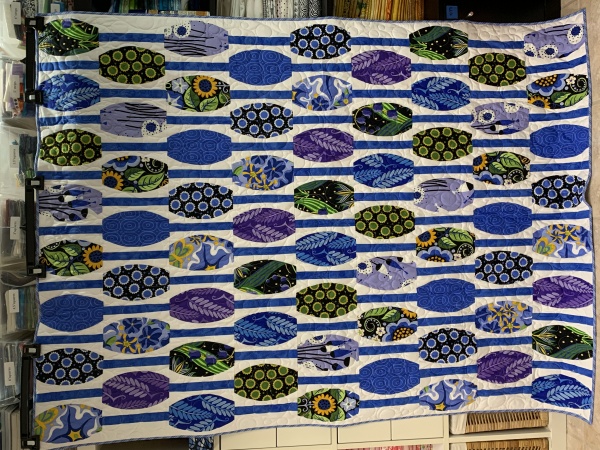 This is my third Urban Abacus and I backed with that soft cuddly fabric. I think I have enough of the Jane Sassman fabric left to make another one. I don't really care for her fabrics, I find the colours kind of muddy but I really love these ones.The colours are so vibrant!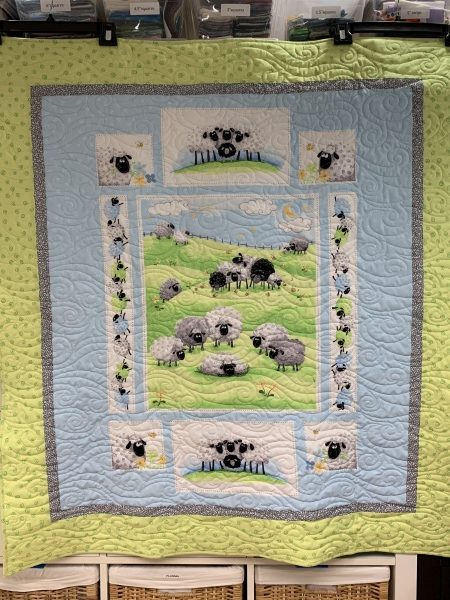 I made 3 of the Sheep Quilts from panels I got at a store closing sale. I loaded all three on the longarm, side by side by side and then quilted them right across using the Windswept E2E. Ever since I got this machine and 14′ table, I've wanted to try loading a couple of quilts at the same time. And because the machine throat is a huge 36″, it can do 2 passes before you have to roll the quilt. I think it's pretty cool! I think I love my Gammill!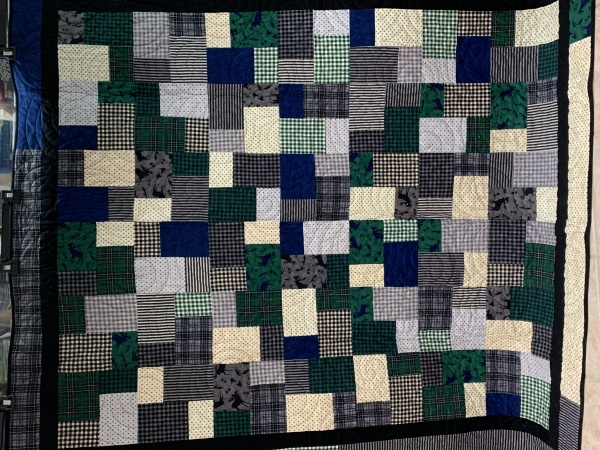 This manly flannel comfort quilt was made with donation fabric from Northcott. I have 3 more tops cut out and ready to sew up. My quilting group, The Quilter's Three, have been on a break of sorts as we didn't have a longarm available for a couple of months. Now with 2 of us having longarms, we can pump out the quilts. I have 9 comfort quilt tops that need quilting. besides the other 25 or so of my own that I have hanging around.
Now for the Stash numbers. Let's say, I am glad it's a new year. Clean slate and all that. Right? Last year I ended up being 12.53 yards in the hole. Not where I would like to be but I'm okay with that. Overall since I started keeping track in 2009, I'm in the hole 242.5 yards. That's about 24 yards a year that I've added to my stash. I must say that I do have an impressive stash. But I need to start using it up. So I went and bought some more fabric. Thirty yards of it! Can you believe that? I have used 32.29 yards this week. Backings use lots of fabric. I purchased 3 layer cakes of Primtive Gatherings flannel for a queen sized quilt for my brother. He wants a manly quilt, no flowers or girly stuff. Okay, I can do that. I will get working on that on the days it's too cold to go over to my mom's to use the longarm.
Fabric used this week: 32.29 yds
Fabric used YTD: 32.29 yds
Fabric added this week: 30 yds
Fabric added YTD: 30 yds
Net fabric busted: 2.29 yds
In the 15 Minutes to Stitch department, I have managed to stitch every day this week but last Sunday for a total of 23.5 hours. I seem to average around the same amount of time every week.
I'm linking up with Kate at Life In Pieces for the 15 Minutes to Stitch and with Donna at quiltpaintcreate for the Stash Report. I hope you have a great week!
4 Responses to "It's A New Year"
Leave a Reply