Archive for November, 2010
I actually have time to do a post today and I have something to show too! I need a quick gift for my husband's aunt who's taking us to see Celtic Thunder and  to dinner on Thursday. So I gave it a quick thought and remembered that I have all these pieces cut out for some table toppers.
 I had them all together in a box with the pattern . It's a free pattern from Patchalot Patterns and really easy to make. And it looks great when it's done.  Marci shows a few different ways to finish it off and has samples that others have made on her site. Lots of different ideas. She has a few other free patterns too. Check her site out.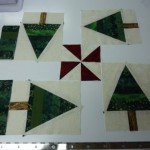 Here's the trees part all set up. All I have to do is make some red strips for along side of the trees and a green piano key border. Then layer, quilt and bind. Think I can get it done before Thursday. "I think I can, I think I can"  famous last words, I hope not.
Well I better get busy because I'm  making 3 tops at the same time.
I've actually been sewing this past week but haven't used all that much fabric. I joined a "12 Days of Christmas" exchange with some artsy crafters. I needed to make something flat and fairly small that could go through the mail. So I decided to make some Inchie quilts. I got the instructions from Nadine Ruggles book "Inchie Quilts" and they are 1 inch size. You don't use much fabric even when you make 12 of them.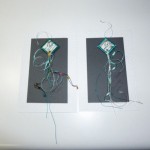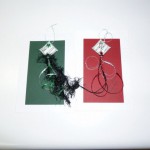 Here are a few of the ones I made. I used the same fabric but different thread for the satin stitching around each one. I added rivets, beads and some fancy threads to hang down. I guess they could be used as an ornament or a bookmark. I mounted them on cards for ease of mailing. I think they look pretty cool but that's because I made them.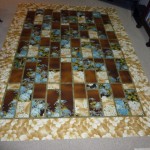 I also finished up "Asian Grace", a pattern from Joy Hansen at Joy Quilts, a local quilt shop. I'm not really keen on oriental fabrics but I liked the way this looked. Almost all of the body of this quilt is cut from one fabric. I liked it so much that I bought it in another colour too and no, I haven't made it yet. Soon.
 Now for some numbers. Apparently last week, I made a mistake in my calculations. I've corrected it on the previous post, so this week's  numbers are correct, I hope. Where's my dad when you need him?  He would have spotted that error immediatley. Oh well, it was an error in my favour so now all is good.
Fabric used this week: 3.4 yds
Fabric used YTD: 180.651 yds
Fabric added this week: 0 yds
Fabric added YTD: 181.985 yds
Net fabric busted: -1.334 yds
 So, I only have 1.334 yards to use to get out of the negatives and then it's all positvely going to be good. Right? I certainly hope so. I'd like to be able to use up a bit of fabric in the coming weeks and I have no plans to buy any either. That's my story and I'm sticking to it! Have a great week and keep on sewing.
Mary-Kay
 I should really get my butt in gear and do a little sewing. I have the perfect set-up but just can't get into the swing of it. I'm not a total lost cause as I do a lot of stitching on my Over The River project. Maybe this week I'll get some sewing and stash busting done. I enhanced the stash a little bit when the lqs had their anniversary sale. Everything I bought has a purpose not just because I liked it. No pics though because I'm lazy. It's not fabric that will make you go "Oh I like that" or anything like that. Just some filler kind of stuff, if you get my drift. I guess I don't really like it and I only bought it to go with some fabric that I have to make some "man" quilts. Now on to my report.
Fabric used these past weeks: 6.596 yds
Fabric used YTD: 177.251 yds
Fabric added these past weeks: 16.125 yds
Fabric added YTD: 181.985 yds
Net fabric busted: -4.734 yds
 So once again I'm in the negatives. Oh well, there's always next week. See you then.
Mary-Kay
 doing a little sewing. But I still haven't done any quilting on my new machine. I have a few projects that are half finished that are in the way. But the table is now done!!!!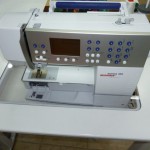 Isn't this fantastic? I just love it. My neighbour built the new box where the machine sits in. And my husband's friend cut the Lexan insert that goes around the machine. I also got him to cut another piece of Lexan that fits in the hole so when I get the embroidery module for this machine, I can just sit the machine right on top. I think both guys did a wonderful job. Thanks guys!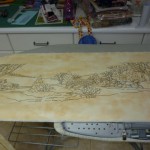 I finished this panel, finally! It's the busiest panel of "Over The River and Through The Woods" and it only took me 5 months to complete it. I have 2 more to go and I even started the 2nd panel the other day.  I can make the blocks that go with it when I'm tired of stitching and maybe have it done for next Christams. Yeah!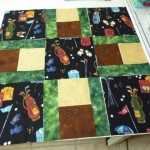 And finally, I have been working on a few comfort quilt tops while I was waiting for my sewing table to be completed. This is a golf themed quilt for my neighbour who, you guessed it,  loves golf. I have been auditioning fabric for the borders and nothing seems to go with it but I'm not giving up yet.  I don't think I have a red that goes with the red of the golf bags which is the colour that sticks in my mind.   I could always use some black as a 1st border and then use some of the colours that I've already used as additional borders. It might be my best bet.
Now to carry on ironing clothes, my least favourite job in the world.
Mary-Kay