I actually have time to do a post today and I have something to show too! I need a quick gift for my husband's aunt who's taking us to see Celtic Thunder and  to dinner on Thursday. So I gave it a quick thought and remembered that I have all these pieces cut out for some table toppers.
 I had them all together in a box with the pattern . It's a free pattern from Patchalot Patterns and really easy to make. And it looks great when it's done.  Marci shows a few different ways to finish it off and has samples that others have made on her site. Lots of different ideas. She has a few other free patterns too. Check her site out.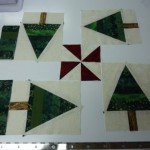 Here's the trees part all set up. All I have to do is make some red strips for along side of the trees and a green piano key border. Then layer, quilt and bind. Think I can get it done before Thursday. "I think I can, I think I can"  famous last words, I hope not.
Well I better get busy because I'm  making 3 tops at the same time.
6 Responses to "Design Wall Monday"
Leave a Reply