Archive for March, 2011
Okay, here are a few pictures of the talking fabric. It really talked in more ways than one. It's called Wordplay by Benartex and it talked me into buying a few yards.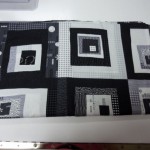 We visited Lake Street Mercantile on Saturday andI saw this fabric as soon as I walked in. This is part of  the panel. I saw a quilt made from this and originally I thought it was a pieced qilt. I wanted to buy all the fabrics to make it. Then I realized it was a panel and they had joined 4 together to make a twin sized quilt. So of course I had to get some.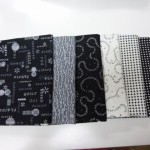 More of the wordy stuff. I just love this fabric. If there was enough of the 3rd fabric in the pile, it would have made a great backing. It  has stippling lines of words on it and I could have followed the word lines and quilted it from the back.  I noticed a few of the words are quilting related but it's not really visible. I think it could work for a man or woman's quilt.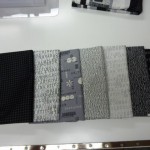 A few more of the corordinating prints. I think there are  a few fabrics here that are not the same line but it all goes together. I can't wait to get started on something from this. But family calls so for the next couple of days I'm busy doing stuff with them.
And my other new toy from this weekend. My husband knew I wanted an iPad and when the iPad2 came out , he bought me one. I haven't had a lot of time to play with it but it sure is a neat little toy.
See you all later.
 Mary-Kay
March 27th, 2011 - The Stash
 Well, once again I just couldn't resist fabric. It called to me the whole time I was in the shop. I was upstairs and I could hear it calling to me from the main floor. And I love, love, love the fabric so who am I to blame. I'm going to blame my sister because she wanted to meet me at the shop.   Yeah, it's all her fault. I bought all the black and whites plus a few grays of Word Play from Benartex and there's enough for a least 4 quilts. Now here are this weeks numbers. Don't laugh either 🙂
Fabric used this week:  1.75 yds
Fabric used YTD: 46.89 yds
Fabric added this week: 18.7 yds
Fabric added YTD: 69.03 yds
Net fabric busted: -22.14 yds
 Not much sewing was done this week so in this upcoming week, I plan on sewing up a storm.
Mary=Kay
March 20th, 2011 - The Stash
Spring has sprung. Hurray!!!!  I hope it also means no more snow.  Yesterday was National Quilting Day and I had plans to sew all day long. In the end I didn't start sewing until 10pm but I finished a quilt top. No pics though. And I'm still in the negatives. Oh well, maybe next week I'll be in the good.
Fabric used this week: 10.13 yds
Fabric used YTD: 45.14 yds
Fabruc added this week: 0 yds
Fabric added YTD: 50.33 yds
Net fabric busted: -5.19 yds
 Have a great day and enjoy this beautiful weather.
Here it is, only the first week of March and already I'm in the negatives. Hopefully that won't be the way for long. I purchased quite a bit of fabric but it's mostly for backings and bindings. Once I've got those cut up, I'll be back in the postives. If it wasn't for the 16.5 yards that I got for the Crabapple Hill "Snow Days",  it wouldn't be an issue. And I've actually made 2 quilts out of the new fabric that are almost all quilted and ready to be bound.
  If only my new machine wouldn't give me such grief. I have a Bernina 450 and I'm trying to quilt as many quilts as I can manage ,nothing larger than a twin. Anything bigger, I'll send out to be quilted. Anyway,while I'm quilting a straight line, like stitching-in-the-ditch, and I stop with the needle down, lift the presser foot up and turn the quilt, when I start sewing again the thread breaks. It doesn't matter what kind of thread either. I've changed the needle, changed the bobbin, rethreaded the machine, it still breaks. I took the machine back to the store and the only thing we could figure out was that I used spray-basting on the quilt. I've never heard of this breaking your thread. And last night when I was trying to use a rayon thread, it just wouldn't sew at all. I'm thinking that this machine is a lemon or something. All that money and I can't do what I want on it. I was also thinking, if it's spray-basting, what about when you use the embroidery module? Don't you have to use stabilizer and isn't that adhered in some way like spray-basted to the back? If anyone have any suggestions or solutions, would you let me know.
 Anyway on to some numbers.
Fabric used this week: 11.04 yds
Fabric used YTD: 35.01 yds
Fabric added this week: 33.83 yds
Fabric added YTD: 50.33 yds
Net fabric busted: -15.32 yds 
 That's all for this week. Now back to that terrible machine. Here's to hoping I can at least get these 2 baby quilts done before they start kindergarten.
Mary-Kay
Okay, here's my second stash enhancement report for this year. A little late I know, but as the saying goes, better late than never. I want to make the latest stitchery from Crabapple Hill, Snow Days, so I bought almost all the fabric requirements listed on the package. There's so much fabric that Ithink I could make 3 or 4 tops out of it. To date it's 16.5 yards, not including the 3 yards of muslin for behind the stitched areas. My sister already bought her fabric and I should have just split it with her. So I told my friend that she could buy my leftover fabric to make her own. Or I could just add it to the ever growing stash.
Fabric used this report: 20.5 yds
Fabric used YTD: 23.97 yds
Fabric added this report: 16.5 yds
Fabric added YTD: 16.5 yds
Net fabric busted: 7.47 yds
 Have a great week and enjoy all your fabric.