Okay, here are a few pictures of the talking fabric. It really talked in more ways than one. It's called Wordplay by Benartex and it talked me into buying a few yards.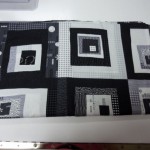 We visited Lake Street Mercantile on Saturday andI saw this fabric as soon as I walked in. This is part of  the panel. I saw a quilt made from this and originally I thought it was a pieced qilt. I wanted to buy all the fabrics to make it. Then I realized it was a panel and they had joined 4 together to make a twin sized quilt. So of course I had to get some.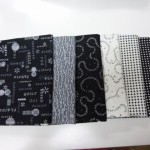 More of the wordy stuff. I just love this fabric. If there was enough of the 3rd fabric in the pile, it would have made a great backing. It  has stippling lines of words on it and I could have followed the word lines and quilted it from the back.  I noticed a few of the words are quilting related but it's not really visible. I think it could work for a man or woman's quilt.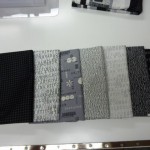 A few more of the corordinating prints. I think there are  a few fabrics here that are not the same line but it all goes together. I can't wait to get started on something from this. But family calls so for the next couple of days I'm busy doing stuff with them.
And my other new toy from this weekend. My husband knew I wanted an iPad and when the iPad2 came out , he bought me one. I haven't had a lot of time to play with it but it sure is a neat little toy.
See you all later.
 Mary-Kay
2 Responses to "Cool Stuff"
Northern Deb Says:
March 28th, 2011 at 6:27 pm

Lucky you! Going to Lake Street. I REALLY wanted to go this past weekend but we got as far as East Lansing (County Stitches) and no farther… just ran out of time.

Allie Says:
March 29th, 2011 at 12:16 am

LOVE the fabric – but oh hon an IPad2??? How cool is that! Congrats to YOU!!!!!!!!
Leave a Reply