Archive for May, 2010
I seem to have missed a week.  And I almost missed this week too. And I can't seem to keep out of the shops lately. I must need to start a new project soon or I'll never reach my goals. A couple of finished this week.  I finished my mom's blinds and they just need to be installed. But first I have to paint the window frames. And I finished a chenille rug for my bathroom. It needs to be washed a few more times to get that chenille look. I think I need to wash it in a regular washer not a low water one like mine. To the laundramat I go or maybe my mom's house. I washed it in my washer and there wasn't any lint at all unlike a rag quilt.
 Anyway, here's my numbers.
Fabric added this week: 6.5 yds (half of this is fabric for dyeing)
Fabric added YTD: 85.35 yds
Fabric used this week: 5.22 yds
Fabric used YTD: 106.75 yds
Net fabric busted: 21.4 yds
 Have a great week.
Mary-Kay
Well,  better late than never! I was away for the weekend and tried to post my entry but the internet connection was sooo slow I just gave up. I've posted about this quilt before and I still love it. I need a grand-daughter to give it to but I'm in no hurry for that.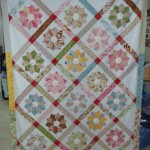 This is my version of dresden plates and it's from Mum's the Word patterns. It uses a jelly roll for the plates and yo-yos for the centers. It's a fairly easy pattern and I enjoyed making it. The only thing I didn't like about the whole process is all the lint and small threads that you get from a jelly roll. I had to clean my machine a few times.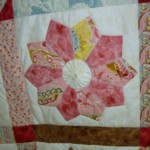 A close-up of the plate. It was quilted by Marianne of Canadian Machine Quilting and she did a wonderful job even with all the yo-yos. In the white triangles, she quilted a plate to match the pieced blocks. Very nice touch.
I hope you enjoy my entry. I have only seen 60 or so to date and I'm hoping to see the rest of the quilts today.
Mary-Kay
Oops, I forgot we were stash busting not stash enhancing. Oh well, I bought some fabric that I have admired for weeks. There's still another line of Kaufman fabrics that I really, really want but I can't think of something to make with it so on the shelf it stays. But I couldn't resist these fabrics.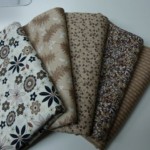 I like the look of this fabric selection.  This is not my usual colours but I just love the fabric on the left and seeing as I didn't have anything to go with it, I had to buy some coordinating fabrics. All from different manufacturers but all similar in colour. I haven't decided what to make with it yet but I'm keeping my eyes open  for something appropriate.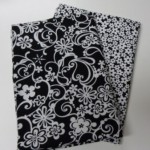 I also bought these 2 black and whites for a daisy pattern in a book I have. I'm not sure it they will work and if they don't I can always make another black and white quilt. Or I can just add them to my stash of black and white fabrics.
 So here's my ever growing stash report.
Fabric added this week: 19.5 yds……..that's it for a long while
Fabric added YTD: 78.85 yds
Fabric used this week: .75 yds
Fabric used YTD: 101.53 yds
Net fabric busted: 22.68 yds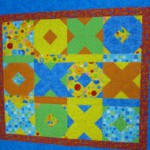 I had 2 finishes this week. The original X's and O's quilt. Actually the smallest size on the pattern calls for 12 fat quarters but for a baby quilt Ithought it was too big and I halved it. All I need to do is finish hand sewing the binding on and the label.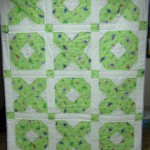 This is another finish for the week. This is my 2 tone version of the X's and O's quilt and appeals to me more than the original colour combination. I think it looks more like a baby quilt than the one above.
That's it for this week. Have a great day and enjoy the weather.
Mary-Kay
First off, Happy Mother's Day to all the mothers out there. I hope everyone has a wonderful day.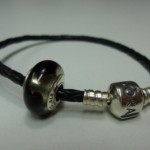 My hubby actually bought me some flowers and took my youngest son out to the store and got me another Pandora bracelet. It's the black leather one with a Murano glass charm on it.  There's little hearts on the charm which I didn't notice at first. I thought they were  flowers. I love it!
   Now on to the stash report. I purchased a couple yards of batiks for a pattern that I got last week. I never seem to have the right colour batik in my stash, I'm still looking  for some grass green for the leaves of the tulips. I know I have some batiks in another spot but I can't remember where I put them but I'll look again before I go out to get some.  Yesterday, my friends and I went to a quilt show in Chatham ON and I bought a couple of patterns which I'm not going to show because they might be birthday or Christmas presents this year. That's if I ever get them started.
Fabric added this week: 2.4 yds
Fabric added YTD: 59.35 yds
Fabric used this week: .49 yds
Fabric used YTD: 100.78 yds
Net fabric busted: 41.43 yds
 I need to put together a few hand projects for next week. I have to take my mom for her treatments and I need something to do. Other than reading a book because that makes me fall asleep. On Friday I took her for a  simulation/mark-up at the hospital, was reading a book and fell asleep. I could sense people staring at me as they walked past, they probably thought I was the sick one. I'm sick all right but not that way. Anyway, this will get me going on some projects that are for gifts and maybe, just maybe I'll get them done in time.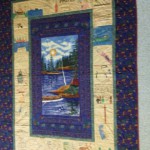 I finished the scout comfort quilt and it looks great. I planned this quilt last year. My sister is a scout leader and one of the other leaders is unable to attend camps due to health problems. I thought that the kids could sign the blocks as an activity  if it rained. I ironed wax paper on the back a little smaller than the block and wanted the kids to keep in in that wax paper area. Some of their drawings overlap in to the seam allowance but I tihnk it turned out okay.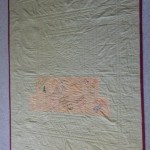 The back looks pretty good even though in this photo it looks puckered but it's just a little wrinkled. I have a few areas with tension problems but not bad enough that I wanted to rip it out. The only people who would notice it are quilters and it's only noticable if you start examing every stitch.  The whole time I was quilting it, I wished I had that Bernina with the stich regulator or a long-arm machine with one. Hopefully that will happen by the new year. The blocks on the back are from other group leaders and I couldn't get them to work in the front. I should have put them a little lower but it still looks okay.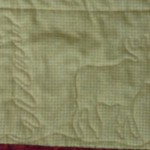 I quilted moose and trees around the edge of the quilt. It's hard to see on the front because I used monofilament. I should have used a tan or something but I find  the monofilament hides all my mistakes on the front. You know, when you stitch too long in one place while you're repositioning your hands. A stitch regulator would have solved these problems. I sound like a broken record but I think I would get the results I'm looking for with it. 
 I have a line on a long-arm machine. A lady in the area wants to retire from the business in the new year and I'm the second person to call her about her machine. If the first lady doesn't come through I get to buy it. It's a Gammill and about 8.5 years old. I should go check it out before I totally commit myself to buying it. All I can say is that it better have a stitch regulator or I'm not buying it. 
Have a wonderful day. 
 Mary-Kay
This is really a non-report because nothing quilting happened this week except I added some fabic. I was a busy bee this week, getting my son organized for his trip to New York , taking my mom to the doctor, an appointment at the bank and haircuts. Busy, busy!
Fabric added this week: 1.75 yds
Fabric added YTD: 56.95 yds
Fabric used this week: 0 yds
 Fabric used YTD: 100.29 yds
Net fabric busted: 43.34 yds
 I went to a sewing show yesterday  and  I got this pattern from Bigfork Bay Cotton Company and they have some really neat patterns. There was this other one that caught my eye but when I saw the tulips I switched them. I can always get the other one once I complete this one. I picked up 7 fat quarters for this and hopefully I have enough other colours in my stash to complete this.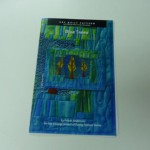 I also picked up this pattern by Frieda Anderson and boy, does she have some really cool patterns! I had a hard time choosing which one I liked  best. All the  patterns had a bonus pattern with them except this one. Oh well, what can I say? I thought this one fit in with my stuff the best.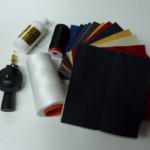 I also picked up this gadget, threads and wool pieces.The black thread is a 12 weight for some blackwork and the white is for machine piecing. That tool is for making cording. I've always wanted one to make the colour cording that I want but I never got around to buying one. And Roxanne's glue baste is a wonderful tool. I use it instead of pins when appliqueing or sewing labels on the back of a quilt. Great stuff!
So now I should start sewing up a storm. I say that every week but this last week has been a no-go in the sewing department. Hopefully this week I can get something done. No appointments yet but you never know who's going to call. Have a great week!
Mary-Kay