Well,  better late than never! I was away for the weekend and tried to post my entry but the internet connection was sooo slow I just gave up. I've posted about this quilt before and I still love it. I need a grand-daughter to give it to but I'm in no hurry for that.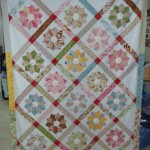 This is my version of dresden plates and it's from Mum's the Word patterns. It uses a jelly roll for the plates and yo-yos for the centers. It's a fairly easy pattern and I enjoyed making it. The only thing I didn't like about the whole process is all the lint and small threads that you get from a jelly roll. I had to clean my machine a few times.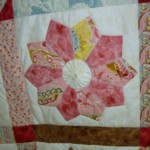 A close-up of the plate. It was quilted by Marianne of Canadian Machine Quilting and she did a wonderful job even with all the yo-yos. In the white triangles, she quilted a plate to match the pieced blocks. Very nice touch.
I hope you enjoy my entry. I have only seen 60 or so to date and I'm hoping to see the rest of the quilts today.
Mary-Kay
9 Responses to "Blogger's Quilt Festival"
Leave a Reply