Archive for the 'The Stash 2018' Category
Happy International Quilting Day, a day late! Just a quick post. I got my sewing machine back. From being deemed "not worth fixing"  with the repairs being around $1000- US and "you should just buy a new one",  my machine was up and running for the tune of $200- Canadian. I think I'm going to email Bernina about that store's manner of doing business. On the other hand, the shop where I got my machine fixed was amazing. The store owner was so great about the whole machine thing. I would recommend Hyggeligt Fabrics in St Mary's ON to everyone. And it's a real cute shop too. Loads of Kaffe Fassett and Liberty of London  fabrics. Plus Bernina machines that are now on my wish list.
When I got home on Friday evening with my machine, I set it up and started on a quilt top that I'm kind of in a hurry to get done. I stayed up until 4:45 am and finished the top. And my machine was stitching away, working just fine! Today, I'm heading over to my friend's house to put it on the longarm and get it done.
Now for some numbers.
Fabric used this week: 21:45 yards there's 5 backs in there
Fabric used YTD: 63.57 yards
Fabric added this week: 0 yards
Fabric added YTD: 70.14 yards
Net fabric busted: -6.57 yards
Next week, that negative number better be in the positives as I will be making more backs and doing some quilting on my machine. And the number of hours quilting will be amazing too. Last week I managed to sew for 27.5 hours. I made 2 quilt tops and added borders to a table runner/wall hanging in that time. I will post pictures when I'm done quilting these items.
I'm linking up with Kate at Life in Pieces for 15 Minutes to Stitch and Donna at QuiltPaintCreate for my stash busting report. Enjoy your week!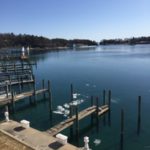 Last weekend I went to a retreat in Charlevoix, MI and it was a load of fun. People, sewing and food. What more could a girl ask for! We just missed a snow storm on the way out of Windsor on Thursday and the weather was perfect for the rest of the weekend. You never know when some snow is going to mess up your weekend plans. This is the view of Round Lake off the balcony.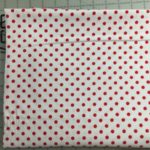 On the way up, we stopped at Delphine's in Gaylord. What a beautiful shop! Loads of different fabrics. All I bough was a piece of cork and this Dumb Dots fabric. Silly name but it's perfect for a project I have in mind.
Anyway, I really didn't get that much sewing done. My younger sister, Connie, decided she wants to learn how to quilt and came to the retreat. I cut out a jelly roll quilt for her and she did a fantastic job for a newbie. Most of the terminology she is familiar with from listening to me and my other sister, Annette, talk about quilting. One more border to go and she has a top done. Then to show her the actual quilting process.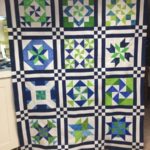 I put sashing and cornerstones on an old BOM but miscalculated the fabric and didn't even have enough to finish it. That was Friday. On Saturday, I pieced together a Simply Squares body and didn't bring any borders. so that was half done. Then I started putting the borders on an old stitchery project and called it quits. I finished it up at home on Monday.
On the fabric front, I visited Hearts to Holly in Charlevoix Mi, my favourite quilt shop, and made a few purchases. Just a few, 25 yards is a few, right? I needed white on white, I have none. And I just needed some Pete the Cat fabric for my grandson.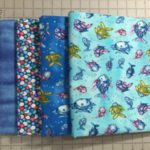 And then the next day, I went back for a spool of thread and bought some rainbow fish fabric. It's very sparkly and I thought it was perfect! for what? Logan, my granddaughter will love it!  So I bought some.
Look at these numbers. I better do something or else.
Fabric used in the last 2 weeks: 15.15 yards
Fabric used YTD: 42.12 yards
Fabric added in the last 2 weeks: 27 yards
Fabric added YTD: 70.14 yards
Net fabric busted: -28.02 yards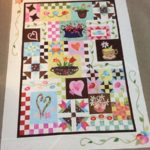 On Friday, I finished Piece, Love and Applique by LizzieBCreat8ive designs. Cute pattern and it used over 14 yards of fabric. lots of applique and piecing. Now to figure out how to quilt it. The store sample was quilted with these flowers in the borders and that it what attracted me to the quilt in the first place. Apparently the woman who quilted it no longer does quilting for others. What a shame, it was really beautiful!
On the 15 Minutes to Stitch challenge, I've been pretty busy. he week of Feb 25 to Mar 3, I stitched 37 hours. Almost a full time job. But I was at the retreat so there were long hours involved. last week, I stitched 25 hours, my part time job. I probably stitch around 4-5 hours every day. And that doesn't count computer time either, even though it's usually quilt related.
Linking up with Donna at QuiltPaintCreate and Kate at Life in Pieces. See you next time.
Just a quick post. I've been working on a real oldie BOM from LizzieBCrea8ive called Piece, Love, & Applique. It's very time consuming as I have to do some applique on every block.  And on my mother's machine. Oh how I miss my Bernina. I should hear something this week.  This BOM would have taken less time if I did it every month when I originally purchased it.  I will post pictures when I'm done. Right now I'm up to Block 7, halfway done. I didn't include it in my stash report but once again when I'm finished I will do the math. I did cut out some sashing for another old BOM where I actually have the finished blocks.
Fabric used this week: 2.46 yards
Fabric used YTD: 26.97 yards
Fabric added this week: 43.14 yards
Fabric added YTD: 43.14 yards
Net fabric busted: -16.17 yards
In the sewing room, I've been sewing almost every day.  I managed to sew for a total of 30.5 hours with no sewing at all on Saturday. I took my grandkids to a birthday party for my great nephews and I was just too tired to do any sewing after that. I will certainly make up for it today.
I'm linking up to QuiltPaintCreate and Life In Pieces for the stash report and 15 Minutes to Sew. Have a wonderful week.
I feel like I haven't done anything since I finished "On Ringo Lake". I think because that quilt was really intense, meaning large, nothing can compare to it. Anyway, upon looking back, I did make 48 blocks, sailboats and chain blocks, as a block exchange for an upcoming retreat. And then I decluttered my cutting table. I must remember to do that every time I finish a quilt. Right!
I did purchase some fabric for the retreat blocks as I do not have any white on white fabric. I can't believe it but I used most of it in On Ringo Lake.   And this is what my numbers look like this week.
Fabric used this week: 2.64 yards
Fabric used YTD: 24.51 yards
Fabric added this week: 6.5 yards
Fabric added YTD: 43.14 yards
Net fabric busted: -18.63 yards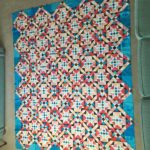 Here's my On Ringo Lake quilt top. The setting triangles need trimming but that can be done when I decide to quilt it. I need to figure out a backing. I have a piece of fabric, 5 yards and I need 5.5 yards so I will need to do some piecing.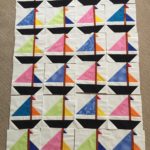 And here's my regatta. I also made 24 chain blocks but never thought to take a picture of them. These were supposed to be batiks but the person running this retreat said as long as they were brights, she was fine with that. What I made out of batiks was the boats and the masts.
On the 15 Minutes to Sew challenge, I've done pretty good this week. I managed to sew 31 hours. Sometimes I can't believe how much I sew.
I'm linking up with Kate at Life In Pieces for the 15 Minutes to Sew  and Donna at QuiltPaintCreate for the stash report.
Have a great week!
Well, it's been a good week. No emergencies of any kind!  I took my mother to the doctor for a follow up appointment and she was good. Blood pressure was still in the low range and her breathing and O2 levels are great. No specialist required. Except for her early January hospital stay. She finally gets to see the surgeon on Tuesday. Hopefully all will be good there. Who wants to go through another colonoscopy after having colon cancer treatment. Not her! She said she's tired of the whole thing and I'm sure you all know what I'm talking about. We will see.
On the fabric front, last week I purchased a load of flannel and it's all washed up, ready to be used as backings. I need to cut it up because I have no place to put it. All the drawers are full and to think I needed to buy more. I'm a little OCD in the matching department and it has to at least go with the front of the quilt for me to use it. No using the wrong shade green or blue for me.
I managed to cut out 2 jelly roll quilts, one for my sister and one for me because I liked her colour choices. I've never made a jelly roll quilt before. Now I want to make another one. These are great as comfort quilts because they are super fast and easy but still really nice when you pick the right colours. My go-to quilt pattern for comfort quilts is Simply Squares and now I think it's a jelly roll quilt.
I'm linking up with Donna at QuiltPaintCreate for my stash report.
Fabric used this week: 8.54 yards
Fabric used YTD: 22.87 yards
Fabric added this week and YTD: 36.64 yards
Net fabric busted: -14.77 yards
I've been sewing most days except for Thursday and Saturday. But looking at  my total hours, it doesn't really matter. I had appointments on Thursday and the grandkids on Saturday and they are still here as I write this. Friday I sewed for 9.5 hours, trying to get On Ringo Lake done. And it's not done but will be this week. I don't like to start another project until the one I'm working on is done. So the push is on because I'm going crazy with all these ideas and patterns and fabric to create something new.
I'm linking up with Kate at LifeinPieces for 15 Minutes to Stitch.
Sewing or related activities Sunday to Wednesday : 16 hours
Sewing on Friday: 9.5 hours
Total hours: 25.5 hours
Oh and I had a call about my sewing machine. Apparently it needs a spring that controls the feed dogs and then the tech can see why it doesn't zigzag on the right once he replaces the spring. So far $7.50 for the spring and $140- for the cleaning/service. I hope it is just a timing issue. Fingers crossed!
February 4th, 2018 - The Stash
Well, I didn't post last week due to my mom being hospitalized. She ended up having pneumonia but her symptoms were so weird. On Saturday, she was so confused, not a normal thing and she ended up in the ER.  She had really low blood pressure, a slight fever and this confusion which cleared up once the EMTs got her outside. I immediately started thinking gas leak but they assured me that it wasn't that. Besides she has monitors in the house. Anyway, the ER did their tests and she had pneumonia in her lower left lung, the silent kind. Boy did she dodge a bullet there!  And still with no indicators that she has pneumonia. She is on the mend, back home where she wants to be.
I did manage to do a lot of hand stitching while she was in hospital. I finished the third panel of Cool Guys and now I'm on the fourth and final piece. Hopefully this will go much faster and won't languish in the bag for another year. My "One Hour to Sew' this past week is a little down, only 17 hours of sewing with most of that done in hospital. The week before I managed to sew for 30.5 hours. Still trying to finish On Ringo Lake. It's taking forever and I really, really want to be done and work on something else! I hope to get it done in the next day or two.
My stash took a giant hit yesterday. Hubby and I went over to Detroit to pick up a few parcels at MyDetroitAddress and decided to check out Joanns to see if there were any deals. I couldn't believe how much flannel I got! It was one of those "Start the car" deals. I bought 36 plus yards of flannel for $91., that's about $2.50 per yard. And I couldn't believe I even found any to buy. Usually the selection is so picked over, you have to get bits and pieces to make up enough for a backing. I use the flannel for backings for comfort quilts that 2 friends and I make for people with life altering illnesses. This makes it easier to give away 12 to 15 quilts a year.
Here is my numbers for the last 2 weeks
Fabric used this week: 1 yard
Fabric used YTD: 14.33 yards
Fabric added this week: 36.64 yards
Fabric added YTD: 36.64 yards
Net stash busted: -22.31 yards
I am going on a sewing/quilting retreat the first weekend in March and my sister is coming too. She has never quilted before and this should be interesting. Anyway, I'm cutting up a jelly roll for her to sew her first quilt. All black, grey and white with a black and red border. It's going to be gorgeous! That will bring those numbers up and I will be cutting up some backings once I get that flannel washed up. Next week's report will be looking good!
I'm linking up with Donna for the stash report at QuiltPaintCreate and with Kate at Life-in-Pieces for !5 Minutes to Sew.
Well, this week sucked, big time! My sewing machine just stopped sewing. It was like the stitch length was at zero. That was on Monday night. I turned it off and tried it again with no luck, I thought ok let's leave it overnight and see if it fixes itself. Run down there on Tuesday and it still doesn't work. So I thought it could be a couple of things like maybe the feed dogs or the computer board. And then I thought what if this machine is toast? Yikes. Anyway, I got out the Featherweight and I've been sewing on that until I can get my machine serviced.
So on Thursday, I took my machine (Bernina 450, bought in 2010) in and the tech guy looked at it. He took the back cover off and said it looked like it had never been cleaned. I said really!, I take my machine in yearly for service, as soon as I see the icon come up that it needs service, I take it in. So what were those techs doing all those years? Anyway, this new tech guy said he wouldn't waste money fixing it, that it was an older machine and I should probably buy a new machine. See where this is going. He had a saleslady show me the new and improved machines at the tune of  $5499. US and that converts to about $7400 Canadian with the exchange and taxes. So I said I'd talk it over with my husband and left. As I was driving home, I was a little upset about my machine but then I started thinking about it and came up with the thought that they just wanted to sell me a new machine. The tech guy said he'd give me $100- for parts. Are you kidding me? I have over $5000- invested in this machine with the BSR and the walking foot and the embroidery module. Time for a second opinion! I will keep you posted on that. And there's no new machine on my horizons unless it's used or free or I win the lottery and we know what the odds of that are.
Now for that stash report. I finished cutting up all the parts for 'On Ringo Lake', the Bonnie Hunter mystery quilt. Boy, did that take a lot of fabric.
Fabric used this week: 12.36 yards and that's the complete top
Fabric used year to date: 13.33 yards
Fabric added year to date: 0 yards and let's keep it that way
Net fabric busted: 13.33 yards
Now I need to finish up the top, I have a couple of steps left. I can't believe how long it takes for each step! I'm itching to start something new. And it won't be anything that needs any funky stitches, just a simple straight stitch.
My 15 Minutes to Sew Challenge is coming along great. I've sewed every day except for Thursday when I took my machine in. It was a busy day with a couple of appointments also. But my total for the week is 22 hours of sewing. That's like a part time job! I even babysat my granddaughter one day and had both grandkids for an overnight on Friday. The minute they went home, zoom to the sewing room to try to get this quilt top done. I will post pics when I'm done assembling the top of 'On Ringo Lake'. I'm getting anxious to see it done.
I'm linking up with Donna at QuiltPaintCreate for the Stash Report and with Kate at LifeinPieces for the 15 Minutes to Sew Challenge.
Until next time!
January 14th, 2018 - The Stash
Nothing really new here. I've been working on Bonnie Hunter's mystery quilt, On Ringo Lake and I'm only just finished Part 2. Holy mackerel, it took forever to finish. And the next part has even more pieces. Looks great though! I'm really anxious to see the colours all together. I decided to stick with Bonnie's colour choices. I've seen some other colourways and I like Bonnie's colours the best.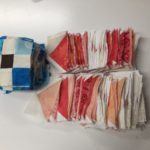 Here's a peek at my pieces. I want to hurry up and make some of the blocks with just the aqua and brown. I did use 2.91 yards for Part 1 and 2  and there has been nothing added. Hopefully next week, I will have the final totals for this quilt.
I'm linking up my stash busting at Quilt Paint Create.
I also joining "15  Minutes to Stitch" with Kate over at Life in Pieces. I've excelled at sewing this week. I've  managed to sew for 20 hours and 35 minutes. And I'm just starting Part 3! You'd think I was a really slow sewer but I'm not. First I had to pick my fabrics, then I needed to press them, then I made Part 1 and then Part 2 which took me a couple of days. And I actually cut some pieces for the other parts too.
Another cold week. Stay warm.  Stay in and sew!
Once again I'm going to try to do weekly stash posts. Last year I kind of fell of the wagon but I did keep track on paper just not here. So here goes.
Fabric used this week: 0.97 yds
Fabric used year to date: 0.97 yds
Fabric added this year: 0 yds
Net fabric busted: 0.97 yds
I'm also trying to sew at least 1 hour every day. Whether it's hand stitching or machine sewing, I need to be doing something. I have too much stuff to let it sit and way too many projects that I'd like to get done in my lifetime.
So this week's projects will include making 2 little zippered bags using my die cutter, which I fixed last night, from fabric that's not even mine. But if there's a lining involved, I can count that. I will post pictures when I'm done.
See you next time!