Archive for the 'The Stash 2018' Category
January 14th, 2018 - The Stash
Nothing really new here. I've been working on Bonnie Hunter's mystery quilt, On Ringo Lake and I'm only just finished Part 2. Holy mackerel, it took forever to finish. And the next part has even more pieces. Looks great though! I'm really anxious to see the colours all together. I decided to stick with Bonnie's colour choices. I've seen some other colourways and I like Bonnie's colours the best.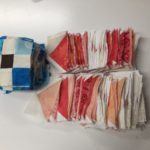 Here's a peek at my pieces. I want to hurry up and make some of the blocks with just the aqua and brown. I did use 2.91 yards for Part 1 and 2  and there has been nothing added. Hopefully next week, I will have the final totals for this quilt.
I'm linking up my stash busting at Quilt Paint Create.
I also joining "15  Minutes to Stitch" with Kate over at Life in Pieces. I've excelled at sewing this week. I've  managed to sew for 20 hours and 35 minutes. And I'm just starting Part 3! You'd think I was a really slow sewer but I'm not. First I had to pick my fabrics, then I needed to press them, then I made Part 1 and then Part 2 which took me a couple of days. And I actually cut some pieces for the other parts too.
Another cold week. Stay warm.  Stay in and sew!
Once again I'm going to try to do weekly stash posts. Last year I kind of fell of the wagon but I did keep track on paper just not here. So here goes.
Fabric used this week: 0.97 yds
Fabric used year to date: 0.97 yds
Fabric added this year: 0 yds
Net fabric busted: 0.97 yds
I'm also trying to sew at least 1 hour every day. Whether it's hand stitching or machine sewing, I need to be doing something. I have too much stuff to let it sit and way too many projects that I'd like to get done in my lifetime.
So this week's projects will include making 2 little zippered bags using my die cutter, which I fixed last night, from fabric that's not even mine. But if there's a lining involved, I can count that. I will post pictures when I'm done.
See you next time!