Lately it seems that life is speeding by far to rapidly for me. Or I'm just too busy! That's it! With my son moving back home and the grandkids here 50 percent of the time, I'm finding that I don't have as much free time.
Last week, we made clothes for my grandson's Wish Bear. I have never made bear clothes before or doll clothes either. I measured out the bear but forgot to add the girth so the shirt didn't fit. If it was a flat bear, I would have been in luck. I slit it down the middle and it's now an open front shirt. It even has a  facing along the front. The pants were too short in the rise and looked like real low riders with the bear's butt crack, if he had one, showing. I made a new pair of pants the next day. Much better! I wish I would have taken some pictures. You would have laughed at my efforts. I can't believe I can sew up quilts and not doll sized clothes. I've never even drafted up a clothing pattern before. Definitely not my forte.
I went to a quilt retreat 2 weeks ago and I had a great time. The hardest part about a retreat is deciding what to bring to work on.
I finished up the sashing on Sticks and Stones . The blocks are entirely from the scraps, all 1.5″ strips and 1.5″ squares. The black is from my stash. I could probably make 2 more quilts from those bins.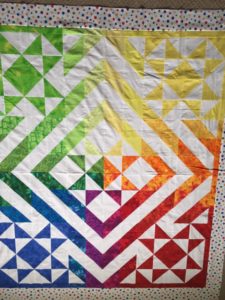 Another retreat finish. I drafted up the colour placement for this quilt, Stars over Scott, a free pattern from Jamie at L'Fair Quilts. I have made this pattern a few times and I wanted to try something. This is for the grandkids bedroom. I didn't really want to make a pink or blue quilt so I thought I'd try a colour wheel look. I think the center needs work but it might just stay like this.. Not pink and not blue.
And lastly, I worked on another Urban Abacus using the Quick Curve Ruler.  I made all the blocks at the retreat, brought it home and finished it up last night. I also have another one cut out and ready to make. When I first saw this quilt, I had to make it. I love the fabrics. I think I have enough left to make another top. Nine fabrics and you only need a 8.5″ strip from each.
Now for the good stuff! What did I purchase while I was gone?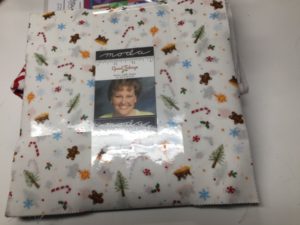 My first stop was at Delphines in Gaylord MI. I was looking for small Christmas prints and I think this layer cake fits the bill. It's for a project, not the stash.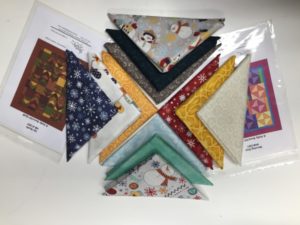 After the retreat was over, I stopped in Charlevoix MI and went to Hearts to Holly. They were having their anniversary sale and everything was 22% off. This is one of their Holly Bunches. Twelve fat quarters. And I bought 2 Holly Bunch patterns.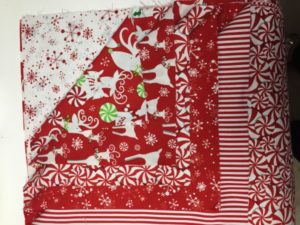 Plus. I bought 6 yards of Christmas fabric. Most of this is from the Peppermint Reindeer line form StudioE fabrics. The red and white stripe is from Timeless Treasures. And yes, it's for the stash. Busted!
Now for those numbers. Yikes!
Fabric used this week: 20.55 yds
Fabric used YTD: 182.03 yds
Fabric added this week: 10 yds
Fabric added YTD: 228.33 yds
Net fabric busted: -46.3 yds
If I could cut the backings for 10 quilts, I might be in the positive numbers. If being the operative word!
On the 15 Minutes to Stitch front, I've tried to sew every day but some days I just can't. I finished up my hand project and now I need to bring another one upstairs to stitch while the grandkids are playing. Week one I stitched 21 hours. Retreat week I stitched 44 hours and last week I stitched 22 hours. I guess I do stich a lot but I'd really like to stitch more. I have lots of fabric, kits and threads to use up. Really, I don't need to add any more to the mix.
I'm linking up with Donna at quiltpaintcreate for the Stash Report and with Kate at Life In Pieces for the 15 Minutes to Stitch report.
Have a great week!
4 Responses to "Busy, Busy Life"
Leave a Reply