Archive for August, 2010
August 29th, 2010 - Week #35
Nothing in and nothing out. I have sewed but I didn't count any of the kits as "fabric added" so I can't count them as "fabric used". I couldn't be bothered trying to figure what the yardage was in them so I decided that all the BOMs from this year were not going to be counted. This sounds like a great idea except the week were you spend the whole week making all of them.  It doesn't really matter anyway. Have a great week and sew, sew, sew!
Mary-Kay
Yup, that's me. Falling behind with all these block of the month kits. Never again! Oh you've heard that before.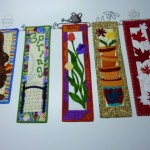 I made these 5 already this week. This is a series of wallhangings from Patchabilities. Once again, I like the pictures on the patterns but not all the fabric in the kits put together from the lqs. I know that's the way it is with these things but I must say they look great in the photo. Two more to go and I'm caught up on this BOM.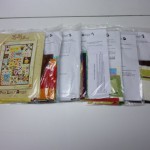 When I'm done the wall hangings, I can start on this BOM. It's all applique and I need to figure out which method I'm going to do, hand or machine? Hmmmm….. big decision. I love the look of hand applique but I love the speed of machine applique. Maybe I'll wait another month, it's been 7 already. What made me get this BOM was the quilting on the sample in the lqs. It is stunning! The cost of the quilting will be another story.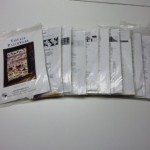 Or maybe I can work on a few of these. I started them a couple of weeks ago. I've only had this BOM for 8 years so once again what's another few days, weeks or months or years. This quilt is just beautiful. it's made to be a wall hanging and I really don't have the wall for it. Maybe this is why I haven't worked on it.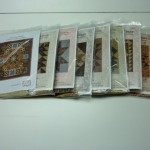 And then when I get that all done, I can work on this BOM. This is the giant Civil War quilt. Some of the monthly kits have 4 blocks in them or more. Yikes! Who has that kind of time? And besides I don't even like this kind of stuff. What ever got in to me?  I think I need to get my head examined! Oh well, someone is going to get a really old looking quilt, not because it's supposed to be old but  because it will take me that long to do it. This is not the colours I like so it will be a challenge to get it done.
More later.
Mary-Kay
….but not from me. It seems that there are a lot of Go Cutters to be given  away. Here's the link to another one.
http://alamodefabric.blogspot.com/2010/08/give-way-time.html
Good luck but you're not going to win. I am!
Mary-Kay
August 24th, 2010 -
Check out this blog http://sweetp-paulette.blogspot.com/2010/08/its-go-time-good-luck.html and you could win a Go Cutter. I'd love to own one. Someday…….
….or should I say couch. I don't have a wall or the space for one. Maybe the dining room wall one day but I don't think that would go over well.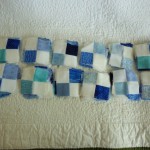 I made a few (180) 4 patches from my scraps. What I'm going to do with them has yet to be decide. Originally this started as Judy's Scraps Ahoy and stopped as 4-patches. I have many options but every time I think I have a plan I find something else that would work or is much eaisier. I don't really like doing scrappy things because it takes so much time sewing all those little pieces together.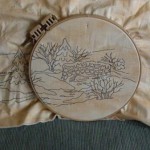 I'm also working on this little stitchery, Over The River and Through The Woods. There are 3 panels and this is the one with the most stitching. I have all the fabric to complete it, so once the stitching is done I'll be ready to sew. I even know how I would like it quilted. I really like Crabapple Hill's patterns especially the winter ones. I think I have them all.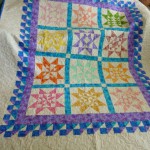 And I need to get this quilt's binding sewn down by Saturday. It's a wedding gift for my niece. I hope they like it. It looks great in this photo. I'm not crazy about the colours with the background and border fabric. Actually I like all the fabrics just not together. Another BOM with a fabric combination I'm not crazy about. I have 3 more BOM's and when they are done, no more. Famous last words.
Have a great sewing day. More later!
Mary-Kay
Again, another week of hardly any sewing. I brought my new sewing machine home and I've been playing with it. I managed to sew 180 4-patch squares together and I made some binding.
Fabric used this week: 2.69 yds
Fabric used YTD: 141.66 yds
Fabric added this week: 0 yds
Fabric added YTD: 125.65 yds
Net fabric busted: 16.01 yds
Have a great week.
Mary-Kay
August 15th, 2010 - The Stash
…wasn't touched at all this week. Nothing in and nothing out. My mom had surgery on Thursday and I think I've been at the hospital more than my home since. But all is well and she should be home at the end of the week.
Mary-Kay
August 8th, 2010 - The Stash
 Ever since I finished that Crumb Quilt on Monday, I haven't sewn anything else. But I also did not acquire any more fabric. Yahoo!!!!! I want to do Judy's Scrap's Ahoy quiltathon quilt. It looks really scrappy! Maybe next week I'll get to it.
Fabric used this week:2.15 yds
Fabric used YTD: 138.97 yds
Fabric added this week: 0 yds
Fabric added YTD: 125.65 yds
Net fabric busted: 13.32 yds
 I still have a fair way to go to reach my goal of 100 yards of net fabric busted. We still have 20 weeks to go so that means I'll have to use 4.33 yards a week with no fabric coming in. I think that's a realistic target. Now to get busting…..
Mary-Kay
I drew a name today for the Selvage Edges.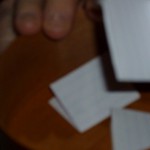 There were only 3 entries which was okay by me.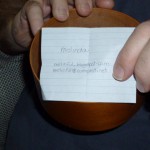 And the winner was Melinda of melinful.blogspot.com. Send me your address and I'll mail you out some selvages. I hope you enjoy the edges and make something really fantastic.
Have a great day
Mary-Kay
That I have off. Yeah, holidays are great. Stay up and sew all night long. Or at least until 4am. And then I got up at 10am for breakfast with some of my family and then I sewed some more.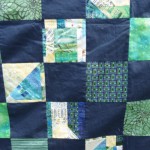 I made this Crumb quilt from the leftovers from a Strips and Curves quilt. Actually I made 2 quilts from the fabric required for one quilt. And then I made this from the scraps.  I sewed the scraps from the stratas  together and cut 5.5″ squares from it. In this photo, it looks pretty wrinkly but  it isn't. Don't know how that happened.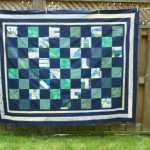 All the other strips were used in the borders. I added 5 borders to make it big enough to be useful. I still love this colour combination. And I still have fabric for the binding and more leftovers too. When I was adding the 3rd or 4th border, I thought that I should have made a piano key border but I wasn't reverse sewing what I had alreadysewn on.
  I was just outside spraying the weeds on the patio. I had some weed killer and when that was done, I used straight up vinegar. Time to experiment. I'll have to see what works the fastest and I hope it's the vinegar. It's so much cheaper than weed killer and less toxic to the environment and me.
 Have a great day. Don't let the heat and humidity get you down. Stay hydrated too! Especially Liz. Hi!
Mary-Kay
PS  Remember the "Selvage Edge" draw on Wed. Check here http://mk.luckydot.org/2010/08/02/1061/  and leave a comment to be entered in the draw. My friend added to the selvage pile  so now there's even more.