That I have off. Yeah, holidays are great. Stay up and sew all night long. Or at least until 4am. And then I got up at 10am for breakfast with some of my family and then I sewed some more.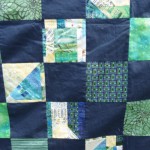 I made this Crumb quilt from the leftovers from a Strips and Curves quilt. Actually I made 2 quilts from the fabric required for one quilt. And then I made this from the scraps.  I sewed the scraps from the stratas  together and cut 5.5″ squares from it. In this photo, it looks pretty wrinkly but  it isn't. Don't know how that happened.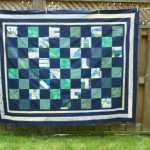 All the other strips were used in the borders. I added 5 borders to make it big enough to be useful. I still love this colour combination. And I still have fabric for the binding and more leftovers too. When I was adding the 3rd or 4th border, I thought that I should have made a piano key border but I wasn't reverse sewing what I had alreadysewn on.
  I was just outside spraying the weeds on the patio. I had some weed killer and when that was done, I used straight up vinegar. Time to experiment. I'll have to see what works the fastest and I hope it's the vinegar. It's so much cheaper than weed killer and less toxic to the environment and me.
 Have a great day. Don't let the heat and humidity get you down. Stay hydrated too! Especially Liz. Hi!
Mary-Kay
PS  Remember the "Selvage Edge" draw on Wed. Check here http://mk.luckydot.org/2010/08/02/1061/  and leave a comment to be entered in the draw. My friend added to the selvage pile  so now there's even more.
2 Responses to "Just Another Monday"
liz Says:
August 2nd, 2010 at 7:15 pm

The quilt looks great and you are using up leftovers!

I agree on the hydration and keeping cool – I am doing my best on that! And, I just hink about what's going on OKC – up to 105 degrees!

Liz

BTW – try hot water if the area is cracks in a patio. Scalding water is supposed to work on killing ants too!

Allie Says:
August 2nd, 2010 at 11:19 pm

Hey, you're keeping MY hours, lol! Cute quilt, love the colors. Stay cool as you can, it's going to be a hot and humid one tomorrow – just take it slow!
Leave a Reply