Home Page
Well, here I am, back again. I guess I'm just not a regular blogging kind of person. I read blogs daily but I'm not really into posting daily or even weekly.
So my stash has taken a major hit. I went to a quilt shop with my sister looking for a particular fabric and ended up buying some plain white batik and a raspberry Toscana from Northcott. And then the wallet making bug hit me. I just love the Necessary Clutch Wallet from Emmaline Bags. I ordered the pattern a while ago and then was on the search for the hardware at various quilt shops. I had some cork that I bought at Bittersweet in Pinconning MI and Delphine's in Gaylord MI.  I ended up ordering the hardware right from Emmaline Bags. And then there's the stabilizers needed. I can't believe how much money Fabricland here in Windsor wants for that stuff. Actually I can't believe how much they charge for all their stuff. It's like a Joann store in the States but much more expensive. More expensive than a quilt shop too! I bought a little bit of stabilizer then went to Joann and bought 2 bolts of it for a fraction of the price. Lucky I live in a border town and it takes about 40 minutes to get to a Joann store. Here are my numbers for the last 3 weeks.
Fabric used these weeks: 5.91 yds
Fabric used YTD: 86 yds
Fabric added these weeks: 15.2 yds
Fabric added YTD: 91.11 yds
Net fabric busted: –5.11 yds
I signed up to create a block for a Canadian Quilt Along. It's due mid-May and even though I already have the block designed, I needed to get it into EQ7. I don't know how to use the program at all but I did a crash course, design as you go. Lots of cursing involved! Anyway, it's done, saved to a PDF and ready to be emailed to the host. I don't think this software is user friendly and I don't know how all these people even figure it out. I usually just use a piece of paper, draw it out, add sashing, add borders and then assemble. I'm pretty good at figuring out sizes and such, even remembering the seam allowance when adding borders. I guess you can teach an old dog new tricks. Now I'd like to learn how to add a pieced border in EQ7 as I've seen a few really intricate ones.
As for my 15 Minutes to Sew, let's say I sew a lot. I average at least 22 hours per week.  Sometimes I'm not actually sewing but like last week, working on EQ7 or helping other people sew at my house. I don't count reading blogs or computer time even though my computer is in my sewing room.
April 15-21: 16 hours
April 22-28: 18 hours
April 29-May 5: 27 hours
I'm linking up with Kate at Life In Pieces for 15 Minutes to Sew and  Donna at qiultpaintcreate for the Stash Report. Have a great week and enjoy this beautiful weather. I think spring is finally here!
April 15th, 2018 - Spring?
How about this wacky weather! My sister came for a visit last Saturday and was supposed to go home today but is stuck here until the weather improves. Not that it's all that bad here in Windsor, just rain right now, but Northern Michigan is a mess. I bet most of Michigan is closed due to inclement weather. At least she's getting in a really long visit with family and friends.
Now about that stash. We went on a mission yesterday to see if we could find a Kona solid called snow. It's not white but slightly off with a hint of yellow in it. No one here carries Kona, mostly Northcott solids and I certainly don't buy that colour, only white because that goes with black the best, so she couldn't shop my stash. Anyway, I ended up buying more fabric. Some white batik from Cantik and raspberry Toscanna from Northcott and I just love the colour. I will be sure to prewash that before I use it. Here are my numbers and I'm still in the good. Whew!
Fabric used this week: 2.46 yds
Fabric used YTD: 80.09 yds
Fabric added this week: 5.77 yds
Fabric added YTD: 75.91 yds
Net fabric busted: 4.18 yds
As for the amount of time spent in the sewing room, I'm here for hours most days but I'm not working on my stuff but helping my sister get many of her UFOs done. I think we finished 4 already and will probably finish a few more before she gets to go home. That's okay because I will be cutting out fabric for stuff for my Etsy shop. I've collected most of the materials to make a load of items to sell. Wallets, bags, little quilts and the like. So my time spent sewing has been a lot less than normal.
April 1-7 2018: 11 hours
April 8-14 2018: 19.5 hours
It's still a far amount of time and I'm very fortunate that I'm retired and can spend all this time down here, sewing away in my space with the diffuser misting out Peace and Harmony and my music playing in the background.
I'm linking up with Donna at QuiltPaintCreate for the stash report and Kate at Life In Pieces for 15 Minutes to Sew.  I hope everyone has a great week and spring gets here someday. Tomorrow would be nice!
Happy Easter! I hope everyone is having a wonderful day. But this weather here is something else. I can remember being a kid and getting the new Easter outfit that did not involve a winter coat. Today, here in Windsor ON, it's a bit brisk. It was 32 when I went out this morning and now at 1:42 it's 37. Certainly doesn't feel like the first day of April. Can I put the snow shovels away yet?
On to the fabric department. I didn't post last week because ……. That's a who knows why, what was I doing, can't remember anyway. At least I wasn't shopping for fabric. But I did cut up a lot of fabric for backings. Here are my numbers.
Fabric used this week: 14.06 yds
Fabric used YTD: 77.63 yds
fabric added this week: 0 yds
Fabric added YTD: 70.14 yds
Net fabric busted: 7.49 yds  Oh Yeah! Back in the black again!!
I didn't even sew that much in the last 2 weeks. I clocked 11.5 hours and 19 hours.  Now to get back in the groove again.
I'm linking up with Donna at QuiltPaintCreate and Kate at Life In Pieces.
Have a great week!
Happy International Quilting Day, a day late! Just a quick post. I got my sewing machine back. From being deemed "not worth fixing"  with the repairs being around $1000- US and "you should just buy a new one",  my machine was up and running for the tune of $200- Canadian. I think I'm going to email Bernina about that store's manner of doing business. On the other hand, the shop where I got my machine fixed was amazing. The store owner was so great about the whole machine thing. I would recommend Hyggeligt Fabrics in St Mary's ON to everyone. And it's a real cute shop too. Loads of Kaffe Fassett and Liberty of London  fabrics. Plus Bernina machines that are now on my wish list.
When I got home on Friday evening with my machine, I set it up and started on a quilt top that I'm kind of in a hurry to get done. I stayed up until 4:45 am and finished the top. And my machine was stitching away, working just fine! Today, I'm heading over to my friend's house to put it on the longarm and get it done.
Now for some numbers.
Fabric used this week: 21:45 yards there's 5 backs in there
Fabric used YTD: 63.57 yards
Fabric added this week: 0 yards
Fabric added YTD: 70.14 yards
Net fabric busted: -6.57 yards
Next week, that negative number better be in the positives as I will be making more backs and doing some quilting on my machine. And the number of hours quilting will be amazing too. Last week I managed to sew for 27.5 hours. I made 2 quilt tops and added borders to a table runner/wall hanging in that time. I will post pictures when I'm done quilting these items.
I'm linking up with Kate at Life in Pieces for 15 Minutes to Stitch and Donna at QuiltPaintCreate for my stash busting report. Enjoy your week!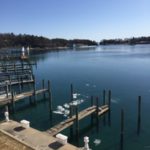 Last weekend I went to a retreat in Charlevoix, MI and it was a load of fun. People, sewing and food. What more could a girl ask for! We just missed a snow storm on the way out of Windsor on Thursday and the weather was perfect for the rest of the weekend. You never know when some snow is going to mess up your weekend plans. This is the view of Round Lake off the balcony.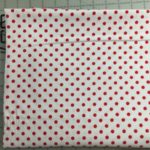 On the way up, we stopped at Delphine's in Gaylord. What a beautiful shop! Loads of different fabrics. All I bough was a piece of cork and this Dumb Dots fabric. Silly name but it's perfect for a project I have in mind.
Anyway, I really didn't get that much sewing done. My younger sister, Connie, decided she wants to learn how to quilt and came to the retreat. I cut out a jelly roll quilt for her and she did a fantastic job for a newbie. Most of the terminology she is familiar with from listening to me and my other sister, Annette, talk about quilting. One more border to go and she has a top done. Then to show her the actual quilting process.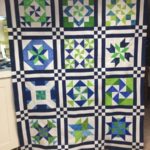 I put sashing and cornerstones on an old BOM but miscalculated the fabric and didn't even have enough to finish it. That was Friday. On Saturday, I pieced together a Simply Squares body and didn't bring any borders. so that was half done. Then I started putting the borders on an old stitchery project and called it quits. I finished it up at home on Monday.
On the fabric front, I visited Hearts to Holly in Charlevoix Mi, my favourite quilt shop, and made a few purchases. Just a few, 25 yards is a few, right? I needed white on white, I have none. And I just needed some Pete the Cat fabric for my grandson.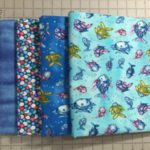 And then the next day, I went back for a spool of thread and bought some rainbow fish fabric. It's very sparkly and I thought it was perfect! for what? Logan, my granddaughter will love it!  So I bought some.
Look at these numbers. I better do something or else.
Fabric used in the last 2 weeks: 15.15 yards
Fabric used YTD: 42.12 yards
Fabric added in the last 2 weeks: 27 yards
Fabric added YTD: 70.14 yards
Net fabric busted: -28.02 yards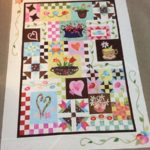 On Friday, I finished Piece, Love and Applique by LizzieBCreat8ive designs. Cute pattern and it used over 14 yards of fabric. lots of applique and piecing. Now to figure out how to quilt it. The store sample was quilted with these flowers in the borders and that it what attracted me to the quilt in the first place. Apparently the woman who quilted it no longer does quilting for others. What a shame, it was really beautiful!
On the 15 Minutes to Stitch challenge, I've been pretty busy. he week of Feb 25 to Mar 3, I stitched 37 hours. Almost a full time job. But I was at the retreat so there were long hours involved. last week, I stitched 25 hours, my part time job. I probably stitch around 4-5 hours every day. And that doesn't count computer time either, even though it's usually quilt related.
Linking up with Donna at QuiltPaintCreate and Kate at Life in Pieces. See you next time.
Just a quick post. I've been working on a real oldie BOM from LizzieBCrea8ive called Piece, Love, & Applique. It's very time consuming as I have to do some applique on every block.  And on my mother's machine. Oh how I miss my Bernina. I should hear something this week.  This BOM would have taken less time if I did it every month when I originally purchased it.  I will post pictures when I'm done. Right now I'm up to Block 7, halfway done. I didn't include it in my stash report but once again when I'm finished I will do the math. I did cut out some sashing for another old BOM where I actually have the finished blocks.
Fabric used this week: 2.46 yards
Fabric used YTD: 26.97 yards
Fabric added this week: 43.14 yards
Fabric added YTD: 43.14 yards
Net fabric busted: -16.17 yards
In the sewing room, I've been sewing almost every day.  I managed to sew for a total of 30.5 hours with no sewing at all on Saturday. I took my grandkids to a birthday party for my great nephews and I was just too tired to do any sewing after that. I will certainly make up for it today.
I'm linking up to QuiltPaintCreate and Life In Pieces for the stash report and 15 Minutes to Sew. Have a wonderful week.
I feel like I haven't done anything since I finished "On Ringo Lake". I think because that quilt was really intense, meaning large, nothing can compare to it. Anyway, upon looking back, I did make 48 blocks, sailboats and chain blocks, as a block exchange for an upcoming retreat. And then I decluttered my cutting table. I must remember to do that every time I finish a quilt. Right!
I did purchase some fabric for the retreat blocks as I do not have any white on white fabric. I can't believe it but I used most of it in On Ringo Lake.   And this is what my numbers look like this week.
Fabric used this week: 2.64 yards
Fabric used YTD: 24.51 yards
Fabric added this week: 6.5 yards
Fabric added YTD: 43.14 yards
Net fabric busted: -18.63 yards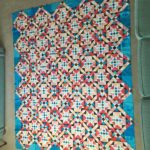 Here's my On Ringo Lake quilt top. The setting triangles need trimming but that can be done when I decide to quilt it. I need to figure out a backing. I have a piece of fabric, 5 yards and I need 5.5 yards so I will need to do some piecing.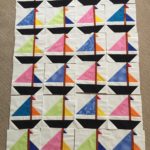 And here's my regatta. I also made 24 chain blocks but never thought to take a picture of them. These were supposed to be batiks but the person running this retreat said as long as they were brights, she was fine with that. What I made out of batiks was the boats and the masts.
On the 15 Minutes to Sew challenge, I've done pretty good this week. I managed to sew 31 hours. Sometimes I can't believe how much I sew.
I'm linking up with Kate at Life In Pieces for the 15 Minutes to Sew  and Donna at QuiltPaintCreate for the stash report.
Have a great week!
Well, it's been a good week. No emergencies of any kind!  I took my mother to the doctor for a follow up appointment and she was good. Blood pressure was still in the low range and her breathing and O2 levels are great. No specialist required. Except for her early January hospital stay. She finally gets to see the surgeon on Tuesday. Hopefully all will be good there. Who wants to go through another colonoscopy after having colon cancer treatment. Not her! She said she's tired of the whole thing and I'm sure you all know what I'm talking about. We will see.
On the fabric front, last week I purchased a load of flannel and it's all washed up, ready to be used as backings. I need to cut it up because I have no place to put it. All the drawers are full and to think I needed to buy more. I'm a little OCD in the matching department and it has to at least go with the front of the quilt for me to use it. No using the wrong shade green or blue for me.
I managed to cut out 2 jelly roll quilts, one for my sister and one for me because I liked her colour choices. I've never made a jelly roll quilt before. Now I want to make another one. These are great as comfort quilts because they are super fast and easy but still really nice when you pick the right colours. My go-to quilt pattern for comfort quilts is Simply Squares and now I think it's a jelly roll quilt.
I'm linking up with Donna at QuiltPaintCreate for my stash report.
Fabric used this week: 8.54 yards
Fabric used YTD: 22.87 yards
Fabric added this week and YTD: 36.64 yards
Net fabric busted: -14.77 yards
I've been sewing most days except for Thursday and Saturday. But looking at  my total hours, it doesn't really matter. I had appointments on Thursday and the grandkids on Saturday and they are still here as I write this. Friday I sewed for 9.5 hours, trying to get On Ringo Lake done. And it's not done but will be this week. I don't like to start another project until the one I'm working on is done. So the push is on because I'm going crazy with all these ideas and patterns and fabric to create something new.
I'm linking up with Kate at LifeinPieces for 15 Minutes to Stitch.
Sewing or related activities Sunday to Wednesday : 16 hours
Sewing on Friday: 9.5 hours
Total hours: 25.5 hours
Oh and I had a call about my sewing machine. Apparently it needs a spring that controls the feed dogs and then the tech can see why it doesn't zigzag on the right once he replaces the spring. So far $7.50 for the spring and $140- for the cleaning/service. I hope it is just a timing issue. Fingers crossed!
And here it is, the Jelly Roll Flimsy. All ready to be quilted.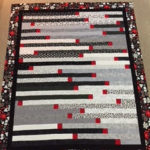 Linking up with Freemotion Quilting by the River. I hope I did that right.
Here's what I learned about making a Jelly Roll Quilt.
#1 Make sure you sew all the fabric with right sides up. Apparently I sewed one strip right side up on one end and the wrong side up on the other end.
#2 When using only 20 fabrics, with 2 strips of each colour, change up the order of the second set of strips.
#3 Before sewing the first long, long seam, make sure your strips are not twisted at all. Boy when I got to the last couple of strips, I couldn't even sew them together because it was a so twisted. I had to cut the end to finish sewing.
#4 Have fun pressing when it's all done. I should have pressed half way through just to make it more manageable. But then again, it might have been too long for the ironing board.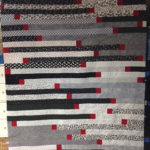 Here's the body of the quilt. All it needs now is a couple of borders and it's a done deal. Well plus the quilting part of it.