Archive for January, 2018
January 14th, 2018 - The Stash
Nothing really new here. I've been working on Bonnie Hunter's mystery quilt, On Ringo Lake and I'm only just finished Part 2. Holy mackerel, it took forever to finish. And the next part has even more pieces. Looks great though! I'm really anxious to see the colours all together. I decided to stick with Bonnie's colour choices. I've seen some other colourways and I like Bonnie's colours the best.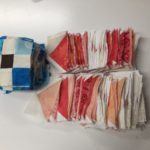 Here's a peek at my pieces. I want to hurry up and make some of the blocks with just the aqua and brown. I did use 2.91 yards for Part 1 and 2  and there has been nothing added. Hopefully next week, I will have the final totals for this quilt.
I'm linking up my stash busting at Quilt Paint Create.
I also joining "15  Minutes to Stitch" with Kate over at Life in Pieces. I've excelled at sewing this week. I've  managed to sew for 20 hours and 35 minutes. And I'm just starting Part 3! You'd think I was a really slow sewer but I'm not. First I had to pick my fabrics, then I needed to press them, then I made Part 1 and then Part 2 which took me a couple of days. And I actually cut some pieces for the other parts too.
Another cold week. Stay warm.  Stay in and sew!
Once again I'm going to try to do weekly stash posts. Last year I kind of fell of the wagon but I did keep track on paper just not here. So here goes.
Fabric used this week: 0.97 yds
Fabric used year to date: 0.97 yds
Fabric added this year: 0 yds
Net fabric busted: 0.97 yds
I'm also trying to sew at least 1 hour every day. Whether it's hand stitching or machine sewing, I need to be doing something. I have too much stuff to let it sit and way too many projects that I'd like to get done in my lifetime.
So this week's projects will include making 2 little zippered bags using my die cutter, which I fixed last night, from fabric that's not even mine. But if there's a lining involved, I can count that. I will post pictures when I'm done.
See you next time!
Here are my final stash totals for 2017.
Total fabric used for 2017: 193.3 yds
Total fabric purchased for 2017: 151.04 yds
Net fabric busted for 2017: 42.26 yds
This is my best year since I've been keeping track. I also keep track of my expenses and it's also my best year. Funny that in 2016 I bought 10 yards more and spent $1100- more. Those 10 yards were really expensive! Actually most of the fabric I bought in 2017 was on sale and I mean on sale! I bought about 80 yards for 75% off from a store that was closing. And the owner was very generous in her measuring. One yard was more like 1 1/4 yards. I think she just wanted to be done. And I included the generous amounts in my tally.
I hope to do even better this year. I only need flannel backing fabric for comfort quilts. I will use what I have and then look for a sale. I did buy some on Black Friday from Joanns but it ended up being out of stock. Lucky me!
In August of 2017, I ended up with another IKEA shelving unit in my sewing room. I didn't really want to get more shelves because I thought it would mean that I would be tempted to get more fabric. Well, that's not true. For starters, there's no room for more fabric. I really need to use a lot of this fabric up before I add any more to this stash. I emptied out 27 bins of various sizes into the shelves and cupboards. Let me tell you that it's so amazing to see 90% of your fabric at a glance. Picking fabric for a quilt is a breeze when you can hold up a piece of fabric against what's on the shelves and see what goes and what doesn't without taking one piece of fabric off the shelf.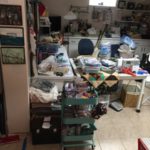 This was a giant mess for the longest time. I had to take all the fabric out of bins and the shelves and try to figure out how to set it up to be the best possible arrangement. Once I figured out how I was going to store my fabric then the work began.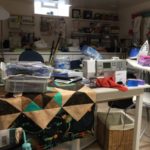 I piled the fabric by colour and then began refolding. I used a 6×24″ ruler and used it like a cardboard bolt. I wrapped the fabric around the ruler as it came off the bolt and then folded it once in half. So when I need a hunk of fabric, I unfold it and unroll it like they do at the fabric store. Fabric folded on my shelf measures 6″ wide by 12″ deep and I stacked 2 rows on each shelf. The shelves measure 13″x13″ and are 15″ deep. Anything smaller than a fat quarter went to the scrap bins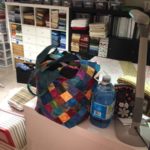 You can just see in the bottom left corner a stack of Rubbermaid bins. I used to have them labelled and stacked in the corner. When you wanted some fabric, you had to pull them out and it was always the bottom bin that I wanted.  I even had a chart made so I knew which stack of ins to pull out.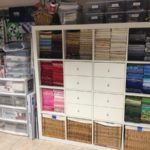 I'm really happy with the way it turned out. The white shelving unit holds mostly fabric. The drawers have fat quarters, batiks and some fabric collections in them. The bottom baskets have more batiks, flannel, yarn and a few kitted up projects.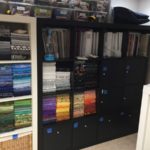 The black shelving unit has books across the top. The cupboards hold quilting supplies like starch and basting spray and kits. The bottom drawers hold a couple of BOMs that I have yet to start and more kits.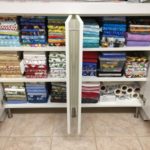 And those 2 white cupboard units are under my cutting table. The fabric is piled 2 layers deep but it's all very organized and I pretty well know what's in the back row. One whole shelf is Christmas fabric and another shelf is children's fabric. And the bottom shelf is fabric collections. You know when you buy a yard of the whole fabric line that you just had to have and can't think what to make with it. And then there's the shelf of stabilizers beside the bolts of Christmas fabrics that are too big to fold in half. I guess I better get busy and use more of it up.
On the top of both shelving units are my scrap bins. There are 20 shoebox-sized bins, 10 for strips 1″ to 6″ and 10 for squares 1.5″ to 6″. I've been making myself cut up the scraps as soon as I'm done making a quilt instead of the pile I usually have on my cutting table. It keeps  my room looking tidy and if I keep it up, there's never that daunting pile that stymies my creativity.
Anyway it was really easy to do, it didn't cost me anything as I had both shelving units and the cutting table already. All from IKEA. Now that I'm done my room, I feel like I can go make something without having to clear up a mess.  I guess I'm a little OCD but I like it!
Here's my 2017 accomplishments
I made 76 fabric items which includes the following:
-12 pillowcases
-39 quilts completed entirely
-11 quilt tops
-6 embroidered tea towels
-2 embroidered pillows
-1 embroidered t-shirt
-1 pajama pants
-2 Featherweight case covers
-2 custom pillows
and I'm sure there is more that I forgot to record. Here is a small sampling of my 2017 projects.
I finally figured out how to do some embroidery on my machine rather than just names on stockings and Pin wallhangings. I made 9 Pin wallhangings and 5 Christmas stockings. Then all of a sudden, one day I just decided to embroider multi-colour projects. I even bought a couple of patterns from ETSY. Some are good and some not so good. At least they are relatively inexpensive.
My favourite thing from 2017 is the "Marvel-ous" pillow I made for my oldest son. I love the embroidery and the fabric that I just happened to have on hand. How cool is that!