Archive for May, 2011
I'm home and I have something to share. I hardly ever get to post but today was a very slow day.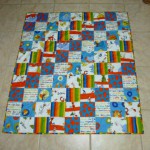 I finished this little baby quilt on Saturday night. Now all I need is a Dr Suess book and I have a baby gift. If only I could remember to get the book before I have to use this. Actually, the next quilt recipient has asked for books instead of cards at the baby shower so while I'm at the bookstore, I'll have to pick up a couple extra.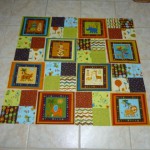 I'm working on this today. I had to cut out a panel in to some real wonky squares.  Somebody made a quilt out of this panel and told me what I needed to do. They were unsure of the size of the 'squares' so I'm just playing around with it and I think it will work. Now I need to sew it together and add some borders. Voila! Another finish.
 Too bad all quilts weren't this easy. Have a great day!
 The stash is growing again. Not that I mind but I would have liked to not increase it for a while. Anyway it's really not for the stash but for actual projects.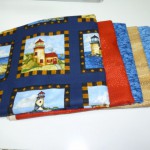 I always wanted to get some lighthouse fabric but all the stuff I've previously seen hasn't been what I want. So when I saw this line of fabric, I knew it had to come home with me. I have the perfect fabric for the backing so all I got was enough to do a couple of tops. My plan is to make some pinwheels in the coordinating fabric and alternate with some of the lighthouses.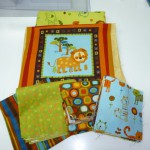 I'm invited to another baby shower and the parents want to do a animal/nature theme in the nursery.  No blues or marine stuff but they'd like greens. When I saw this line of fabric, I thought it work out just fine. I hope it's a boy as this is more of a boy's quilt than a girl's but in today's world I guess anything goes. All this stuff was from Hearts to Holly in Charlevoix. I haven't even been to the quilt shows yet.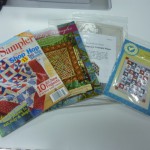 Also while I was at Hearts to Holly, I got the new Quilt Sampler magazine that features their shop. Their quilt is even on the cover. I thought it was pretty cool. My sister had the store owner, Sue, sign it for me. I also bought a book from Edyta Sitar for friendship triangles and I got the paper for the triangles too. It's a different version of triangles than the Thangles method. I'm game to try it out. At the shop they have quilters do triangle swaps, however many triangles you bring in, you get that many different ones back. It seems to be pretty popular.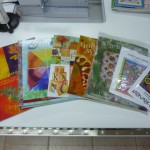 I didn't purchase fabric from the quilt shows. I bought a lot of books.  Hyperquilting, Threads, Fabulous Fabric Art, Quilted Symphony and a couple of patterns. I found a Judy Niemeyer Mariner's Star, Aardvark Quilts-Paperweight and another paper pieced pattern called Little Lady Liberty. I always wanted to do a Judy Niemeyer pattern but could never seem to find one I wanted to do. So who know the rules,  buy it when you see it or you'll never see it again.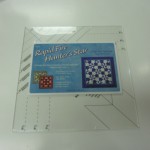 I also found this ruler for a Hunter's Star quilt. It has really good instructions and the shop where I bought it at, Reicard's in St Jacob's, gave me a little tutorial on using it. It seems pretty easy so I'll be playing with this in the summer. I also bought a whack of thread from a booth selling Superior threads. The King Tut on a cone was only $22.95 so needless to say, I bought around 8 cones of it. It was my biggest purchase. Now on to some numbers for my stash report.
Fabric used this week: 0 yds but I did finish something already accounted for
Fabric used YTD:88.2 yds
Fabric added this week: 17.29 yds
fabric added YTD: 110.69 yds
Net fabric busted: -22.49 yds
 I'll be using a bit up this week and I'm hoping not to add any more for a long while. Famous last words!
 Two posts in less than 24 hours. Boy, things are changing here. I've been trying to finish a lot of UFOs, most of them just need to be quilted. And most of the fabric has already been accounted for. I did start another stitchery project, Snow Days, from Crabapple Hill. I can't believe how much fabric this pattern calls for. I cut the stitchery squares a lot smaller than required and double checked to be sure it wasn't too small. Anyway, here are my numbers.
Fabric used this week: 10.39 yds
Fabric used YTD: 88.2 yds
Fabric added this week: 1.52 yds  backing for a baby quilt
Fabric added YTD: 93.4 yds
Net fabric busted:-5.2 yds
 Hopefully I'll be good this week. I'm going to Charlevoix today and you know what that means. Hearts to Holly here I come. Also I'm going to 2 quilt shows, one in St Jacobs ON and the other is a biggie here in Canada. It's the CQA in London ON. All in the same week and only 1 hour apart. Hold me back! Actually I have to be really good, we have a strike looming and I don't want to spend too much.  Have a great week.
Just thought I'd let you know that I'm still alive. I really haven't felt like posting anything but I'd like to show you this beautiful picture of my son and his 3 friends on prom night a couple of weeks ago.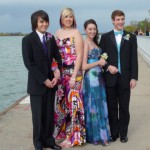 This isn't the best picture but it's the only one where my son's date doesn't get her head cut off. My son's on the left and the other 3 are his best friends all through high school. Next year they are all off to different universities around the province.
Have a great evening.
Well, oncce again I've purchased fabric. All for good causes and none for the stash.
 Backing for this little baby quilt. I've been eyeballing this fabric for awhile now and I didn't want to buy it because I could not think what to make with it. I saw this little quilt made and thought that it would be just right. So I got the top but the shop didn't have enough for a backing but I picked some up here in Windsor. Now I need to get it quilted.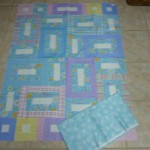 I made this quilt top entirely from my stash but I didn't have any fabric for the backing. I'm a little OCD about matching up the front and back of quilts. Everyone says "it's only the back" but I just can't bring myself to use a fabric that doesn't do it for me. besides, I didn't have enough fabric that was a close enough match so off to the quilt shop I went. At least it's being used, not going in the stash. Another quilt for the to-be-quilted pile.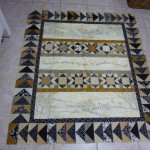 I  finished this beauty on Sunday. I just love this quilt and I would never part with it. Way too much work. My husband wants to take it over to his mother's and show her but then she would want it. I told him no way am I ever giving it away so think again. But it's nice that he wants to show people my work. He's a great supporting of my habit.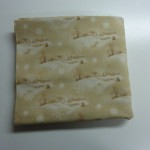 This is the backing for the previous quilt. What a great match! I also bought enough for the backing of "Snow Days", another Crabapple Hill stitchery that I'm just starting. I even bought it for the backing of my sister's Snow Days. It's the perfect backing for these stitcheries, the print looks like the stitching on the front.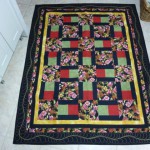 I finished the quilting on this comfort quilt. I love feathers and would like to stitch them on everything but I know I can't do that. I finally took my machine in to see why it keeps on acting up. In the shop the machine wouldn't mess up at all and then I said I'd bring in what I was quilting on and see if it would do it then. No dice, it stitched perfect. Oh well, just like when you take your car in, it never messes up in front of the mechanic. I brought it home and it's been stitching perfect ever since.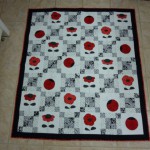 I also finished up this quilt.  I think it turned out great. I echoed around the flowers and ladybugs and was stumped as to what to quilt in the pieced squares. Joy at Joy Quilts suggested spirals in them and it worked out great. It was the right amount of quilting to compliment the echo stitching. Thank you Joy.
 Now for some numbers.
Fabric used this week: 15.46 yds
Fabric used YTD: 77.81 yds
Fabric added this week: 15.5 yds
Fabric added YTD: 91.88 yds
Net fabric busted: -14.07 yds
 Oh well, at least eveything is accounted for and my numbers pretty well remain the same. I think one of the pieces I bought was more than needed but I don't think I was charged for it so that's a good thing. It was the end of a bolt and the store just gave it to me. Nice! Have a great week and sew lots. I hope to!