The stash is growing again. Not that I mind but I would have liked to not increase it for a while. Anyway it's really not for the stash but for actual projects.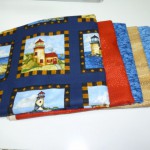 I always wanted to get some lighthouse fabric but all the stuff I've previously seen hasn't been what I want. So when I saw this line of fabric, I knew it had to come home with me. I have the perfect fabric for the backing so all I got was enough to do a couple of tops. My plan is to make some pinwheels in the coordinating fabric and alternate with some of the lighthouses.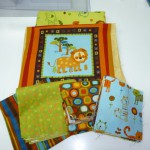 I'm invited to another baby shower and the parents want to do a animal/nature theme in the nursery.  No blues or marine stuff but they'd like greens. When I saw this line of fabric, I thought it work out just fine. I hope it's a boy as this is more of a boy's quilt than a girl's but in today's world I guess anything goes. All this stuff was from Hearts to Holly in Charlevoix. I haven't even been to the quilt shows yet.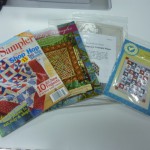 Also while I was at Hearts to Holly, I got the new Quilt Sampler magazine that features their shop. Their quilt is even on the cover. I thought it was pretty cool. My sister had the store owner, Sue, sign it for me. I also bought a book from Edyta Sitar for friendship triangles and I got the paper for the triangles too. It's a different version of triangles than the Thangles method. I'm game to try it out. At the shop they have quilters do triangle swaps, however many triangles you bring in, you get that many different ones back. It seems to be pretty popular.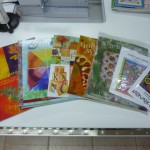 I didn't purchase fabric from the quilt shows. I bought a lot of books.  Hyperquilting, Threads, Fabulous Fabric Art, Quilted Symphony and a couple of patterns. I found a Judy Niemeyer Mariner's Star, Aardvark Quilts-Paperweight and another paper pieced pattern called Little Lady Liberty. I always wanted to do a Judy Niemeyer pattern but could never seem to find one I wanted to do. So who know the rules,  buy it when you see it or you'll never see it again.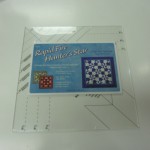 I also found this ruler for a Hunter's Star quilt. It has really good instructions and the shop where I bought it at, Reicard's in St Jacob's, gave me a little tutorial on using it. It seems pretty easy so I'll be playing with this in the summer. I also bought a whack of thread from a booth selling Superior threads. The King Tut on a cone was only $22.95 so needless to say, I bought around 8 cones of it. It was my biggest purchase. Now on to some numbers for my stash report.
Fabric used this week: 0 yds but I did finish something already accounted for
Fabric used YTD:88.2 yds
Fabric added this week: 17.29 yds
fabric added YTD: 110.69 yds
Net fabric busted: -22.49 yds
 I'll be using a bit up this week and I'm hoping not to add any more for a long while. Famous last words!
5 Responses to "The Stash"
Leave a Reply