Archive for December, 2009
Well, I think so! My younger sister ran with the Olympic Torch last Wednesday. It was a really exciting day for her. She wrote a 300 word essay about the environment and "No-trace camping" and was picked from thousands of applicants.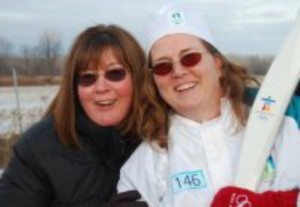 Way to go Connie! Woohoo!!!!!!
She brought the torch to our family Christmas dinner and everyone got to see it. She's been wearing the hat and the jacket all weekend. I think she likes this stuff better than her Christmas gifts.
Have a great evening. And if I don't post tomorrow, have a happy and healthy New Year.
Mary-Kay
Hurray! We're done for the year. And I plan on doing better next year. Right!
Fabric added this week: 0 yds
Fabric added YTD: 285.72 yds
Fabric used this week: 3 yds
Fabric used YTD: 248.54 yds
Net fabric busted: -37.18 yds
 I would have like to use 100 yards for the year. If only I never bought any fabric. But then I may not have made so many things either. Next year I plan on trying a little harder. Try to make do or go without.  I'm sure I'll slip a little but I'm only human and it wouldn't be as much fun.
Have a great day and a wonderful, productive New Year.
Mary-Kay
 You are so ugly!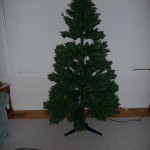 Doesn't my tree look pathetic?  I had to shape the branches and while I was doing that , one of the branches came off. It's only 2 years old and we didn't even put it up last year.  I loved my old tree but it was getting all ratty looking and the wire branches were coming off. Next year I'm looking for a really nice tree right after Halloween.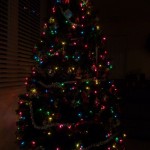 Now my tree looks like this. It's amazing what some lights and decorations can do to an ugly tree. And they always look pretty all lit up in a darkened room.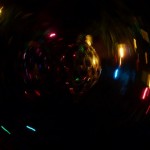 I tried to take a few photos ala Sue Hecker and spent most of my time deleting them. I found out that I got the best results with the round bulbs.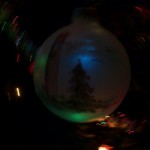 My friend, Peg, painted this bulb. She makes the most beautiful painted things.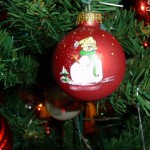 And Peg painted this one too. They are so pretty and delicate looking. I usually hang them fairly high up on the tree just in case some little fingers try to grab them.
I wish you and your families a very  Merry Christmas!
Mary-Kay
One more week to go. Can we all do it? Well I know for certain that I won't be meeting my goals. I'm not going to stress out about it but I'll be making some changes for next year. Like not buying fabric. Ha, ha, ha! I was thinking that's the only change I could make to reach my goal but I guess I could just sew more too.
Fabric added this week: .25 yds which was a BOM
Fabric added YTD: 285.72 yds
Fabric used this week: 2.78 yds
Fabric used YTD: 245.54 yds
Net fabric busted: -40.18 yds
 If I sew like a crazy person and don't do anything else , maybe I can get in the positives. I don't think I'll be going there.
 Have a great day. Enjoy the holidays.
Mary-Kay
December 14th, 2009 - Cookies
Boy, I sure got some good cookies! And they are really tasty. One of my friends even made a dozen cookies for my son who has nut allergies. Too bad the other son has so many allergies that he can't have just one cookie at all. He's only had chocolate twice in his 24 yrs of life. His first birthday before we knew he had allergies and one other time when he got in the fridge and ate some chocolate cake. Boy was he sick after that!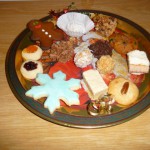 Lori, look at this plate of cookies. Twelve dozen. That snowflake one is delicious. My friend called me up when we were done work and asked if I tasted it. I ate one after I left the depot to go deliver mail. Yummy!!! And I have to put them in the freezer and not outside. It's 40 degrees out and it's only going down to 30 tonight.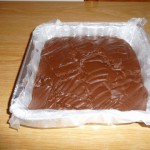 And one of the girls made fudge. Everyone in the cookies exchange received a whole tin of it. It's sooo good but I'm not going to eat any until after Christmas. And I'll know if anyone in this house eats any too. I'm not slicing it up until Christmas Day when we go to Brett's parents house for dinner. I'll bring a whole plate of goodies. Nice and easy.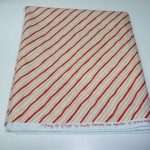 This is one of the fabrics I got  while I was in Charlevoix. It's great for bindings on Christmas stuff. Not that I have any Christmas stuff ready to bind. Yet!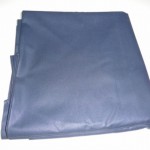 I also picked up this solid blue fabric. It's not navy blue but close to it. I want to use it for sashing on some scrap blocks that  were leftovers from 2 other quilts.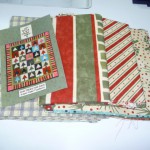 And last but not least, here's the Christmas quilt, backing and all. It really matches my living room unlike the other Christmas quilt. I'll be giving that one to my mom for Christmas. The pattern is "Trees for Sale" by Sandy Gervais. It looks pretty easy to put together. I know that it will not be done this year but I'll finish it after Christmas when I'm on vacation.
 That's all for now.  Happy stitching.
Mary-Kay
Here are the visual aids as requested by Kare.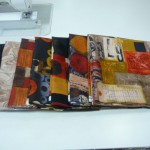 Aren't these the coolest fabrics ever? All of them except for the black one on the left are from Camelot Cottons and are from the Urban Squares line. I've never heard of this company before but they have some of the neatest looking fabric.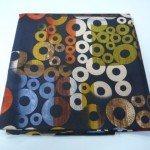 Now you have to like this stuff! Well maybe it's not for everyone but I really liked it so I had to get a few yards of each. But not just for the stash but I'm actually going to make a few quilts from it.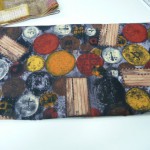 Doesn't it look like a collage? I like the different elements in the design of this fabric. Very cool looking!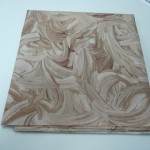 And from the same company this is the Finger Paint line. It comes in a lot of different colours and has more definite colour variation then a tone-on-tone fabric. Apparently it goes fast when it's in the quilt shop. Maybe that's why I've never seen it before.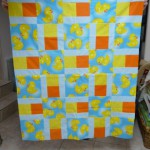 And last but not least. I made 2 of these quilts today for my niece. She has a few friends that had babies and she wanted to make them quilts. Originally it was supposed to be one quilt but the friend had another baby before she got the first quilt started. Then she asked me if I would make thembecause she knows I would get them done. Plus I have another baby quilt to make for another friend of hers. And then this friend is pregnant again so we'll have to make another quilt for her too! Busy, busy!
That's all for now.I'll habe more photos tomorrow and  I have to get a few more things done, then it's time for bed. Five comes really early. The mail must go through. Rain, shine, sleet or snow. Whose idea was that anyway? Must have been a man. LOL!
Mary-Kay
Crap! Only 2 more weeks to bust at least 42 yards to get in the good. I've been very naughty these last 2 weeks but it was so much fun. I have enough projects to last for a few years so next year's stash report should be amazing. Right?
This last week was a flop in the sewing department. I had therapy every other day and I really didn't do much else. The cold weather takes a lot out of me until I get used to it. Thank God winter only lasts a few months. I hope it won't be too snowy like last year or cold either. The cold is easier to handle than the snow. The snow tires you out faster than the cold. For those of you who don't know it, I deliver mail for a living. Four more years to go and then I can finally retire. God willing that is. 
Okay enough moaning about something I can't change- the weather that is! Here's my stash report and don't laugh.
Fabric used this week: 0 yds
Fabric used YTD: 242.76 yds
Fabric added this week and last week too: 29.36 yds
Fabric added YTD: 285.47 yds
Net fabric busted: -42.71 yds
 Now to sew a few projects. Too bad it isn't my fabric I'm using. My niece asked me to do a few projects for her and she'll be here Dec. 27. That means sew, sew, sew!!!
Have a great day and stay warm and cozy.
Mary-Kay
 Well, better late than never. We had an eventful weekend. Our car had tranny problems and we had to have it towed back to Windsor from Grayling MI. And now it's at the dealership and they can't find anything wrong with it yet. Do they think we imagined it and wanted to go through all this hassle? Anyway it's not really my car but a lease and I'm not  going to buy this car out at the lease end.
 Anyway on a brighter note, while I was visiting in Charlevoix it was their Christmas walk through town. I stopped in at the quilt shop Hearts to Holly and entered a drawing for a gift card. My great-niece wanted her aunt to win and the owner, Sue, let her draw the ticket. Guess what? She picked my name! Isn't that great!!!! I won a $25- gift card. So I did what any quilter would do-I spent it and then some. I got some great fabric and a quilt kit. I didn't have time to add up all the yardage so I'll count that in next week's report. 
Fabric added this week: 0 yds
Fabric added YTD: 256.11 yds
Fabric used this week: .25 yds
Fabric used YTD: 242.76 yds
Net fabric busted: -13.35 yds
 I had better do a lot of sewing this week to even out my purchases. I also have a few projects to do for my niece that I'd like to get done before they come down at Christmas.
Have a great week.
 Let us sew, let us sew, let us sew!
Mary-Kay
 Stuck in the Big Boy in Grayling MI. Our van has some kind of transmission issue and was towed to the local Chrysler dealership which is closed on Saturday and Sunday. Hmmm….. we both have to work on Monday. I wonder if the lease plan we have covers lost wages. I think not but I'm willing to give it a shot. And supposedly it doesn't cover a car rental. Meanwhile whenever I take my van in for service in Windsor and they have it for more than an hour I get a rental car. Oh by the way, we have to pay for all the repairs up front and then submit it all for approval within 30 days. Then it takes 4 to 6 weeks to be reimbursed. I hope they also cover the interest on the credit card. I will never buy extended warranty plan like Gold Key Lease Plan. And it depends on how all this turns out as to whether or not we purchase a Chrysler again. I'll be sure to tell all you the details, more like the frustrations we will be encountering. I hope you all have a better evening than I'm having.
Mary-Kay