Well, I think so! My younger sister ran with the Olympic Torch last Wednesday. It was a really exciting day for her. She wrote a 300 word essay about the environment and "No-trace camping" and was picked from thousands of applicants.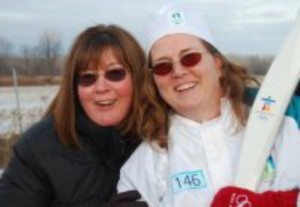 Way to go Connie! Woohoo!!!!!!
She brought the torch to our family Christmas dinner and everyone got to see it. She's been wearing the hat and the jacket all weekend. I think she likes this stuff better than her Christmas gifts.
Have a great evening. And if I don't post tomorrow, have a happy and healthy New Year.
Mary-Kay
2 Responses to "Canada's Best Torch Runner"
liz Says:
December 30th, 2009 at 8:45 pm

That's an exciting thing for your sister!

I have a quilt that I made during a previous Winter Olympics, I can't remember which one! Maybe next year I'll work on quilting it during the Olympics!

Have a Happy New Year!

Liz

Nancy Says:
January 1st, 2010 at 4:38 pm

Wow!! Congrats to her and what an honor!!! A once in a lifetime memory!!!

Hugs!
Leave a Reply