Archive for July, 2009
July 28th, 2009 - I'm Back
And I bought soooo much fabric but none of it is for the stash. Well maybe a little bit. I found lots of great deals and some not so great deals. The only stash fabric is 8 yards of flannel that I like to keep on hand for comfort quilts. I can never seem to find any nice flannels here.
Fabric added this week:38.65 yds
Fabric added ytd: 172.11 yds
Fabric used this week: 10.6 yds
Fabric used ytd: 133.68 yds
Net fabric busted: -38.43 yds
I managed to make a few things when I was at my sister's house. I bought some projects but only worked on one of them. I made 2 quilt tops and a table runner. I will post some pics in the next post.
Happy stitching
Mary-Kay
This is going to be a fast report. I'm about to leave for the week  to visit family in Charlevoix, MI.
Fabric added this week: 00000000
Fabric added ytd: 133.46 yds
Fabric used this week: 8.48 yds
Fabric used ytd: 123.08 yds
Net fabric busted: -10.38 yds
 I hope that I don't buy too much fabric this week. I know that there is a quilt shop in town and I know that I'm going to buy something. Maybe I'll just buy it for gifts. I don't think so!
Have a great week and I'll see you all next week. There will be lots of catching up to do. Lucky for me I'm off for 4 weeks.Yeah!!!
Mary-Kay
…was a lot of fabric. None was really for the stash except the bolt of black.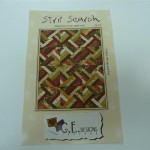 A new pattern, "Strip Search". I saw this and I thought it would make some great comfort quilts from the  2.5″ strips that I have been saving.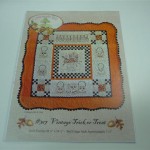 A vintage Halloween stitchery that has a ball fringe. It seems kind of retro rather than vintage but I love all the Crab-apple Hill patterns.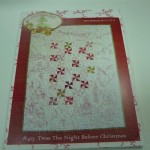 So I had to buy this one too. "Twas The Night Before Christmas" I'm going to have quite a collection of their patterns and when they are all completed, they will be so beautiful. Of course, it might take me a few years. But at least I can look at the pattern and imagine them all finished.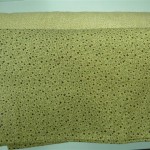 And here's some blah looking flannel for the back of 3 comfort quilts. The reason I say it's blah is the colour of it. I am not a brown person. I like black way better so I bought a bolt of it!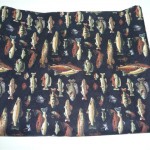 This is a really nice fish print that I'm going to use for a comfort quilt. I have some homespuns that will match up nicely with this and I think the intended recipient is going to love it.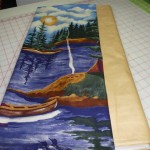 And finally this tan coloured fabric. I am making a comfort quilt for a scout leader who is ill and I thought that I could get all the kids in his scout troup to sign a block and somehow arrange them around this campy panel. The other scout leaders in this group thought it was a great idea. Now all I have to do is cut it into 6.5″ squares and send it off to camp. I guess the kids are going to do it as part of their scout trip. I think the leader is going to love it.
  Well I'm off to cut up fabric and use up some of this newly acquired fabric so it doesn't go in my stash.
Happy quilting.
Mary-Kay
 Okay, so I'm now in the negatives. I feel like I cheated on a diet. But of the 34.25 yards that I purchased, 12 yards are for 3 comfort quilt backings, 2 yards are for a signature quilt, 3 yards are for a themed quilt and .25 yards is a BOM. The biggie purchase was the bolt of black that I got for 25% off and then I had a $25 coupon that I was itching to use. I do use a lot of plain black in my quilts so it's not really "just because I liked it" buy. I'm sure I'll be using that up and purchasing more before the year end. Now if only I could finish the roman shades for my mother and get them off my cutting table I would be really happy.
Fabric added this week: 34.25 yds
Fabric added ytd: 133.46 yds
Fabric used this week: 0 yds
Fabric used ytd: 114.6 yds
Net fabric busted: -18.86 yds
Have a great sewing week.
Mary-Kay
Yup, that's right. Wendy from Truly Materialistic commented that she didn't see the finished quilt "Mum's The Word". I have the backing but I have to think about the way I would like to quilt it. It's not a gift or anything like that so time is not an issue. Here it is…..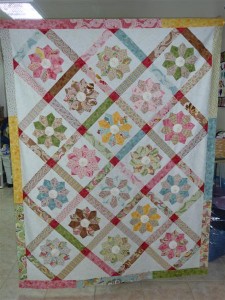 I was thinking of quilting in the half-square setting triangles a feathered wreath ( boy, the spelling of that seems weird) and then outline quilting around the plates and something around the yo-yo in the center of the plate and I don't know what else.  Any suggestions would be appreciated.
 I have a few comfort quilts to quilt and a few more to make. Then I can possibly start on this quilt. Maybe I'll win some moolah and I won't have to work and I can be a stay-at-home quilter. Yeah right!
Have a great week.
Mary-Kay
 I finally started on my Mother's blinds. I only have the center sections cut out but have had no time to lay it out and start sewing it all together. Hopefully this week I won't be sew busy and I'll actually get something done.
Fabric added this week: 0 yds
Fabric added ytd: 99.21 yds
Fabric used this week: 3.44 yds
Fabric used ytd: 114.6 yds
Net fabric busted: 15.39 yds
Now if I can manage to not buy any fabric this week, I'll be very happy. But I do have a BOM that I might go and get this week. And hopefully I can walk out of the store with only the BOM but I also have a $25 coupon that I can't seem to spend. I'm always thinking fabric when I can spend on anything in the store….books, magazines or the latest gadgets. Hmmm……….
Have a great week.
Mary-Kay