Archive for February, 2009
My nephew's girlfriend has been sick, seeking medical attention for the last year. On Tuesday morning she thought her appendics had burst  and Kyle rushed her to the hospital. She was whisked to the back of the ER while Kyle filled out the various forms at the triage desk. The doctor came over to him with a case worker and asked him how he felt about having children. He said he wasn't ready for that yet and then the doctor said "Congratulations, you are a father" He almost passed out! Apparently Lauren had seen a doctor 2 times in the last 9 months for stomach issues and a pregnancy test was never done. You always hear about this in the news but it's true. And this girl is tiny. How could she not notice a baby growing in her stomach. And so is the baby, 2.68kilos or 5.9lbs.  Now I have to get busy, use up some stash and make a baby quilt for this little one.
As you know from my previous post that I was going to buy some backing fabric. That I did plus I bought some extra for the music quilt and some more just because. And then I didn't blog all week because I really wanted to make a serious dent in this stash.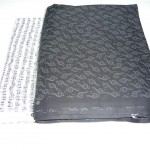 Here's the 8 yards of fabric for the music quilt. The black is enough for borders on the front and the backing. At least I didn't buy it "for the stash".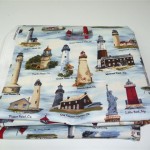 But this fabric is "for the stash". I saw it at Joann's and I just had to buy it. I thought it would make a great border and backing for a man's quilt. I do have 7 brothers and not one of them has a quilt. Yet!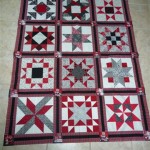 And this is what I have been working on all week. Beside washing all the fabric and pressing all the fabric I bought. I also layered 3 quilts that are now ready to be quilted. I'm not in the mood to do that so maybe this week.
Okay here's my stash report.
Fabric Added This Week: 23 yds
Fabric Added Year To Date: 25.2 yds
Fabric Used This Week: 13.4 yds
Fabric Used Year To Date: 14.38 yds
 Maybe I'll have better luck next week and use up some more.
Happy stitching.
Mary-Kay
 I can't believe that it's already week 7. My how time flies. Here's this week's tally. I hope to use more next week but I'm planning on buying some flannel backing for a few comfort quilts.
Fabric Added This Week:  0 yards
Fabric Added Year to Date: 2.2 yards
Fabric Used This Week: 5.88 yards
Fabric Used Year To Date: 24.03 yards
Happy Stash Busting
 Mary-Kay
 I did it! I've finally got the Dresden Plates completed.  It was a pain in the butt. The pattern needs to be reworked, Lots of cutting after it's sewn  and I think that it wastes material. But I like the finished result.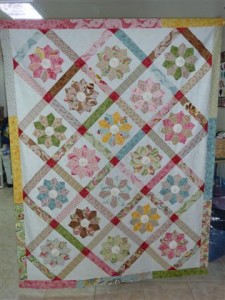 Now all that needs to be done is the quilting part. I might even make a fabric purchase for the backing. I really like the background fabric so I'd like to use that if it's still available.  Now to tally up the fabric used for my stash report tomorrow.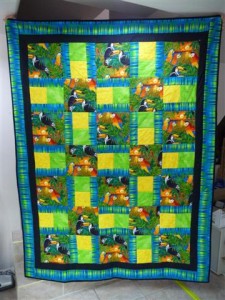 Remember the three quilts the Quilters Three made in January. Well here is one all quilted and ready to be given to comfort somebody.
That's all for now.
Talk to you later.
Mary-Kay
 I've started making the yo-yos for the centers of the Dresden Plates. I learned an easy method from Wendy at Truly Materialistic.  She said that she drilled holes in the back disc of the yo-yo maker at the size of the finished yo-yo and then she used a fabric marker and put dots on the material once it was in the disc. Then she made the yo-yo and before she pulled the thread tight she sewed it to the center of the block and then pulled the thread tight and voila, a finished yo-yo.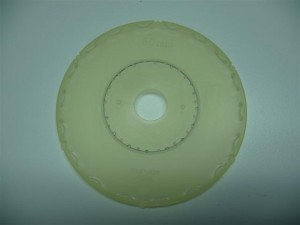 I don't know if you can see but I drilled small holes in a circle on the back disc of the yo-yo maker. Almost in a perfect circle but I'm not that good. I used a very small drill bit, just as big as the end of a marker tip.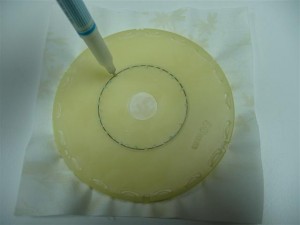 I put the fabric between the discs according to the instructions and then I marked all the holes with a washable marker.  You trim the fabric and do a running stitch around the edge of the yo-yo according to the  instructions.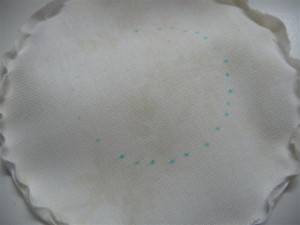 You can just see the marker dots and I just saw them enough to sew on the dots.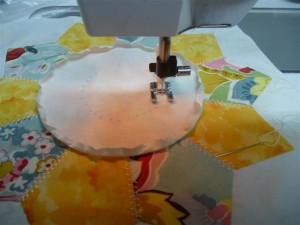 I used the open toe foot so I could see the dots and managed to  sew a fairly round circle.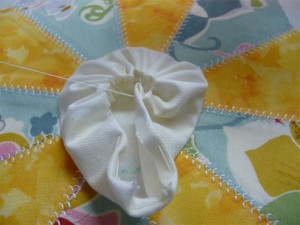 When you are done sewing, you pull the thread tight around the outside edge of the yo-yo while trying not to break the thread and keeping it nice and neat. Knot the thread and bury the knot. I brought the thread to the back of the block and knotted it again, just to be safe.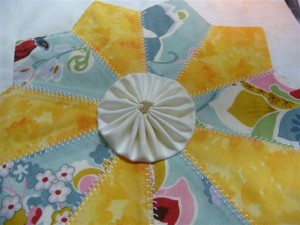 The finished product. This method makes a nice crisp edge and eliminates hand sewing the yo-yo to the block. I think I like the way it looks.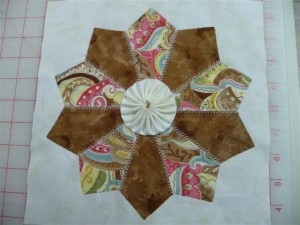 This is the first one that I did with this method. I didn't trim the edge of the fabric small enough and it makes the center stick out a little far. The instructions say to trim it1/8 to 3/16 and I think I did it about 1/4 of an inch.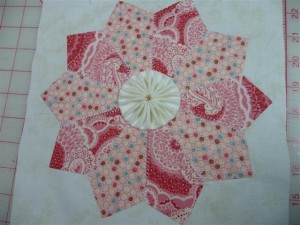 So far this one looks the best to me but then I am very critical of my own work. The pleats or gathering in this one are perfect. I hope all the rest of the blocks turn out like this one.
 Well I'm off to do more.
Talk to you later.
Mary-Kay
As Previously reported, I actually purchased fabric this week. But it is for a specific quilt not just because I liked it.
Fabric added This Week: 2.2 yds
Fabric Added Year To Date :2.2 yds
Fabric Used This Week: 0 yds
Fabric Used Year To Date : 18.15 yds
 All week I've been working on "Mum's The Word" which is a Dresden Plate pattern. Very easy to make. Now all I have to do is decide what to put in the middle of the plate. The pattern calls for x-large yo-yos and I don't know if I like it enough to make 18 of them.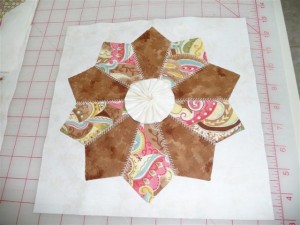 The yo-yo is just sitting on the top. It looks nice  in this colour combination but on some of the others I don't like it as much. Originally I was going to make the yo-yos in  the red or yellow  but I thought that using either of those colours were too bright and would detract from the rest of the block. The pattern suggest using the same fabric as the background fabric.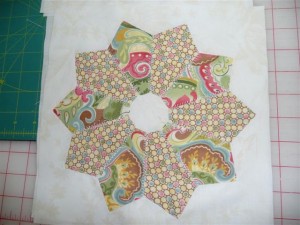 I really like this colour combination. The stitching between the veins of the plate make it look altogether different than without it. I don't know why I didn't take a picture with the yo-yo on the block.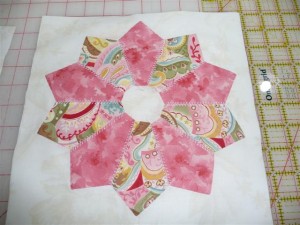 This is another block that I really like. Next time I make one of these quilts I'm not going to use a jelly roll but I'll be picking out my own colours. I like a lot of the fabrics but not all of them. Wouldn't it look cool in all batiks? Or Christmas colours?
That's all for now. I'm off to make yo-yos, I think.
Mary-Kay
Yep, that's right, I bought some fabric. I went to the quilt shop for the BOM and came home with 2 meters of fabric. But it's for a quilt, not for the stash. I offered to make a raffle quilt for my son's music program at school, so I bought music related fabric.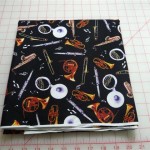 It has brass instruments on it and my son doesn't even like it. Too bad, it's not for him anyway. But if it doesn't work out, my niece wants a wall hanging featuring musical instruments so it won't be just sitting in the  stash.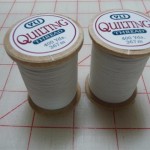 And I bought some hand quilting thread. I can't believe that with all the thread I have I don't have any of this type. But this thread is going to be used to quilt this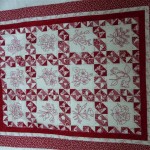 redwork project that has been aging awhile. I think it's time to finish it up. I haven't hand quilted in years so I might wait until my sister comes down at the end of the month to help me get started again. And I should read my book The Perfect Stitch by the late  Roxanne McElroy. It's a great book .  
Well I'm off to do some more Dresden Plates and hopefully get that somewhat finished before the weekend.
Happy stitching.
Mary-Kay
 Well, I haven't used all that much fabric this week, but at least I haven't bought any. Hurray for me!  On Monday I'mgoing to the quilt shop for my BOM and I have to be strong and not look at the fabric in cause I'm tempted to buy.
Fabric Added This Week: 0 yards
Fabric Added Year To Date: 0 yards
Fabric Used This Week: 4.25 yards
Fabric Used Year To Date: 20.35 yards
 This is what I've been working on.
I have 7 of these plates completed. They are not appliqued down yet but soon will be.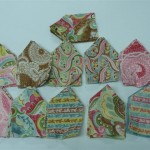 Here are the 11 more to finish. Jelly Rolls are really easy collections of fabric. It's really neat how pattern designers took old patterns and revised them for the use of jelly rolls. Much easier than the other way of constructng a Dresden Plate block.
Well I'm off to do the weekly shopping and I have to go to the University bookstore on the other side of town for my son's school supplies. Mothers' jobs are never ending but I hope greatly appreciated.
Talk to you later.
Mary-Kay