I did it! I've finally got the Dresden Plates completed.  It was a pain in the butt. The pattern needs to be reworked, Lots of cutting after it's sewn  and I think that it wastes material. But I like the finished result.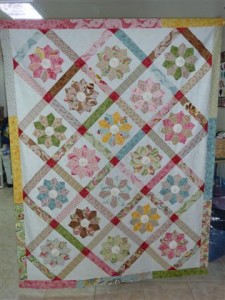 Now all that needs to be done is the quilting part. I might even make a fabric purchase for the backing. I really like the background fabric so I'd like to use that if it's still available.  Now to tally up the fabric used for my stash report tomorrow.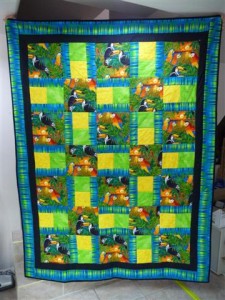 Remember the three quilts the Quilters Three made in January. Well here is one all quilted and ready to be given to comfort somebody.
That's all for now.
Talk to you later.
Mary-Kay
One Response to "Finally Finished"
Arizona Says:
February 21st, 2009 at 2:02 am

Your dresden plate quilt is very pretty! I love the yo-yo tutorial, too.
Leave a Reply