Archive for June, 2013
Not that it's dwindling by all that much. As long as it doesn't increase. I worked on 2 comfort quilts, no pictures because they aren't that exciting. I'm now working on a curved piecing project that's been hanging around for a couple of years. I just found it and even though I don't like the fabric, I'll make it, give it away and be done with it. Now for this week's numbers.
Fabric used this week: 3.48 yds
Fabric used YTD: 117.18 yds
Fabric added this week: 0 yds
Fabric added YTD: 109.03 yds
Net fabric busted: 8.15 yds
We've passed the halfway mark for the year. Now to get down to some serious stash busting. I have goals you know. Right!
and a little stash. My nephew's girlfriend asked me if I could make quilts from their 2 kids receiving blankets. Sure! Now to find a pattern. I just happened to see the Twister quilt from receiving blankets on someone's blog. Perfect!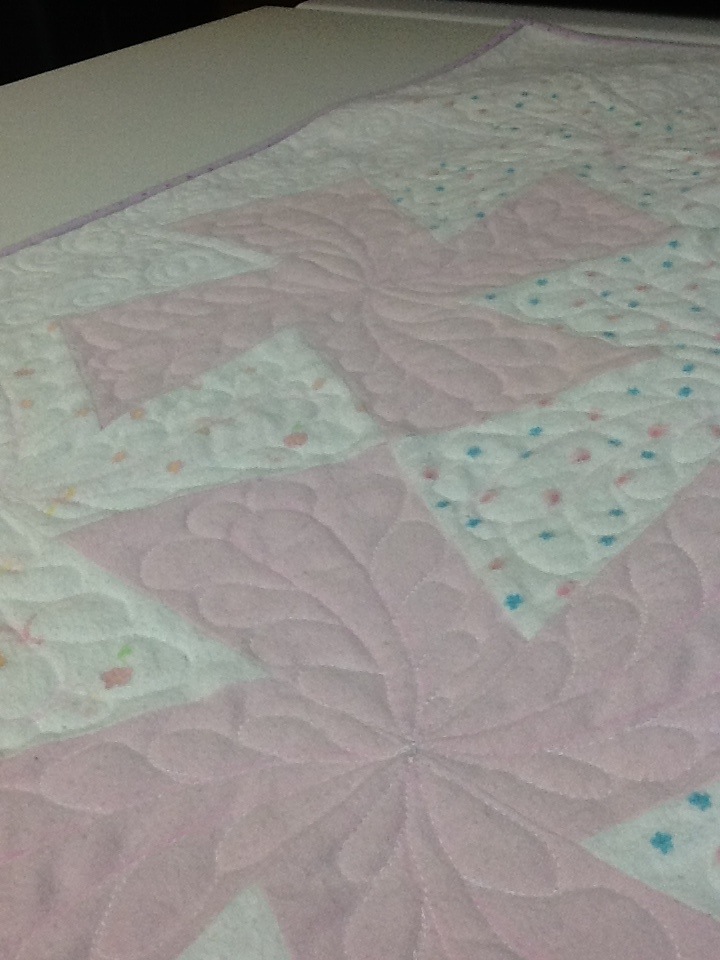 I have both size rulers and I'm glad I finally got to use one of them. This ruler makes a striking looking quilt. Tons of options for colour and designs. I looked a lots of images on Google of finished Twister quilts, trying to get some quilting ideas. And all I got was more ideas to make more Twister quilts.
Now for some numbers.
Fabric used this week: 1.44 yds
Fabric used YTD: 113.7 yds
Fabric added this week: 0 yds
Fabric added YTD: 109.03 yds
Net fabric busted: 4.67 yds
Okay, now I need to think of a quilt pattern for a boy's receiving blankets. I do have some very cool thread to quilt it with so I'm kind of excited for that part. Have a great day!
So I'm going to try machine Trapunto. This should really test my skills. Water soluble thread in the top and thread that matches the backing in the bobbin.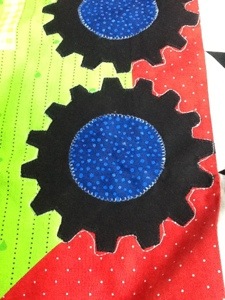 You can see my great stitching around the tractor wheels. It doesn't have to be perfect right now, I'm just going around the outline. The first one I did, I went around the outside edge without going in all the little indents. I fixed that after I realized when it was all done the nubs on the tires wouldn't show up.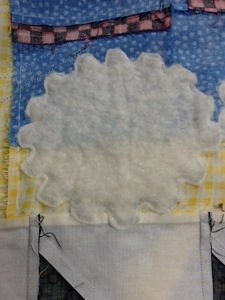 Now I have to cut the batting away from all those nubs. Two down, ten to go. Definitely a labour of love! I hope I don't regret not using 2 layers of batting for this but I don't really want it to be really puffy, I just wanted to give the tires a little dimension.
Guess what? I passed 100 yards. Now you guessing 100 yards of stash used or stash enhanced. Well if you guessed stash used, you are correct. If you guessed stash enhanced, you are also correct. No prizes though. Anyway, I completed "Convoy" from Buggy Barn for my grandson and now am in the process of quilting it.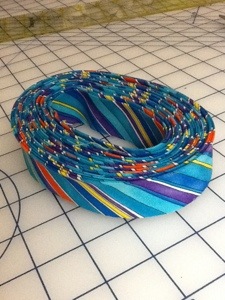 Here's the binding all ready to attach. I've decided to make bias binding for kid's quilts to make them more durable. My sister made a quilt for her granddaughter and has already replaced the binding. I guess it's well used. I really like bias binding especially for stripes. It looks so cool! I better hurry up and finish the quilting on this so you can all see it.
Now for my stash used/enhancement numbers.
Fabric used this week: 12.76 yds
Fabric used YTD: 112.26 yds
Fabric added this week: 17.86 yds
Fabric added YTD: 109.03 yds
Net fabric busted: 3.23 yds
All that added fabric wasn't actually this week. I kept on forgetting to add it. I really have to watch my fabric buying in the future. I don't have anywhere to put it and it's getting a little out of control. I'm starting to feel like a hoarder but more organized than the ones on tv. At least fabric is something I can use and not like those hoarders who keep all the old newspapers and magazines. Oops, there 4 piles of quilting magazines in the other room. I'm going to go through them, right?
Have a great day!
I was doing a little cleaning of my sewing room. There was a layer of threads on the floor. As I was cleaning, I noticed the ironing board cover looked like crap so I washed it and it still looked awful. I spent all afternoon making a new one.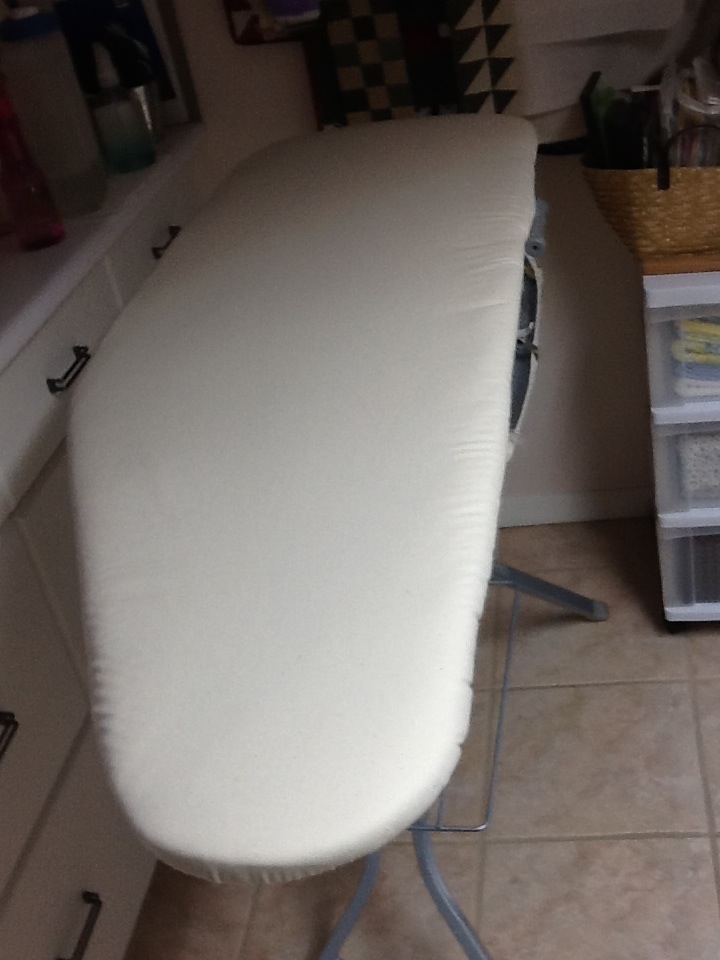 With these oversize boards, you just can't go to the closest department store and pick up a cover. Not a bad job but I made it hard for myself. I used the draw-string from the old cover. Then I looked in the cupboard and there's a slightly better cover than the old one. Boy, talk about a waste of time! Oh well, maybe I'll remember when this one starts looking scorched!
Is there such a thing? I sit here wondering if I could control my stitching as I zig zag these tractor wheel appliqués on.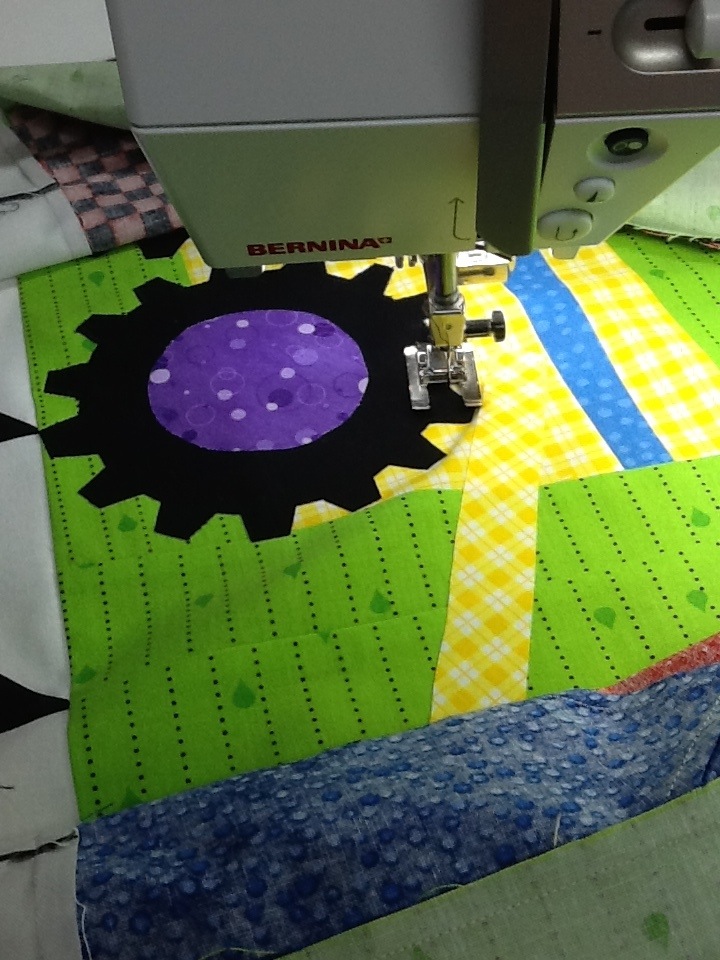 They are taking forever going around every little nub on the tire. Oh but they look so awesome! I can't wait to be done and see it all together and give it to my little Lucas.
Not much in the line of progress here. I've just been stitching some redwork projects and that fabric has already been accounted for. The only quilting project I've worked on is "Convoy" from Buggy Barn's Crazy Kids book, for my grandson. I know, I'm finally making him a quilt. Better late than never. Needless to say, that's the only stash I've used this week.
Fabric used this week: 3.75 yds
Fabric used YTD: 99.5 yds
Fabric added this week: 0 yds
Fabric added YTD: 91.17 yds
Net fabric busted: 8.33 yds
Now to get a move on and finish Lucas' quilt. Have a great day!