Archive for November, 2009
Four more weeks! Yeah that's right, we only have 4 more weeks to get to our goals- whatever they are or were for some of us. I haven't been sewing all that much but I've been watching all the sales this last week. Not fabric sales but Christmas sales. I have a bit of shopping to do and it takes lots of time to find the best price but sometimes you get to the point that you just buy it and who cares about the price. I'm not to that point yet.
So here's my measly little stash report.
Fabric added this week: 0 yds again. Yeah me!
Fabric added YTD: 256.11 yds
Fabric used this week: 1.78 yds
Fabric used YTD: 242.51 yds
Net fabric busted: -13.6 yds
 Have a great week and bust some fabric! Hopefully.
Mary-Kay
Dianne at Rosewillow's Unfinished Business is starting a challenge for 2010. It's the "too good to cut" challenge.  You know, that certain fabric that you never want to cut. Or you'll never find it again. Well that's the challenge. You make a quilt using that fabric and you have until the end of 2010 to complete it or in some cases, at least start it. Sounds like fun. Or it could be excruciating for those who are true hoarders of that special fabric and can't let go. It starts Jan 1 2010 so post your progress on your blog or at her website on Fridays.  Then at the year's end we get to see everyone's quilts whether they are finished or not. See you all then!
Only 5 weeks to go before I give up for this year. But I must say, I've used quite a bit of fabric this week. I've been good and didn't even buy anything when I went to the LQS and looked around for a muse. I went home and found my groove and decided to start some Christmas projects. Or should I say finish some that I started  1 or 2 years ago. They are 2 panels of "Santa's Got The Goods" and I think I have enough to do the fronts and I'll be doing pieced backs from my stash. The only thing about these 2 quilts is the size requires 4 yards for the backing but I think they figured it out all wrong. How can a quilt that measures 50×52 need 4 yards for the backing. According to my calculations it only need 3 yards. And then I can use the leftovers from the first one for the second one and only use 1.5 yards for the second. Got it? Sounds like a plan to me.
Fabric added this week: 0 yds
Fabric added YTD: 256.11 yds
Fabric used this week: 13.75 yds
Fabric used YTD: 240.73 yds
Net fabric busted: -15.38 yds
 If I get the panels done and a few more journal covers and  find a few quilts that need backs and  so on, I might be in a really good position. Closer to that zero. And I have to stay out of quilt shops.
Have a great day.
Mary-Kay
I can't believe I finished the baby quilt.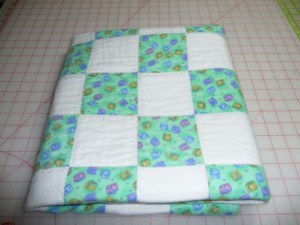 I really like the green-print flannel but I don't  know if I like this much of it.  Before I quilted it, I asked the girl who wants it, if it was okay. She likes it, so it's a done deal.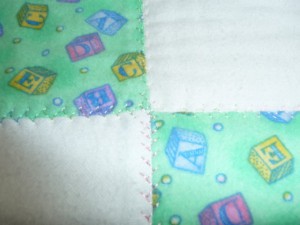 I quilted it using the chicken scratch stitch with a varigated thread. Ieven put binding on it and hand sewed it down. Then she asked for a label and I made that and sewed it on but I didn't take a picture of it. Oh well.
  That's all for now. Have a great evening!
Mary-Kay
November 15th, 2009 - Finally!
Finally, we figured out how to resize the pics. My son said I did it last time and I'm saying NO. I don't do computers very well without explicit instructions. Not press this key and that key or click here. Anyway here are a few pics.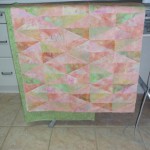 The blinds I've been working on all week. All I have left to do is cut and attach the backing material. And then I have to attach all the rings, strings and mounting hardware. Then sand and paint the window frames because they've never been done. Maybe I can con some of my family to help out.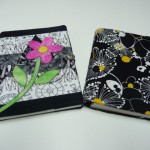 I also made 2 more journals this week. The  one on the right  has lined pages and boy, was it hard to find.. When I originally looked for blank journals, all I could find was lined ones. and then when I wanted a lined one, all I could find was blank ones. I guess that's life.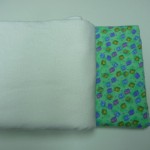 I need to make a baby quilt out of this fabric by Wed. night. It's a really easy pattern and you just wrap the backing around to the front for the binding. Nice and quick.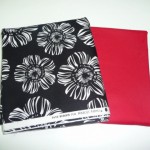 And this black and red is going to become a rug for my bathroom. It seems wrong to cut up such a pretty fabric but I think it's going to look really cool. It will appear grey rather than black which is what I want. If  it doesn't look like how I imagine it should, it will be a nice rug for the laundry room.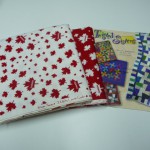 And lastly, some Canada fabric. I've seen some other fabric and I never really liked it. My son wants a Canada themed quilt using the template from Twisted Sisters. I've kept my eyes open for such fabric and I finally found some. Now to get busy and sew up the quilt. After all those other projects I have on the go.
  Well that's it for now. More pics later. Now that I've got it all figured out. Finally!
Mary-Kay
 So I bought more fabric. And if I knew how to make the photos smaller I would show you a picture of it. Ever since I got this new laptop I can't figure out how to resize my pics. My son did it once for me and he can't remember how he did it. New OS suck especially when you just figured out how to use the old one.
Fabric added this week: 10 yds and it's really cool stuff and not for the stash
Fabric added YTD: 256.11 yds
Fabric used this week: 5.19 yds
Fabric used YTD: 226.98 yds
Net fabric busted: -29.13 yds
 That all for now. Have a great day!
Mary-Kay
All I ever seem to post about is the stash report. I actually have been sewing this week. I decided to make my mother's blinds, only about one and a half years late. She doesn't mind because she likes looking outside except when they sit down to dinner and they get blinded by the sun. I've got the main body of one done and am now working on the second one.. There are 3 to do. And then I have to make a blind for my bathroom but it won't have a pieced body. It's really easy but you know how these things take time. I'll post some pics tomorrow of the finished products. I also have to go and paint the window frames so I can hang the blinds. My sister is going to help me do that tomorrow night.
See you then.
Mary-Kay
Oh my! I had a little backslide this week but I'm planning on using this fabric in the coming week so I should be okay.
Fabric added this week: 15.67 yds It sure adds up!
Fabric added YTD: 246.11 yds
Fabric used this week: 3.75 yds
Fabric used YTD: 221.79 yds
 Net fabric busted: -24.32 yds
 I hope I don't buy any more fabric for the rest of the year.  I hope!!!
Mary-Kay
Slowly but surely, I'm creeping closer to the positives. As long as I don't buy any fabric and make 10 or so quilts by the end of the year I should reach my goal. Like that's going to happen! But at least I'm aware. Isn't that one of the objectives of this report? Well it's one of mine.
Fabric added this week: 0 yds
Fabric added YTD: 230.44 yds
Fabric used this week: 2.43 yds
Fabric used YTD: 218.04 yds
Net fabric busted: -12.4 yds
 I made a few more of the photo wallhangings. I need to dye or paint some dryer sheets. They make the most perfect leaves and greenery. The gauziness of them blends all the raw edges  of the green snippets and makes it look like leaves up in a tree.
 During the week I drove a friend of my son's home and she said that some people were standing in front of her house taking pictures of their tree. And later in the week on my mail route I was walking through some leaves the same colour as her tree and I had this great idea. All I needed was a picture of the same kind of tree with the same colour leaves all on the ground. I asked my sister to get me such picture and she asked me where this tree was. I said it doesn't matter where it was, it's just needs to be a tree in those colours. She thinks I'm nuts. She takes all my photos for me. I just tell her what I want and she shoots away. You know when you get an idea in your head and every other idea is stuck in neutral. I think I better take my sister out to get me that photo.
Have a great weekend.
Mary-Kay