Archive for May, 2009
  I should learn how to add. I keep track of my stash busting on an Excel spreadsheet and I thought I actually busted 98 yds (net) of fabric. I thought " Wow I'm almost at my goal of busting 100 yds". And then I gave my head a shake and did the math correctly. Maybe in a few months or maybe years. So here goes the real truth….
Fabric added this week; 4 yds
Fabric added ytd: 72.28 yds
Fabric used this week: 2.54 yds
Fabric used ytd: 98.56 yds
Net fabric busted: 26.82 yds
Of the 4 yards I bought this week, 2 of them are for my sister. She wants to learn how to make the photo landscape wall hanging and the fabric is for the borders. She wants to make a few, I think. When I give it to her I will subtract that from my stuff. This week I am planning on making a blind for my bathroom anf 3 blinds for my Mom's kitchen windows. That should reduce my stash a good deal. I am currently working on a BOM from Hearts to Holly in Charlevoix, MI. The shop has a few BOMs for this year but sadly I am not participating. I have 4 BOMs that are not finished and I didn't want to start another until they are done. Such restraint on my part don't you think? Well, I'm off to water the garden.
Until next time
Mary-Kay
And I had to look up endeavours up in the dictionary too! Here are a couple of pictures of my garden.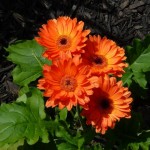 Ever since I planted these gerber daisies I  thought that it should be a photo. I just love the colour. All the plants behind are green and this colour just stands right out. I even used black mulch so it makes it even more vibrant.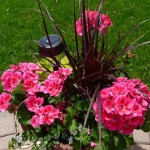 This is one of the planters that I did up. We even bought new solar lights. This one is a LED light and when it's on there is a star-like effect from the cut of the globe.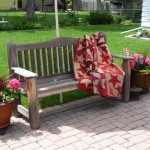 I was trying to make a magazine photo. I couldn't get the quilt right and I don't think it's the right colour for those pink geraniums. We still need to power wash the bench, sand it then reseal it. Maybe next weekend.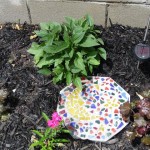 I had 2 really big black-eyed susan plants that I divided into 4 each. They really suck up the water right now. I didn't water yesterday and they were looking pretty wilted. The stepping stone was made by my youngest son and myself when he was  little.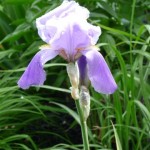 I really like irises. This one is in the back garden along the fence. There is a couple of grass plants behind it which , once again, we divided up. Boy do they do nicely back there. I think last year they were at least 8 feet tall. They make a nice living fence.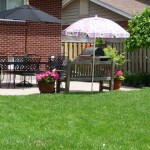 Lastly on the gardening part of this post, this is my new patio set. It's wrought iron and I love the rocker chairs. Very soothing when you are just sitting there relaxing. My husband now wants a full length glider bench thing with some kind of canopy so he can sleep on it. The neighbour behind us hasa glider swing and it faces our house and he's always sleeping on it and I don't like it. One of the reasons that I would like some kind of privacy fence or privacy shrubs. I'm working on that for next year I hope.
Now for some quilty things,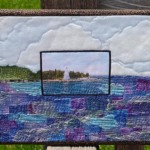 This is what I worked on yesterday. The center is a photo of the lighthouse in Tobermory, ON and it's printed on to fabric. It's a really cool technique and I am impressed with the results. The top fabric is just a single piece of cloud fabric whereas the bottom is a background piece with  a lot of little pieces glued on to it. I also used dyed paper towels and dyed cheesecloth to give it depth. I am now saving my dryer sheets to dye and want to do cheesecloth and paper towels too. This technique was taught by Michele Dobrin and I really want to take another class by her.
And now for the family part of this post.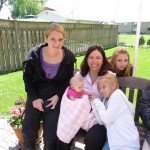 Calgary is missing 2 residents for a few weeks. Here's the surprise baby with her Mom, Grandma and 2 cousins. It's not the greatest photo but it has great people in it. I think the baby is adorable and everyone had a great time visiting with her and her mom. We got to hear the birth story straight from the mom and it's pretty incredible. They are so lucky to have a child with no problems when there was no prenatal care. They must be pretty healthy out there in the wild west.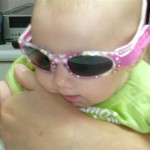 Lastly, aren't those sunglasses the cutest thing you've ever seen? I think so. The things for babies now are really neat.
Well, I think that's enough for now. Happy stitching.
Mary-Kay
P.S.  I've been trying to take better photos. The one of the family isn't one of them. I been following tips from Sue H. at  http://www.suehecker.com/blog/ on her Photo Fridays. I hope to improve and I also hope to  get  a new camera. M-K
 Sorry I haven't posted for 2 whole weeks but I've been very busy. I decided this year that I should do some gardening since we were having a little family get-together and my yard looked like crap. We didn't do anything last year, not even put out the patio furniture. Two weeks ago my hubby cleaned off the patio and went to get the furniture out of the garage and couldn't find it. Oh yeah, we got rid of it in the fall. So I had to go find some new stuff. Then if I had new stuff, I had better make the yard look as nice as the furniture. So after many hours of labour I managed to make it look great. Now to make sure it's watered.
Anyway here's 2 weeks of stashbusting.
Fabric added these 2 weeks: 0
Fabric added ytd: 68.28
Fabric used these 2 weeks: .25 yds ( a class I just took today)
Fabric used ytd: 96.02 yds
Net fabric busted: 27.74 yds
Hopefully tomorrow I will post a picture of the photo landscape wallhanging that I made in this class today. The teacher, Michele Dobrin, has taught all over Canada. She has been in the 2009 Quilting Arts Calander.  And I think she was in the year before also. I would really like to take another class by her. She does some kind of embellishment class where you dye paper towels and dryer sheets and stuff like that. She has also coloured some Tyvek with paints. I think it would be a lot of fun.
Happy quilting.
Mary-Kay
 Hey, remember me. I only post once in a while. I haven't been doing anything quilty this week except for the BOM I made because my friend wanted to go get this month's block. And yes, I added that to my ever growing stash. I even purchased some more fabric. But it has a purpose , not just for the stash. And I found a free pattern for the music fabric I purchased the week before. So it wasn't a total waste of the week. Here goes with the news.
Fabric added this week: 3.5 yds
Fabric added year-to-date: 68.28 yds 
Fabric used this week: 1.57 yds
Fabric used year-to-date: 95.77 yds
Net fabric busted: 27.49 yds
 So if I sew like a crazy person this week I might get that net fabric busted total a little higher. That is if I can stay out of the quilt store. I have to go there to pay for a kit for a class. I don't think it has fabric in it but embellishments for a landscape class I'm taking at the end of the month. I also have to bring in a picture of a landscape so the teacher can manipulate it for my use in her class. I will post some pics when I'm done the class.
 Happy Mothers Day to all you Moms. Wouldn't the greatest Mothers Day gift be to sew all day uninterupted and be waited on hand and foot while you are at it?  Dreams do come true but when.
Mary-Kay
Once again, I have purchased more fabric. But it is so cool that I had to have it.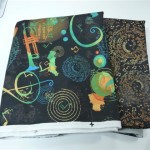 I think I'm getting obsessed with the music fabric. When you are looking for fabric for a theme quilt, you still look for it even after the quilt is done. But there is always another year that a quilt can be made to raffle off for the music cause. But I might just keep this for myself. I saw a bag made with the large print and I was very drawn to it. The colours give you lots of options.
And because I bought some fabric………..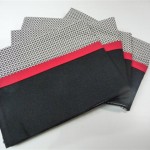 I had to make up something quick and easy so it would look like I did something this week.So pillowcases here I come. I made this set for my older son's room which needs to be redone. He's going with a black and red theme whether he likes it or not.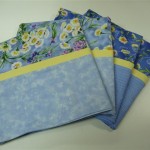 And I made this set of 4 for my bedroom which is currently blue and yellow. Right now my room is painted yellow and you can only put certain yellows in there. When I paint I'm going with a white so I'm not limited to what colour quilt (and I have many) that I can put in there. My plan is a different quilt for each season.  In looking at these cases, I realized I only made queen size for my room and I have 2 standard pillows that need new pillowcases too. Off to use more stash but that's for next week's report.
 And that's a quick way to use up some stash. And here are  my totals.
Fabric added this week: 6.5 yds
Fabric added year-to-date: 64.78 yds
Fabric used this week: 13.24 yds
Fabric used year-to-date: 94.20 yds
Net fabric busted: 29.42 yds
 I think that if I buy fabric I should use more than that in the week. I'll just keep on making pillowcases with the fabric that has aged for a while. If I keep up at this pace, I'll have reached my goal of 100 yds busted by year end. Hurray for me!!!!
Have a great week and keep on quilting.
Mary-Kay