Archive for April, 2012
April 22nd, 2012 - The Stash
Not much going on here as my machine is in for service again. I just had it cleaned and I accidently sewed over a pin. The needle broke and I replaced it and now my machine doesn't work. It sews 4 or 5 stitches and then the top thread gets pulled down and it's a mess. Another needle, rethread the bobbin and even different thread and the same thing happens again and again.The repair guy said he fixed it. Lucky for me I tried it out at the shop and it wasn't fixed. So off it goes to Bernina in Toronto  to be repaired.
This is the same problem I have when I quilt with the walking foot on. I'd stop and with the needle down, I'd lift the presser foot and turn the quilt. When I started to sew again, the top thread would get pulled down into a tangled mess on the underside. The lady at the shop where I bought it at tried telling me that it was because the machine has a wide stitch width, 9 mm as opposed to 5 mm on most machines and the thread moves around and could get caught in all that space. I bought the single stitch plate and this didn't help. I even emailed Bernina Canada and I didn't even rate the curtesy of a reply.
My sister and a friend have the same model machine and neither of them has this problem. Makes me wonder why I spent so much cash on a machine that doesn't work correctly all the time. I should have kept my old machine and invested the money in a long arm machine. Just think of all the tops that I could have quilted.  Anyway that's my story. Now on to the stash.
Fabric used this week: 2.22 yds
Fabric used YTD: 67.55 yds
Fabric added this week: 6.4 yds
Fabric added YTD: 59.79 yds
Net fabric busted: 7.79 yds
My machine will be gone for a couple of weeks and I have my mom's to use for now.  Not my favourite machine but it will have to do. I don't think I'll be quilting anything on it but at least I can piece a few tops. I need to make some door prizes for a baby shower that I'm hosting with a couple of women . Oh did I tell you, I'm going to be a grandma! Late August and we already know it's a boy. I can't wait to see him!!
Happy Easter everyone. I hope you all enjoy the day, hopefully with your families. We are going to dinner at my in-laws so I don't have to cook. More time to sew.
 Things are looking good here at the Quilting Junkie. I did purchase more fabric but I also cut it up too!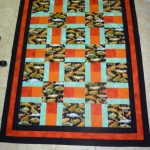 I went looking for some fabric to make a summer table topper and came home with a stack of fish fabric. My husband was with me and he spotted the fish stuff and thought it would make a great guy comfort quilt. He has a few friends that he'd like me to make a quilt for, so I bought some. And…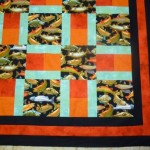 …he liked it so much that he wanted me to make another quilt. So back to the quilt shop I went and bought some more fish fabric and the green fabric too (because I like it). The lady at the shop was very helpful in fabric selection so when we went the second time, I brought the quilt top and she was happy to see how it turned out.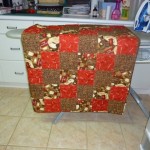 And this quilt needs the binding sewn down and it will be off to a good home. I love the coffee fabric with the beans on it. Must get more someday….. Now on to the fabric enhancing report.
Fabric used this week: 8.36 yds
Fabric used YTD: 65.33 yds
Fabric added this week: 5.38 yds
Fabric added YTD: 53.26 yds
Net fabric busted: 12.07 yds
At least I'm still in the good. I have lots of quilt tops cut out that have already been counted. Now to get them finished and the backings cut out, my numbers will look good once again. Have a great day.
Quickie Report
Nothing used
 Added 19.85 yds
Net busted 9.09 yds
I  hope to be good this week.