Archive for July, 2010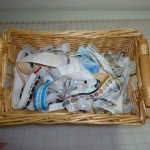 Hey, leave me a comment by midnight Wed Aug 4 2010 and you could win this basket of selvage edges. I was going to make something but I'd much rather give it away.  The next giveaway will be half-square triangles and lots of them. Check back soon!
Mary-Kay
I always complain about Brett buying stuff to complete a project and then never completing the project. In fact, never even starting the project. For example, he bought some paint for touching up something last summer. He left the paint in the garage over the winter and now it's not usable so he has to go buy more. At least with fabric, we can leave it a few years and as long as it's in a somewhat controlled environment, we can go back and use this fabric. I bought this row of the month kit, starting Aug 7 2002. I still had the bill in the bag. This fabric has been aged to perfection. Lucky for me, it's not  really a trendy fabric quilt.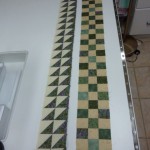 Here's 2 rows I sewed up so far this week. They were the easiest parts.  My friend, Betty, bought the same kit. We decided a few months ago that we should start working on this and start with the checkered row. She's had hers done for a while and I just decided to do mine Monday night. And then I just went on to the hst row. I think the next row could be log cabins or maybe the dreaded flying geese. I don't know if I have the right cuts of fabric to use a better method for the geese. I'll have to check out the instructions …. more like I need to find the instructions. I'll go do that right now.
See you all later.
 Yep, it's growing again. But I did make a dent in it. I finished 3 quilt tops and have the backing cut for 2 of them.  I sewed last night or should I say this morning until 4 AM. I was on a mission.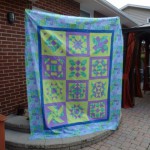 First I cleaned my sewing room and then finished up a BOM that's been sitting around here for awhile. The outside border was a pain in the *%# to make. The instructions stated that there was a 22″ piece for the side borders, I think it was about 86″ long. It's a directional print. And there's a meter of fabric(39″) for the top and bottom borders. Nowhere does it say how wide to cut the fabric but that there was enough fabric for mitered corners. You think with the 22″, you could get a 10″ border. Lucky for me, I did the math first before I started cutting. So instead of the 10″ border thought I was going to get, I ended up with a 9.5″ one. With 39″ of fabric you can't cut 4-10″ pieces to fit the width of this quilt. I think I was supposed to know all this by osmosis or something llike that. Very poor finishing instructions.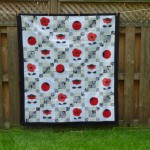 I made this  little quilt up this week. I was at my niece's 2nd birthday party last weekend and she had a ladybug theme. It was really cute and I forgot my camera, so no pictures. Anyway she has some motor skill issues due to birthing complications and I thought she needs a red, black and white ladybug quilt for on the floor. The white with black dots reads yellow outside. Oh well, I'm not taking it apart for that and if it's never outside, no one will notice.  All that's left to do is the quilting. I'm hoping to quilt it on my new machine which I need to pick up soon.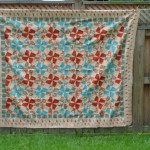 I also finished up this quilt. The wonderful X-block quilt. I'm sick of it already. Matching those angled pieces is a real pain. Nowhere in the instructions does it say to match them up but I did it and it looks great. The border is the leftover pieces from when you cut the  9-patch blocks. Seeing this quilt all spread out, the rust fabric sticks out the most. Once again, all it needs is quilting. 
 And now for my stash report.
Fabric added this week: 19.47 yds…….big sale on some batiks 30% off so I had to buy some and I already cut up 4.5 yds of it for a project.
Fabric added YTD: 125.65 yds
Fabric used this week: 16.97 yds
Fabric used YTD: 135.35 yds
Net fabric busted: 9.7 yds
 I hope to  still have the sewing bug this week. My vacation is over, I did a lot of things and now it's time to return to work. Hopefully the weather doesn't suck as much as it did this week. No humidity is what I would like and maybe 80 degrees at the most with a nice breeze. Whoever's in control of the weather, are you listening?
 Have a great week!
Mary-Kay
Listen up, surprising news! I actually sewed something this week. Wonders never cease. I put together the X block  main blocks and added 2 borders. Not that much fabric used as the outside border was parts from the main blocks. It's ready to be quilted. Then last night I sewed the binding on a string quilt but have yet to do the hand sewing part. That will be one of this week's jobs. I also cut out a new quilt for my great-niece. I went to her 2nd birthday party and it had a lady bug theme and I thought why not make her a lady bug quilt. So when I got home from the party I started cutting it out but haven't managed to get any of it sewn together. I'll be working on that this week too. Now if I could only stay out of the fabric stores I'd be making some progress on busting this stash. I bought a few yards of batiks for a project my sister and I want to do together. Too bad that she has my book where all the fabric requirements are listed. I think we finally have enough different batiks to  get the variety needed to do this quilt. All I need is the background fabric and I'm all set to go. And now for some stash news.
Fabric added this week: 6.5 yds
Fabric added YTD: 106.18 yds
Fabric used this week: 3.75 yds
Fabric used YTD: 118.38 yds
Net fabric busted: 12.2 yds
 Well I'm off. I hope everyone has a great week.
Mary-Kay
Better late than never. I was at my sister's and even went to a quilt shop and didn't purchase a thing. Wow! A first for me! I have so many things on the go  and I just couldn't get interested in more fabric.  But I did bring home some backing fabric that my sister had for me. Just some plain white cotton that I think is pima cotton. It's really soft and cool, a totally different feel than the regular Kona cotton. It's a wide back and this is the second time I've used it for backing. The other quilt is still at the longarm quilter's and it should be done by the end of the month. I can't wait to see what it's going to  feel and look like.
Fabric added this week: 3.5 yds
Fabric added YTD: 99.68 yds
Fabirc used this week: 0 yds
Fabric used YTD: 114.63 yds
Net fabric busted: 14.95 yds
Have a great week.
 Mary-Kay
 So what have I been doing these last couple of weeks? Nothing in the quilty department that's for sure. I've been taking my mom every day for radiation and she will be done on Monday. Hurray! And she doesn't have any side effects except for a little tiredness. She has a couple of appointments mid July but I think I might feel like quilting in the meantime. Maybe! I hope so!
 So nothing has changed in my numbers except for the purchase of a few yards of fabric and a brand new sewing machine. Once I get that baby I'll be sewing like a crazy woman. I better be or else. I ordered a Bernina 450 with that really cool stitch regulator. I can't wait to get it. But first I have to pay for it. I almost forgot that part. I wonder how many quilts I could sell or what else I could sell to raise a little extra cash. Not like I don't have a full-time job or anything like that. Now to stay out of stores until it's all paid for but I have a few shopping trips in mind. I need to get my creative juices flowing again. Hmm…… I wonder if I can get them going by just looking……….hmmm………. I'll have to give it a try!
Now for my stash report.
Fabric added this week or maybe it was last week: 10.83 yds
Fabric added YTD: 96.18 yds
Fabric used this week: 0 yds again
Fabric used YTD: 114.63 yds
Net fabric busted: 18.45 yds
 I know I can still reach my goals. All I have to do is sew. Right? Have a great week!
Mary-Kay