Archive for August, 2012
I went to a little quilt show, well not so little and all I bought in the fabric department was 2 kits which I will count in next week's totals. It was the AQS Show in Grand Rapids MI. There were some beautiful quilts, not what I expected though. A lot of heavily machine-quilted quilts and not too many traditional quilts. Very modern in that aspect. But on the vendor side, there were a lot of booths with civil war fabric and wool like Primitive Gatherings kind of stuff. Thank God it's not something I do. That wool stuff is really expensive for those tiny pieces and threads. I'd rather be making a big bright quilt than that stuff. That's my story and I'm sticking to it. Anyway on to my stash.
Fabric used this week: .38 yds
Fabric used YTD. 118.23 yds
Fabric added YTD: 180.27 yds
Net fabric busted: -62.04 yds
All I cut was some binding for a comfort quilt. I have a few more quilts to get done to clear the table. I really need to make a quilt for my new grandson. Time to get busy. Have a great week.
Today I became a grandma! I'm so excited. Lucas is the cutest little thing and I just want to bring him home with me.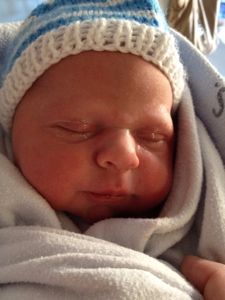 My son, not the dad, thought I was being an overbearing grandma. I don't know what he meant by that!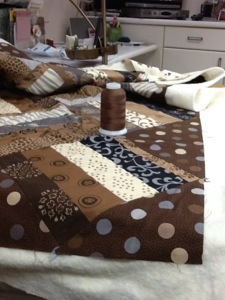 This is today's quilting project. This is a really simple quilt to make using 'Strip-It' fabric cut into 10.5″ squares and assembled. I think it took 3 hours to sew the top. It will probably take a little longer to quilt. Now to think of how to quilt it besides stitching in the ditch. More photos when it's done.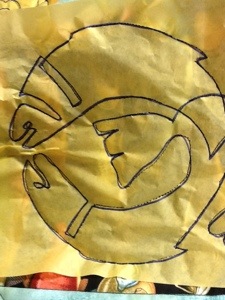 So this is what I've been working on. There is 18 of these on 2 quilts. One down and I'm almost done the second.
Happy Wednesday!
August 12th, 2012 - The Stash
And boy is it growing, in leaps and bounds. I started this stash report as an effort to use up my stash. This year, I keep adding to it. What's wrong with me? Nothing! Actually, all the fabric I've added this week (49 yds) has a purpose. I plan on making a few quilts from it, just a few, and no yardage was  bought just because I liked it. I'm making the new Crabapple Hill "Gardener's Alphabet" and that required 5 yards of this beautiful linen. Boy, it's costly fabric too. I just finished the stitching for "Snow Days" and now I need to start assembling some of the blocks for it. There's some stitching that continues on into the pieced blocks too. It's a really awesome quilt.
I used a fair bit of stash up this week but I'm still in the negatives. I made 9 backings, which seems like a lot but I should make 18 more to get out of the hole. I don't think I will need any fabric for the rest of the year, maybe the rest of my life. When I get these quilts done, I'll have to post a few pictures of them.
Now on to my stash report.
Fabric used this week: 24.9 yds
Fabric used YTD: 117.85 yds
Fabric added this week: 49.88 yds
Fabric added YTD: 180.27 yds
Net fabric busted: -62.42 yds
I didn't sew at all last week while I was up at my sister's house. My younger sister and I planned on cleaning my older sister's sewing room. We ended up moving it to a different room all together and it's a much larger room with a closet. Her old sewing room didn't have a closet or an overhead light. We bought a chrome shelving unti for the closet. I wish there was an Ikea store close to her house because they have a huge selection of shelving units and cupboards. I really like organizing storage solutions for people. You just need lots of cash to get shelving and storage bins. Seeing as we had to empty the room first, we didn't get it finished but I'm sure it will look great when it's done. She even has space for a design wall. I'm so jealous!.
So for now, I plan on doing a bit of quilting while watching the closing ceremonies of the Olympics. It sounds like a really great show. Have a great week!