Archive for April, 2019
I finally finished up Spool Snowmen. I had to sew on 23 buttons for their eyes and noses. I didn't have the right needle and my fingers are sore from trying to push a blunt ended needle through the fabric and batting.
Then I blanket-stitched their noses on. First I had to make them. The pattern has a button pack available but it's quite pricey so I thought I would use wool. But I didn't have any orange wool, just some yellow. I ended up colouring the yellow wool with a orange sharpie. My fingers look like I was in the Cheezies. I love using what I have on hand. Makes me feel good!
The eyes and noses are from my button find on FaceBook. Someone was selling a giant box of buttons for $40- and I bought it. I spent a day sorting out the buttons by colour and clipping off any threads I found. Once again my hands were filthy. I make sure to wash the buttons as I use them.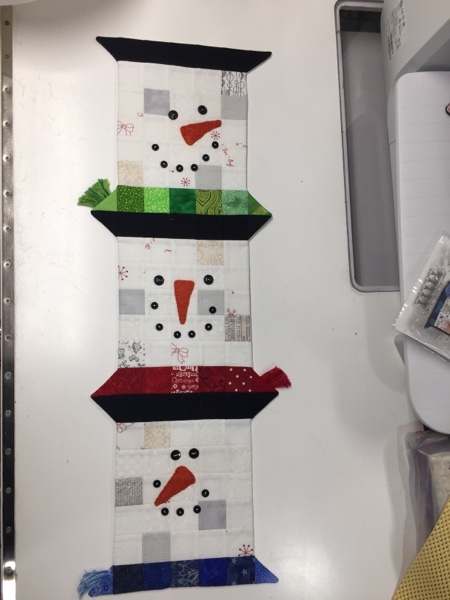 I also finished up the stitching on this Crabapple Hill project.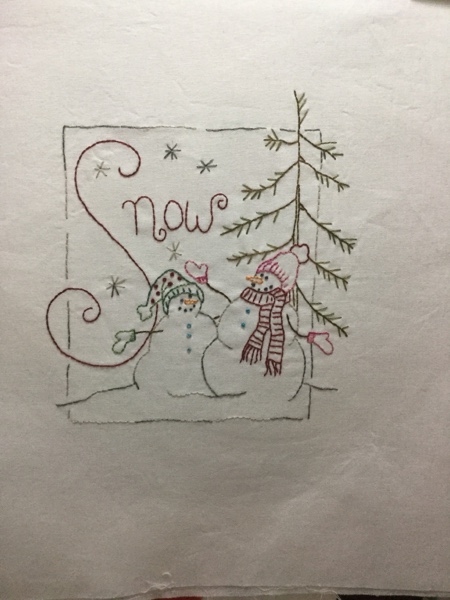 Now all I need to do is decide pillow or wall hanging. Then get it done!
I finished up a couple of Christmas table runners/ wall hangings. They needed to be quilted and bound. That's 3 things off my UFO list.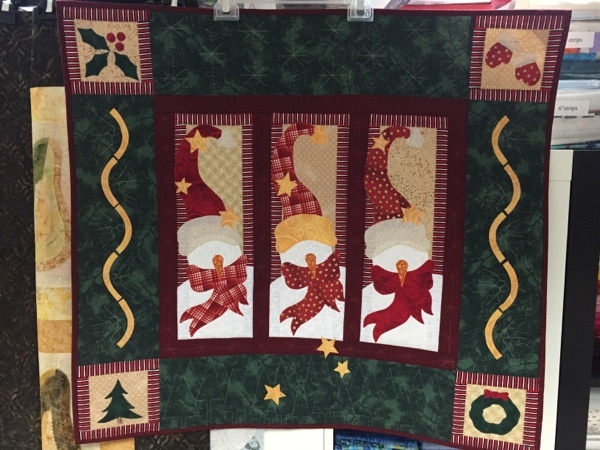 I put a lot of quilting in to the Snowman Trio. It was all layered and basted, ready to be quilted. I blanket-stitched the larger raw-edged applique and straight-stitched the small pieces. A little stippling in the background. The side borders are holly leaves, the top border is snowflakes and spirals from a Lori Kennedy book and the bottom border is layered trees that I chalked on. I really like how it turned out.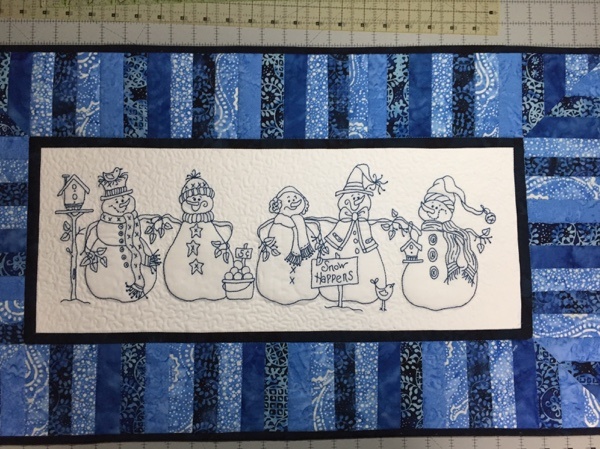 This one, Snow Happens, was getting done until my old machine started skipping stitches. I must have ripped out the stippling 3 times before I gave up. On the borders I stitched-in-the-ditch and then it's all stippled around the snowmen. Binding on both pieces is all by machine. I love my Bernina #71 foot for binding. It is a lap-seam foot but someone figured out how to use it for binding. What a genius! I love how the binding turns out. And instead of spending hours hand-stitching the binding down, they are done! Now to move on to other exciting projects.
As for stash busting, I failed. Oops! I made a quilt for a shop and got paid in fabric. That's okay as I do have a plan for it. More wallets. Just in time for Canada Day.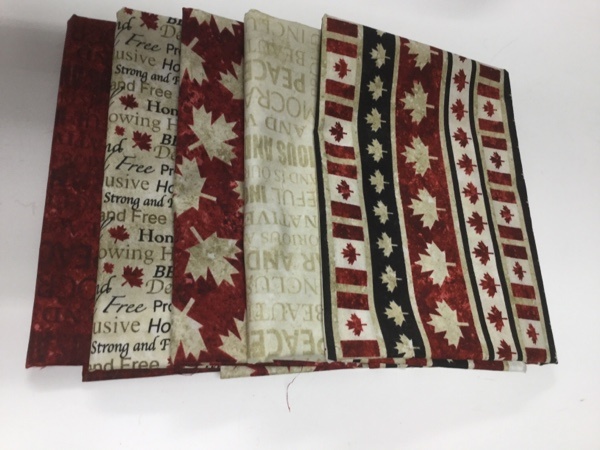 Now for some numbers.
Fabric used this week: 6.32 yds
Fabric used YTD: 57.89 yds
Fabric added this week: 6.6 yds
Fabric added YTD: 25.8 yds
Net fabric busted: 32.09 yds
And on the stitching front, I have managed to stitch 27 hours this week. I really range in my daily stitching times. Some days it's only a hour or 2 but then there are those marathon days where I get in 5 to 8 hours. I love those days the best!
I'm linking up with Donna at quiltpaintcreate for the Stash Report, with Kate at Life in Pieces for the 15 Minutes to Stitch challenge and with Kathy at Kathy's Quilts for Slow Stitching Sunday.
Have a great week!
Just a quick post. My mom broke her leg so I've been running back and forth from the Complex Care place and home. Craziness! And I have managed to sew every day fro the last 2 weeks. Imagine that! Lots of hand stitching has been done while I sit around waiting for doctors and geriatric nurses to meet with us. And I'm still not finished my latest embroidery. Almost done but not yet.
One the stash front, all I've been doing is quilting a few quilts while my friend was away and getting the bindings on them. Three quilts out of the 6 quilted in the last month are already in use. I did sign up for a monthly box of goodies and I'm thinking I don't need it but the price was right. Maybe quilty gifts for a few quilty friends. Or wallets in funky new fabric. Who knows? And I didn't include it in my totals yet. Here are my numbers.
Fabric used this week: 1.94 yds
Fabric used YTD: 51.57 yds
Fabric added this week: 0 yds
Fabric added YTD: 19.2 yds
Net fabric busted: 32.37 yds
Linking up with Kate at Life in Pieces and Donna at quiltpaintcreate.
Yesterday, I finished up the binding on 2 quilts. I have one project on the go but it doesn't interest me today. I really should be cleaning the house and that doesn't interest me either. But I saw a picture of a quilt on someone's blog yesterday and I'm all gun ho to make it.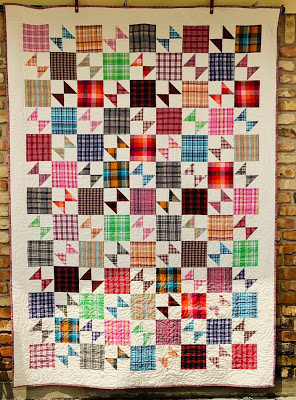 It's from Jamie at L' FAIR QUILTS I decided to make it a little smaller. Jamie's version shown here measures 62×86 and that's a little large for comfort quilts from The Quilters Three. I cut 2 rows off to make it 62×74, a perfect size. I need 50 plaids for the 6.5″ and 4″ squares. I dug around in my stash and I have 55 different homespun plaids. How cool is that! Now to start cutting all those fabrics. I will cut 2 at the same time. Our group needs some guy quilts and this is perfect.
And it's not fabric. Although I did sign up for a monthly box of goodies from Atelier Fiber Arts in Canada. For $35- CAD, which includes shipping, I get 2.5 m of fabric, thread and some other goodies. I thought it was a great deal and it's small enough pieces of new prints that would be ideal for wallets. I think I will do this for the rest of the year and see how it goes. Some of the fabric and goodies will be gifts.
But the new addition is a Bernina 770 QE.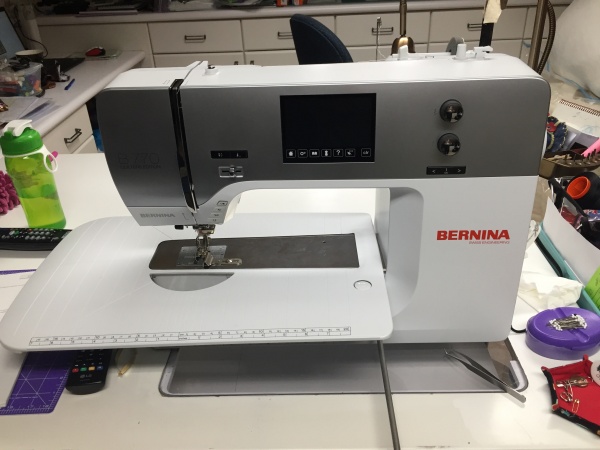 I'm very excited to have this awesome machine. There's a big learning curve here but lots of YouTube videos to make it all so easy. I need to get my table reworked and have the machine set in. Once I get a large piece of Lexan (thick plexi-glass), my neighbour will do the changes for me. He is the best neighbour a person could have. He made my table originally and is ready for this challenge. My son works at a tool shop and will have the Lexan cut to the exact shape to fit the bed of the machine. Then the sewing and quilting will really begin.
I have not done much sewing as both machines were in for service. The 770 got a clean bill of health seeing as I bought it used. How can a person have this machine and want to get rid of it? I jumped at the opportunity. Anyway my Bernina 450 needed service and cleaning. It will be my back up machine and will be used for embroidery as I didn't get the module for the 770.
In the stash department, I did a bit of sewing on my Featherweight. I had to sew something. So I started sewing 2.5″ squares together and made this quilt top.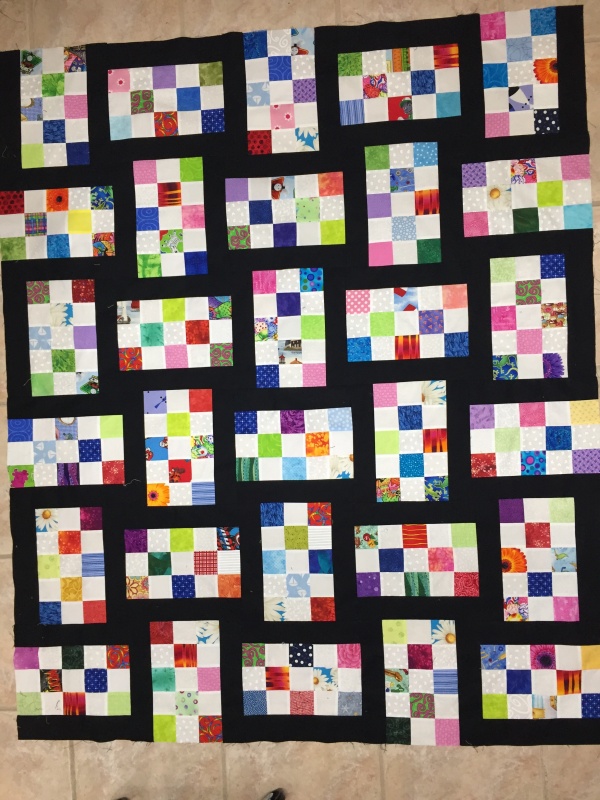 Just thinking I need to put a few borders on this to finish it up. The only stash I used was the black, the rest from the scraps. Now for some numbers.
Fabric used this week: 1.17 yds
Fabric used YTD: 49.63 yds
Fabric added this week" 0 yds
Fabric added YTD: 19.2 yds
Net fabric busted: 30.43 yds
I bought a couple of king-sized flat sheets to use for my Dear Jane quilt top and backing but I'm not including them in any totals. I also bought another sheet to use as a backing for another quilt. We will see how that goes once I get it quilted this week.
On the 15 Minutes to Stitch Challenge, I have managed to stitch 24 hours in Week #1 and 28 hours in Week #2. Only missed one day of stitching. Lots of organizing and batting cutting going on in my sewing room. I need to make room for that big machine.
I'm linking up with Kate at Life in Pieces for the 15 Minutes to Sew Challenge and with Donna at quiltpaintcreate for the Stash Report.
Have a great week and happy stitching!