Yesterday, I finished up the binding on 2 quilts. I have one project on the go but it doesn't interest me today. I really should be cleaning the house and that doesn't interest me either. But I saw a picture of a quilt on someone's blog yesterday and I'm all gun ho to make it.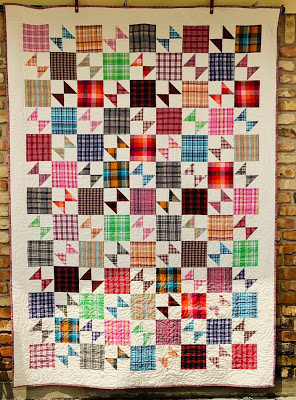 It's from Jamie at L' FAIR QUILTS I decided to make it a little smaller. Jamie's version shown here measures 62×86 and that's a little large for comfort quilts from The Quilters Three. I cut 2 rows off to make it 62×74, a perfect size. I need 50 plaids for the 6.5″ and 4″ squares. I dug around in my stash and I have 55 different homespun plaids. How cool is that! Now to start cutting all those fabrics. I will cut 2 at the same time. Our group needs some guy quilts and this is perfect.
One Response to "Squirrel!"
Marti Says:
April 15th, 2019 at 9:57 am

That is a pretty quilt and homespuns are perfect for a guy quilt.
Leave a Reply