Archive for March, 2018
Happy International Quilting Day, a day late! Just a quick post. I got my sewing machine back. From being deemed "not worth fixing"  with the repairs being around $1000- US and "you should just buy a new one",  my machine was up and running for the tune of $200- Canadian. I think I'm going to email Bernina about that store's manner of doing business. On the other hand, the shop where I got my machine fixed was amazing. The store owner was so great about the whole machine thing. I would recommend Hyggeligt Fabrics in St Mary's ON to everyone. And it's a real cute shop too. Loads of Kaffe Fassett and Liberty of London  fabrics. Plus Bernina machines that are now on my wish list.
When I got home on Friday evening with my machine, I set it up and started on a quilt top that I'm kind of in a hurry to get done. I stayed up until 4:45 am and finished the top. And my machine was stitching away, working just fine! Today, I'm heading over to my friend's house to put it on the longarm and get it done.
Now for some numbers.
Fabric used this week: 21:45 yards there's 5 backs in there
Fabric used YTD: 63.57 yards
Fabric added this week: 0 yards
Fabric added YTD: 70.14 yards
Net fabric busted: -6.57 yards
Next week, that negative number better be in the positives as I will be making more backs and doing some quilting on my machine. And the number of hours quilting will be amazing too. Last week I managed to sew for 27.5 hours. I made 2 quilt tops and added borders to a table runner/wall hanging in that time. I will post pictures when I'm done quilting these items.
I'm linking up with Kate at Life in Pieces for 15 Minutes to Stitch and Donna at QuiltPaintCreate for my stash busting report. Enjoy your week!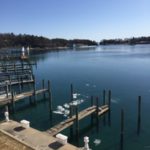 Last weekend I went to a retreat in Charlevoix, MI and it was a load of fun. People, sewing and food. What more could a girl ask for! We just missed a snow storm on the way out of Windsor on Thursday and the weather was perfect for the rest of the weekend. You never know when some snow is going to mess up your weekend plans. This is the view of Round Lake off the balcony.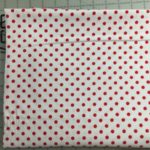 On the way up, we stopped at Delphine's in Gaylord. What a beautiful shop! Loads of different fabrics. All I bough was a piece of cork and this Dumb Dots fabric. Silly name but it's perfect for a project I have in mind.
Anyway, I really didn't get that much sewing done. My younger sister, Connie, decided she wants to learn how to quilt and came to the retreat. I cut out a jelly roll quilt for her and she did a fantastic job for a newbie. Most of the terminology she is familiar with from listening to me and my other sister, Annette, talk about quilting. One more border to go and she has a top done. Then to show her the actual quilting process.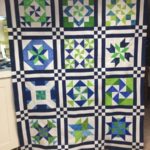 I put sashing and cornerstones on an old BOM but miscalculated the fabric and didn't even have enough to finish it. That was Friday. On Saturday, I pieced together a Simply Squares body and didn't bring any borders. so that was half done. Then I started putting the borders on an old stitchery project and called it quits. I finished it up at home on Monday.
On the fabric front, I visited Hearts to Holly in Charlevoix Mi, my favourite quilt shop, and made a few purchases. Just a few, 25 yards is a few, right? I needed white on white, I have none. And I just needed some Pete the Cat fabric for my grandson.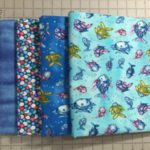 And then the next day, I went back for a spool of thread and bought some rainbow fish fabric. It's very sparkly and I thought it was perfect! for what? Logan, my granddaughter will love it!  So I bought some.
Look at these numbers. I better do something or else.
Fabric used in the last 2 weeks: 15.15 yards
Fabric used YTD: 42.12 yards
Fabric added in the last 2 weeks: 27 yards
Fabric added YTD: 70.14 yards
Net fabric busted: -28.02 yards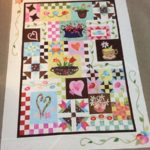 On Friday, I finished Piece, Love and Applique by LizzieBCreat8ive designs. Cute pattern and it used over 14 yards of fabric. lots of applique and piecing. Now to figure out how to quilt it. The store sample was quilted with these flowers in the borders and that it what attracted me to the quilt in the first place. Apparently the woman who quilted it no longer does quilting for others. What a shame, it was really beautiful!
On the 15 Minutes to Stitch challenge, I've been pretty busy. he week of Feb 25 to Mar 3, I stitched 37 hours. Almost a full time job. But I was at the retreat so there were long hours involved. last week, I stitched 25 hours, my part time job. I probably stitch around 4-5 hours every day. And that doesn't count computer time either, even though it's usually quilt related.
Linking up with Donna at QuiltPaintCreate and Kate at Life in Pieces. See you next time.