Archive for August, 2008
Here's the "Camden Quilt" all completed. My niece showed some people a picture of the quilt before it was even quilted and they liked it. I'm sure glad that she liked it. She is coming here this weekend so she will get to see it and finally give it to Camden. I hope that he likes it but only time will tell.
This is a tote bag that I made using "Kwik Krazy Tote Bag" pattern. I purchased this as a kit but the only thing that was in there was the pattern and the material to make the Krazy part. I had to supply the lining, bottom of the bag, the pocket and the handles. I think that it was a starter kit but when I bought it I thought that it was a kit for the whole thing. I guess that I should read the small print a little more carefully. Lucky for me that I had a nice match.
A few weeks ago, Debbie and Betty came over to sew. To make room I cleared off the counter in the sewing room and put everything in a laundry basket and stuck it in the computer room. Well the basket was very full and I liked having a clean counter, so I had to start finishing everything in that basket so there is somewhere to put the dirty clothes. This is "Sugar and Spice" from the book "Charmed and Dangerous" which used 3 packages of charm squares. Boy do they leave a lot of threads everwhere. But it went together quickly and easily.
Well that's all for now. Thanks for stopping by.
Mary-Kay
The Marsh Store  Here's a little shop that I visited recently near London ON and it's a really neat place that's used to be an antiques store. I purchased a few things, as always.
This is the fabric that I am going to use in the X-block with a black background. When I first decided to make this I was choosing too many brights and it was overwhelming to look at. Now I've whittled it down to these 6 and the last fabric on the right is going to be in the little "belly-button" block that goes in the center of the X-block.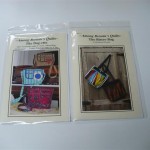 I got invited to go to a fund raiser where you donate a purse to be auctioned off and I thought that instead of buying a purse to donate why don't I make one. So I bought some supplies. The patterns are from" Among Brenda's Quilts" and I saw the "Bistro Bag" done in silk with some beaded embellishments and it was really gorgeous and I thought that I could try my hand at that. The trim looks pretty and the fleece makes the bags stiff.
I picked up this pattern. It's from another Canadian company "The Rabbit Factory"  located in Kingston,ON. I like to support Canadian companies whenever I can.This would look nice in batiks or maybe for a more fall look all in tans and reds. I love that colour combination.
Well that's all for this post.
Thanks for stopping by.
Mary-Kay
August 17th, 2008 - New Stuff
 This is an old post that got deleted when we switched servers, so I'm going to repost it.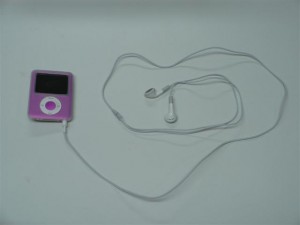 Here's one of my new purchases this week. I decided that I need to lose weight and to help accomplish this I bought an iPod to help me pick up the pace while I'm out delivering mail. So far I managed to lose 6lbs. Now to keep it off during the weekend.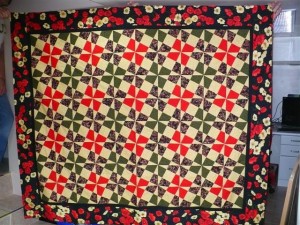 While I was at my sister's in Charlevoix MI, I took a class at Hearts to Holly (web site under construction) and made this quilt. It took me all week that I was there to complete it. I really like the fabric and the way it turned out. I used this ruler to make it. You make a nine-patch and cut it out using the x-block ruler.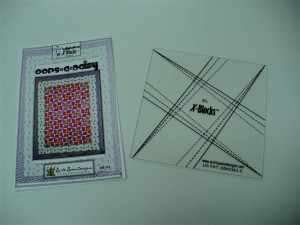 Now I want to make another one in totally different fabrics like this.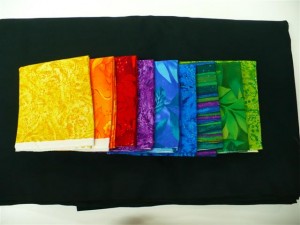 The black would be the background and the brights would be the flowers/pinwheels. I picked up the black fabric at Quilting Confections with a 25% off coupon. Just imagine it all quilted with a black border with a feather stitched in a variegated thread similar to the bright fabrics. I think it would look great.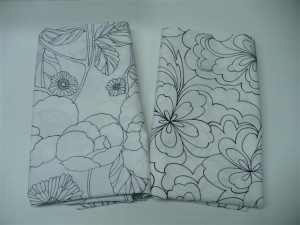 I also purchased this fabric at Gotta Have it Fabric. You can colour in the flowers using whatever medium you like. I'm think I'm going to try crayons on one and diluted fabric paint on the other.
Well that's all for this post. I'll be posting soon, there is lots that I'd like to share with you.
Thanks for stopping by.
M-K
Here's another project that I had in my stash for 4 to 5 years. I have a whole shelf of stuff that I was planning on doing (just like all the quilts I'm panning to make).
Hopefully I'll be getting a lot done without buying any fabric.
 On a sad note, one of the local quilt shops is going to be closing their doors in September. Too bad, I will really miss them.
Here are more snowmen that I have been working on. I modified the July one to reflect the Canadian holiday.
Today I pulled out a project that I started 4-5 years ago. Why I didn't finish is beyond me. I had all the applique cut out and all I had to do was iron on the pieces and then paint the flakes and snowflake flyer on with some fabric paint.
I am also working on a quilt that my niece made for her friend's new baby. I stitched the sayings and am now in the process of quilting it for her. Needs to be done by Aug 23rd weekend which gives me plenty of time.
Talk to you later. M-K
Hey fellow quilters, sorry for the long absence but I don't think that I am cut out for doing a blog. I have to have my son help me log in every time because I can never remember how to get in. I'm going to try for once a week.
On the quilting side, I have quilted so much stuff that I can hardly keep track. From comfort quilts to shower gifts to classes and I always forget to take pictures. My camera has seen better days and I have to use my son's because it takes great pictures. Once I took his camera to a quilt show and the pictures were pretty good considering that I don't know how to use all the functions. Much diffe
rent then my Nikon Coolpix (his is a Panasonic Lumix). I'm going to have to get me one.
Well, here are some pictures of the stuff that I have been doing. Enjoy and talk to you soon.