The Marsh Store  Here's a little shop that I visited recently near London ON and it's a really neat place that's used to be an antiques store. I purchased a few things, as always.
This is the fabric that I am going to use in the X-block with a black background. When I first decided to make this I was choosing too many brights and it was overwhelming to look at. Now I've whittled it down to these 6 and the last fabric on the right is going to be in the little "belly-button" block that goes in the center of the X-block.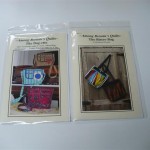 I got invited to go to a fund raiser where you donate a purse to be auctioned off and I thought that instead of buying a purse to donate why don't I make one. So I bought some supplies. The patterns are from" Among Brenda's Quilts" and I saw the "Bistro Bag" done in silk with some beaded embellishments and it was really gorgeous and I thought that I could try my hand at that. The trim looks pretty and the fleece makes the bags stiff.
I picked up this pattern. It's from another Canadian company "The Rabbit Factory"  located in Kingston,ON. I like to support Canadian companies whenever I can.This would look nice in batiks or maybe for a more fall look all in tans and reds. I love that colour combination.
Well that's all for this post.
Thanks for stopping by.
Mary-Kay
Leave a Reply