Archive for August, 2009
 I haven't been sewing all week. I've been busy re-organizing this messy sewing room. I really have way too much junk in here and it was time to purge. I  gave some to Goodwill, some to the Scouts to use as fire starters, some to my sewing sister and some to the garbage. Now I feel like sewing something. I went to IKEA last Sunday and bought a new cutting table.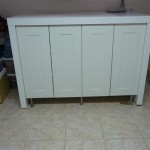 Actually, it's a kitchen island. I have to get a different set of legs for the front. Apparently the floor slopes a lot in that area, but it looks great for now.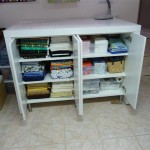 Lots of storage below. My other table was the folding gateleg style. I got it for Christmas maybe 15 years ago. It was a nice table but there was no room below it. I had things in bags beneath the table and they were always full of threads and lint. This table is meant to be stationary so that means I'll have to make use of my revolving cutting mat more often.
My sisters suggested that I purchase another shelving unit so I can get everything out of the bins and on to shelves. At first I thought this was a good idea but then I thought that it would just encourage me to get more fabric. You know, fill in the empty shelves – I would prefer to empty the bins of the various projects in them. I'd better get sewing then!
Fabric added this week:  0 yds
Fabric added YTD: 211.61 yds
Fabric used this week: .25 yds
Fabric used YTD: 154.89 yds
Net fabric busted: -56.72 yds
 Not much fabric used but there's always next week. Happy sewing.
Mary-Kay
 Did you realize that the year ends in 18 weeks? Wow! Where did all that time go? We must have been having fun because time definitely wasn't dragging. I can't believe I didn't do anything quilty since last Sinday. Like I said I read a lot of books this week. And canned a lot of tomatoes yesterday. And boy were they good. We opened 2 jars last night for some pasta and decided that the recipe was a keeper.  My SIL thought that we should get another bushel and make some more. Maybe next weekend. I have some quilts that need to be finished.
Fabric added this week: 0 yds- isn't that great!
Fabric added YTD: 211.61 yds
Fabric used this week: 7.95 yds
Fabric used YTD: 154.64 yds
Net fabric busted: -56.97 yds
Now these would be great numbers except for how much fabric I've added this year. SO I have 18 weeks to whittle down that stash and make this exercise an A plus.
Have a wonderful sewing week.
Mary-Kay
 ……here in my sewing room. I had to go back to work after being off for a month and I can't seem to get motivated to do anything except read. I read My Sisters Keeper and Blindman's Bluff. I'm currently reading The Hour I First Believed. I started working out and riding the exercise bike and decided that I should read while riding. But I have started reading all the time. I used to read about 3 books a week but that was before quilting. I have to find a happy medium with quilting and reading. Maybe.
On the quilting front, I did manage to piece 2 backs together. This will look good on my stash report tomorrow. After going on that shop hop, my buying has really overtaken my using. Maybe I'll sew something today. Then again maybe not. I'm supposed to go and can some tomatoes at my SIL's. Yesterday we made 2 batches of salsa and last weekend there was some blueberry jam. Next we want to do peaches. Yummy!
Hey, did you know that Heather at Trends and Traditions is having a giveaway? You should check her site out. Great books and patterns. I have made a few of them and I really like them. Her instructions are great and the pictures are truly inspiring.
Have a great day.
Mary-Kay
 Well I have to say "I was a naughty girl."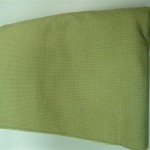 I picked up 12 yards of this really soft and cuddly flannel fron Maywood Studios. It will make great backs for comfort quilts. And it's kind of a neutral colour so it will go with anything.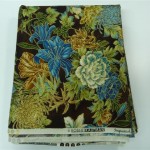 And I got 4 yards of this  Robert Kaufman fabric for a quilt backing. This quilt was from the shop hop here in  the Windsor area and it's ready to be quilted now.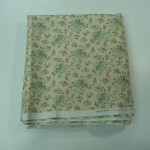 And I bought 4.5 yards of this fabric for another quilt backing. This is the backing for Hearts to Holly's block of the month from last year. I actually bought the fabric a while ago but never brought it  home. It was aging at my sister's house.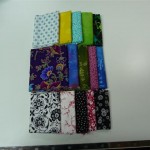 And these are 3 sets of fat quarters (3.75 yards) from the shop hop challenge. At the first shop everyone buys a fat quarter. Then at the next shop you put all the fqs in a bag and pick one out and buy a coordinating fq. You do the same thing at each shop and at the end you pick a bundle out of the bag and that's yours to keep. My SIL, who is not a quilter,  never realized how hard it is to match up fabric. I say it's an art. So I bought her fqs and another non quilter's fat quarters.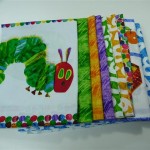 I also bought The Very Hungry Caterpillar quilt (8.5 yards- front and back). I used to read this book to my youngest son and it was one of his favourites. I thought it would make a really nice gift for a special baby.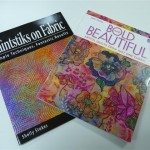 I also picked up these 2 books and a paintstik which I forgot to take a picture of. There are some very cool techniques in these books and I can't wait to try them out. But I have a few other things I have to finish first before I start playing around with the dyes and fabric paints.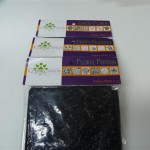 And I bought 3 sets of rubbing plates to try out. I think there are lots of possibilities to make some really neat quilts. And I can't wait.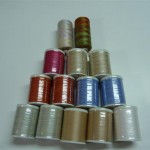 Last but ever so important, thread. I love Superior Threads especially when I'm quilting. They never seem to have tension issues. It always works out great for me. I try to buy only their thread but I did pick up a few Valdani varigated threads to try out on a few quilts.I have had success with their threads also, but I like the Superior brand better.
So if you were counting I added 32.75 yards to my stash this week. I didn't use any either. So my net fabric busted is in the negatives really bad. But I plan on making the backings for 2 quilts and sending them off to be quilted this week. So that should take care of a few yards or so. Maybe I could just sew something up and that might take care of a few more yards. Infortunately, I have to go back to work after being off for a month. I am going to be really sore tomorrow. In more ways than one. Maybe I won the Mega millions jackpot or the 649 or the Super 7  and I don't have to work ever again. Yeah right!
Have a great week.
Mary-Kay
Hey, I actually went to the quilt shop and only managed to get the BOM and 2 books. No other fabric. Yea me!!!!!
Fabric added this week: .25 yds  this month's BOM
Fabric added YTD: 178.86 yds
Fabric used this week: 5.13 yds
Fabric used YTD: 146.69 yds
Net fabric busted: -32.17 yds
Now to keep this up. The only thing is I'm going to a shop hop in Northern Michigan but I'm only planning on buying a backing for a particular quilt. I have been asked to find fabric for other people so if I can make that my fabric buying, that would be great!  My plan is to look for new gadgets but only ones that I'm actually going to use. I do need a new ruler.
 Have a great week!
Mary-Kay
August 8th, 2009 - No Rest
Especially when you are on vacation. I thought that I would get lots of quilting since I've been home but  I've done very little. Here's what I've been doing………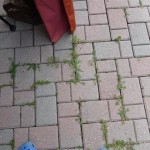 See all these weeds. Well now they are all gone. Every single one of them. My fingers are killing me. The tips are really tender and tingly. Our patio is 18′ by 50′ and it's all interlocking brick. So much fun.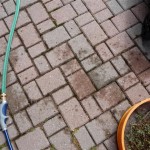 Now it looks like this. I had to use a lot of water to try and loosen the buggers up. I don't like using weed killer because I like to walk outside in my barefeet and I don't want that stuff getting on me or being tracked in to the house. I guess I'll have to find a "green" way to get rid of these things. Or just go out there more often and pluck them out.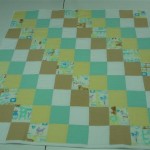 On the quilting front I finished another baby quilt. This time I machine quilted it and then wrapped the backing around to the front for the binding.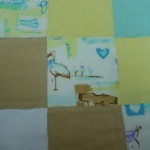 I don't know if you can see it but I quilted the edges with the serpentine stitch in white thread. I think I like quilted better than tied. I started the quilting at 9:30 and was completely finished, binding and all by 11:00. The tied quilt took me 2 nights to do. I think I'll be quilting the rest of them.
Have a great night or what's left of it.
Mary-Kay
August 6th, 2009 - A First
I tied my first quilt today. Or should I say yesterday. I know it's late. Anyway I'm not sure if I like it or not but I think I'll try it again but this time I'll make the binding a little smaller.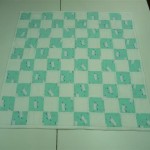 It's a baby quilt. It took a lot of time to tie it and I'm sure I could have machine quilted it faster. I had a hard time trying to get the needle through the fabric. I think it's because I went through the seam allowance at the corners. The next one will be tied in the middle of the squares. But the time saving part is the binding. I pulled the backing around to the front and machine stitched it down. It makes for bulky corners especially when using flannel. I tried to do mitered corners but that wasn't working for me. I will have to try that on the next one.
Until next time.
Mary-Kay
 Okay so it's a little late. But when you are on vacation, you tend to stay up a little later than usual. I like to stay up real late. Once I stayed up until 5 A.M. and the other day I stayed up until 4 A.M.  So tonight I'm going to tye some quilts. I hope! And maybe tomorrow I'll find the camera and post some photos of my progress. That's if  I'm not too sleep deprived.
Have a great night.
Mary-Kay
 Well, I have about 20 weeks left to meet my goal. I certainly hope that I can but that means "No More Shopping". But I'm going on a shop hop in a few weeks and I not planning on buying anything but a backing for this quilt that I made. A friend has asked me to find her some fabric, so that can be my purchase. I hope!  Of the fabric I added this week was 2 yards of dyers cloth that I want to experiment with this week. I also bought 2 yards of All That Jazz fabric to go with the stuff I already have to make this year's music quilt. I should get that cut out soon because I would like to have it completed before school starts so the raffle can start earlier than last year. Also, this week I took my 2 machines in to be serviced and I thought that I would get all kinds of other stuff done but it didn't happen. Talk about withdrawals. All I did was think of things to do that involved sewing but no machine. I got them back on Saturday but have to set it all back up. I had lots of family and friends around so there wasn't any time for sewing.
So here's my latest fabric busting report.
Fabric added this week: 6.5 yds
Fabric added YTD: 178.61 yds
Fabric used this week: 7.88 yds
Fabric used YTD: 141.56 yds
Net fabric busted: -37.05 yds
Have a great week.
Mary-Kay