Well I have to say "I was a naughty girl."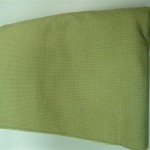 I picked up 12 yards of this really soft and cuddly flannel fron Maywood Studios. It will make great backs for comfort quilts. And it's kind of a neutral colour so it will go with anything.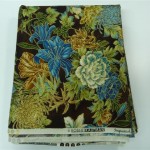 And I got 4 yards of this  Robert Kaufman fabric for a quilt backing. This quilt was from the shop hop here in  the Windsor area and it's ready to be quilted now.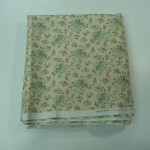 And I bought 4.5 yards of this fabric for another quilt backing. This is the backing for Hearts to Holly's block of the month from last year. I actually bought the fabric a while ago but never brought it  home. It was aging at my sister's house.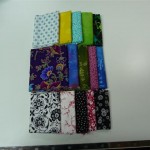 And these are 3 sets of fat quarters (3.75 yards) from the shop hop challenge. At the first shop everyone buys a fat quarter. Then at the next shop you put all the fqs in a bag and pick one out and buy a coordinating fq. You do the same thing at each shop and at the end you pick a bundle out of the bag and that's yours to keep. My SIL, who is not a quilter,  never realized how hard it is to match up fabric. I say it's an art. So I bought her fqs and another non quilter's fat quarters.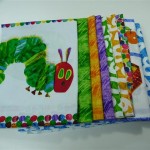 I also bought The Very Hungry Caterpillar quilt (8.5 yards- front and back). I used to read this book to my youngest son and it was one of his favourites. I thought it would make a really nice gift for a special baby.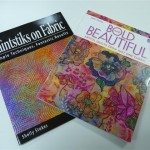 I also picked up these 2 books and a paintstik which I forgot to take a picture of. There are some very cool techniques in these books and I can't wait to try them out. But I have a few other things I have to finish first before I start playing around with the dyes and fabric paints.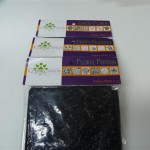 And I bought 3 sets of rubbing plates to try out. I think there are lots of possibilities to make some really neat quilts. And I can't wait.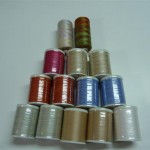 Last but ever so important, thread. I love Superior Threads especially when I'm quilting. They never seem to have tension issues. It always works out great for me. I try to buy only their thread but I did pick up a few Valdani varigated threads to try out on a few quilts.I have had success with their threads also, but I like the Superior brand better.
So if you were counting I added 32.75 yards to my stash this week. I didn't use any either. So my net fabric busted is in the negatives really bad. But I plan on making the backings for 2 quilts and sending them off to be quilted this week. So that should take care of a few yards or so. Maybe I could just sew something up and that might take care of a few more yards. Infortunately, I have to go back to work after being off for a month. I am going to be really sore tomorrow. In more ways than one. Maybe I won the Mega millions jackpot or the 649 or the Super 7  and I don't have to work ever again. Yeah right!
Have a great week.
Mary-Kay
One Response to "Stash Report Week #33"
Kare in OH Says:
August 16th, 2009 at 5:10 pm

Great purchases! I love Superior thread too!
Leave a Reply