Archive for June, 2009
Hey, I've been sort of busy this weekend. We purchased a giant size gazebo and I spent all day Saturday putting it together. We worked until 10 p.m. and then on Sunday all I had to do was put up the privacy curtains and mosquito netting. It's great. Now I have to figure out how to get my sewing machine out there. We were out there on Saturday night until midnight, just sitting there having a few beverages and chatting . Last night we sat out there until 10 p.m.  and enjoyed the breeze.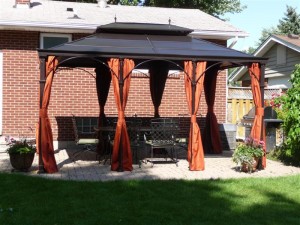 We have no shade until late afternoon and during the day it's unbearably hot. Brett  wants to get a hanging light and a ceiling  fan. Next he'll probably want a hammock or something like that. I'm glad that the gazebo is large enough to accomadate the patio furniture. He  thinks I had these purchases planned all along. I don't think so! My youngest son now wants to have another party so all his friends can hang out with the netting and curtains closed. Maybe it will contain some of their noise.
Here is my delayed stash report.
Fabric added this week: 0 yds – yup that's right. Finally!!!
Fabric added ytd: 99.21 yds
Fabric used this week:3.46 yds
Fabric used ytd: 111.16 yds
Net fabric busted: 11.95 yds
 This week I plan on doing some more sewing because it's supposed to rain for 3 days.
Have a great week.
Mary-Kay
Well the saga continues. Remember the dryer that took 2 months to get here. So I called Home Depot to complain and the store manager said that they didn't know when these things were delivered. I told her that I was in the store several times looking for it and the sales people called Maytag (which is really Home Depot-Maytag not Maytag Canada) to see if they could get a delivery date for me. Basically she said that I had the dryer now so what could they do about it. I told her to think of something and that I wouldn't be ordering any appliances from them again. And I also asked her if she could afford to loose a customer who spent approximately $10,000 there last year. She had no response. Oh well I guess they lost me as a customer.
….is trying to use up some of the fabric that I bought on the weekend.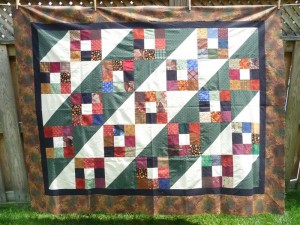 I made the border for this comfort quilt. My friends and I swapped 9-patches  for this.I think it's a pattern from a Fons and Porter "Easy Quilts" magazine.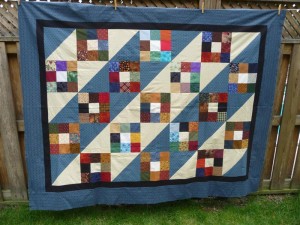 And I made this one too. I think I like the blue one better but then I always like blue.  Like my new quilt hanger? My old ones were very cranky every time I asked them to hold up a quilt so I could get a picture of it. So I went to the hardware store and bought some clothesline and 2 screw hooks. My son drilled the holes for the hooks, screwed the hooks in  and then tied a fancy knot in the line. Voila! A new quilt hanger. It doesn't complain  or hang the quilts crooked. The only thing about this is if it rains, no pictures. I think I will even use it in the winter.
Have a great week (which is almost over)
Mary-Kay
So I should just become a shopper instead of a quilter. Two friends and I went to the area shop hop and I wasn't planning on buying anything. I should have stayed home. Eleven yards later. It doesn't look like that at all. But most of it is going to be used this week. Hopefully!
Fabric added this week: 11.36 yds
Fabric added ytd: 99.21 yds
Fabric used this week: .25 yds
Fabric used ytd: 107.7 yds
Net fabric busted: 8.49 yds
 I think I should change my goal , instead of 100 yards busted, it should be 100 yds purchased. Oh well, there is always next week. After Tuesday school is done and that gives me more time to sew. But it also means that the child will be wanting to go places. It never ends until they move out but I think I would miss him too much.
 Here's the finished BOM from Quilting Confections. Those triangles drove me crazy. I didn't like the way they were in the pattern so I changed them and did it wrong. I had to reverse sew one side of the quilt and then reverse sew the 4-patch triangle blocks. Instead of sewing the left and right sides of the borders, I sewed them on clockwise to make sure the triangles were in the right place. I guess if I had EQ6 all my problems would be solved before sewing them on. That's all I could think of while I was unsewing. But now it's done and ready to be quilted. The last border is 10″ and is a great place for a really nice feather pattern.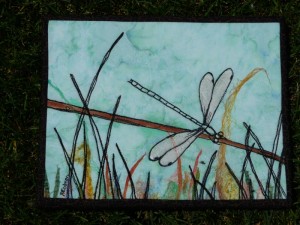 My only other finish this week is this thread-sketched wall hanging. My friend Deb came over with all her dyed bits of stuff and showed me how to do this on Friday night. I completed it entirely by 10:30 and it was hanging on the wall by 11. I put this on the grass outside to snap a picture and there is a tiny cricket on it. It wasn't on the first picture. It looks like the dragonfly has his eye on it.  Mmmm tasty!
Well that's all for this week.I should have some more stuff done next week.
Happy quilting
Mary-Kay
First I don't post for a week and now here's a second one today. But I just have to share this "New Thing" 
  At the beginning of April, the 5th to be exact, we purchased a washer and dryer. If you bought the set, you got a free laundry tower.  We ordered the pair and the tower . We got the washer and the tower on April 15th. And we waited for the dryer which was on back order. I applied for the free tower rebate.   And we waited. We called Home Depot, we went in to Home Depot looking to see if there was any news about the dryer. None. Someone at Home Depot told us that gas dryers weren't purchased as much as electric. Why would I want an electric dryer when gas is cheaper to use? And we waited and we called Maytag. Nothing. I was getting pretty tired of waiting and  finally I heard the news. A dryer was set for delivery June 13th.  The person at the delivery center called me to confirm due to the scheduled delivery date. April 17th. Wow! Who knew that it would take 2 months to get a dryer?  I said I would believe it when it was delivered. On Friday I got the rebate for the tower. Amazing huh! Who ever gets the rebate before you get the product? Anyway, on Saturday the delivery window was 12 to 4 and at 3:40 a truck pulls up with the dryer. I checked it out to make sure it was the right model. I am not impressed with this at all but what can I do. The salesman at Home Depot was going to try and upgrade me to the top of the line dryer for the same price. But I had ordered the best dryer already. Should I have switched to electric? No way!  But the dryer is great. It has steam and all the gadgets that you could want in a dryer. So does the washer too! But 2 months is way too long for a dryer to be on back order. I don't think I'll be dealing with either of these companies any more.  No kind of apology was offered or anything. Should we as the consumer just have to put up with this? I don't think so. I think that all businesses should be kissing up to the consumers big time. I dropped a few thousand on these appliances and had to wait 2 months to get a dryer. It's not a luxury car that is hand built or a quilt that is hand quilted. It's a dryer! Anyway I like the new dryer and I hope no one else has to put up with this kind of treatment.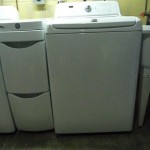 This is the washer and the laundry tower.. It's a top loader and has a giant tub with no center agitator. Great for quilts. The controls are pretty basic. You put the clothes in and choose the correct cycle, darks, sheets, whites, hand wash etc. No water level or temperature to select. Then press start. Nice and simple. The laundry tower fits all the soap and laundry supplies.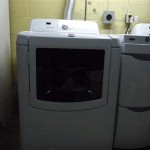 Oh look, it's the dryer. I wonder when that would show up. Long time no see. It dries clothes in no time due to it's large size. I think that I have to buy more clothes and towels. There never seems to be enough for a load and then we run out of towels. The load level is almost twice the size of our old set. I hope this set lasts forever becuase I don't want to wait 2 months again for a dryer.
 I'm off to play with the new toy. Actually all the laundry is done. So if you have any dirty clothes, bring them over. Just joking.  Or I could just wash some fabric.
Have a great week.
Mary-Kay
 Okay, so I never seem to post except for Sundays. Well, I just don't seem to have the time. The only things I know for sure that I do during the week is work, sleep and read  blogs. After I read all the new posts I am usually too tired to post my own  progress on quilting or other stuff. I must go to bed earlier or quit my job or get rid of my kids. Right, like that's ever going to happen! Anyway, enough of that here's my stash report.
Fabric added this week: 6.08 yds
Fabric added ytd: 87.86 yds
Fabric used this week: 7.31 yds
Fabric used ytd: 107.45 yds
Net fabric busted: 19.59 yds
Now all I have to do is stay out of the fabric stores and work on all the projects that I have planned. I'm very excited about some of them but I should finish a few that are already started so I don't lose interest. That's a really hard thing to do. It's a vicious cycle. Then you go to the lqs and get all excited about another new project. The one you are working on now gets put on the back burner and you start the new one. And so on and so on…… When I used to do cross-stich I tried to always finish a project before I started a new one. That didn't last long and I still have 3 or 4 that aren't finished and probably never will be.
This is what I've been working on all week. I know it doesn't seem like much but I have to add more borders that are……..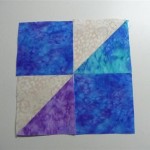 like this and………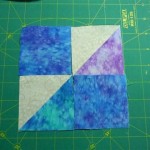 ……..like this. Twenty nine of each. Thank you very much. Plus some other for the corners.  And then there is a giant 10″ border that would be a great spot for a feather quilting pattern.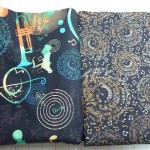 Seeing as this year I made a quilt for the music program that had a music motif I thought for next year I would use just a music themed fabric. I bought this stuff a while ago and yes I included it in my stash report.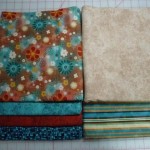 Well, last week when I was at  Hearts to Holly I found the cordinating fabric. This is a really different line of fabric. From a jazzy themed print to flowers to retro loking prints plus the plainer fabrics. There certainly is a lot of possibilies there to make something really neat.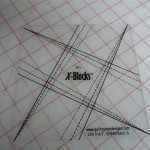 So I thought I would use this handy little tool that I got last year to make something with that fabric. I am really excited to see how it looks but as I said earlier, I have to finish a few things first.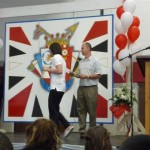 I know I went to something this week. Awards night. My son received a math award. His math teacher entered him in a provincial math contest and he got the highest mark in his school and was in the top 25 percentile in the province. Way to go Mack! My husband was in charge of the camera and almost forgot to get a picture. He was too busy watching the awards.
Well that's it for last week. Maybe I'll post during the week. Exams start on Thursday and hopefully I won't have to be  driving around to any events this week. Once school is out my driving duties are over. Hurray, more time to quilt!
Happy quilting
Mary-Kay
 Okay so I'm supposed to be using my stash. Right! So this week I reached the 100 yard mark but I went to Hearts to Holly and bought some fabric.Like 9.5 yards of it. But it's not for my stash but for finishing a BOM and another quilt I want to make.. I am very eager to get it started and see the finished results. I'm thinking of donating it to the music program for next year. The first music quilt was raffled off on Thursday at the Spring Concert. I hope they raised a nice chink of change.
Well here is my report.
Fabric added this week: 9.5 yds
Fabric added YTD: 81.78 yds
Fabric used this week: 1.58 yds
Fabric used YTD: 100.14
Net fabric busted: 18.36 yds
I really want that net fabric to be 100 yards. I had better start sewing this week. Enough of that gardening stuff. How do you sew and garden and work and clean and cook and……. Somethings got to give. Like cooking, cleaning, gardening, work ……..
Have a great week.
Mary-Kay