….is trying to use up some of the fabric that I bought on the weekend.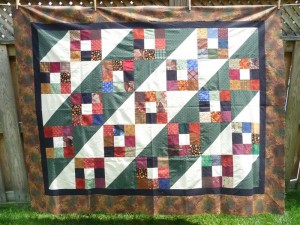 I made the border for this comfort quilt. My friends and I swapped 9-patches  for this.I think it's a pattern from a Fons and Porter "Easy Quilts" magazine.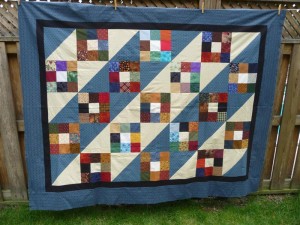 And I made this one too. I think I like the blue one better but then I always like blue.  Like my new quilt hanger? My old ones were very cranky every time I asked them to hold up a quilt so I could get a picture of it. So I went to the hardware store and bought some clothesline and 2 screw hooks. My son drilled the holes for the hooks, screwed the hooks in  and then tied a fancy knot in the line. Voila! A new quilt hanger. It doesn't complain  or hang the quilts crooked. The only thing about this is if it rains, no pictures. I think I will even use it in the winter.
Have a great week (which is almost over)
Mary-Kay
4 Responses to "What I've been Doing….."
Leave a Reply