Archive for December, 2008
By the way I really don't like snow. On Friday it was very difficult to deliver the mail. The snow was knee deep and blowing in my face no matter which direction I was going in. Lucky for me I only deliver 4 blocks outside and the rest is apartment buildings. I feel very sympathic for my fellow workes whose whole route is outside. Today we are supposed to get more of that dreaded white stuff. Only 3 more days and then I'm off for 2.5 weeks. Yipee!
Later
M-K
Well, it seems the bathroom will not be done in time for the holidays. The tile guy finally showed up on Thursday night and told us to call him when we are ready. He didn't seem to think it was necessary to put the Kurdi (waterproof membrane) on the walls or the Ditra (another waterproof membrane) on the floor. He said he was the wrong guy for putting floor tiles on the 45 and then later said that it was passe.  I couldn't picture the tiles on the 45 anyway so I think I'll go with a brick pattern instead. It seems to me that maybe he doesn't want the job. Needless to say, we are putting the membrane on the walls in the shower and on the floor. We are not taking any chances and we have had water damage and lots of mold so any overkill will certainly help. I bought primer and paint and have put on a coat of each. I will save the final coat of paint until everything is done so I can touch up everything while I'm at it.
 Now on to the quilting front. I have hardly sewn anything during this renovation. Last night I made a fabric basket and wrapped it up and forgot to take a picture of it. Darn. It is bigger than the previous one that I made. I think I'll make another one today and show you that.
That's all for now.
Talk to you later.
Mary-Kay
So I thought I was going to a Christmas party. And that it was with an added twist. There was cake, raspberry wine and gifties besides our ornament exchange. My friends gave me a little surprise. I didn't expect it at all and we were even talking about what I wanted to do for my special birthday. And there were even gifts.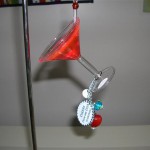 This is a really cool ornament. Kristy didn't have time to make one so she bought this one. Tells you what she thinks we all are.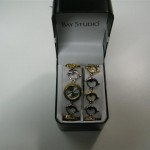 My friend Denise got me this matching watch and bracelet for my birthday. I really like it.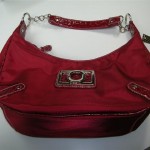 And she got me this cool red purse. It'll match my red shoes. Very festive.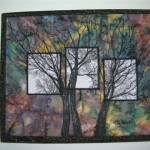 And this picture is right up my alley. It's an art quilt picture by a local artist Michelle Dobrin. I saw some of her work at a restaurant  and admired her work. Now I have one. Thanks Kristy. It was a great day overall.
That's all for today.
Talk to you later.
Mary-Kay
  I have to go to a Christmas party tomorrow with all my witchy friends. And I mean that. A group of my friends and I always dress up at Halloween as witches and either go  bar hopping or to one of our homes. One time we all went out to dinner at The Cook Shop and we got a lot of weird looks. But it was fun and that's all that counts. So tomorrow I need to bring an ornament or decoration for a secret Santa exchange. I was going to buy something but I thought that I must have something somewhere that would do. This is what I found.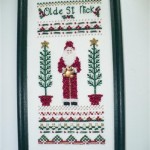 All I had to do was wash, press and frame. A perfect little gift. There is a cool teddy bear bead that Santa is holding on to.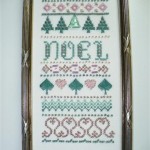 And while I was at it I did the same to this stichery. I love all the beads on these. It makes them look so festive. This one has a real nice Christmas tree bead in it. Both these beaded sticheries are from Mill Hill Beads altrhough they are no longer available. But there sure are some other beautiful kits available. The frames are also form Mill Hill.
  I finished the last quilt binding. So now I can officially start a new project. Like paint the bathroom (that's not done yet!) or a new quilt top.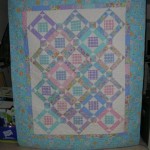 Her it is, Cotton Candy from Anka's Treasures. I had a Spring Meadow jelly roll that needed to be used up. Machine quilted by Deb from Wedgewood Custom Quilting. And It looks so nice that I want to keep it.
That's al for tonight.
Talk to you later.
Mary-Kay
Ah, you are probably thinking I was going to say something finish like "pulla". I can't wait until Christmas when my sister-in-law makes some more. She makes it almost as good as my grandmother. My brother was living in Sault Ste Marie ON and found a finish bakery where you could get a loaf of pulla for $7- and boy was it good.
Anyway enough of those calorie laden thoughts. On to quilting. Here is a picture of the 9th quilt all bound.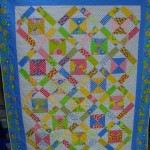 This is Sugar and Spice from Anka's Treasures. I chose the Strawberry and Lemonade fabric from Moda. I had a charm pack and couldn't decide what to do with it and when I was at Hearts to Holly in Charlevoix I saw this pattern and decided this was it. I had Deb from Wedgewood Custom Quilting quilt it and I love it.
That's all for now.
Talk to you later.
Mary-Kay (the quilting junkie)
Yep, that's right, I'm sick again this time with a head cold. I got a flu shot on Monday and by Tuesday night I had a cold. Maybe I already had a little bit of a cold wwhen I got the shot but who knows. All I know is that I'm sick of being sick!
 On the bathroom renovation side, boy is it a slow process. We'll be lucky to be done by Christmas. I'm not putting up the decorations until all the sanding and tile cutting is done. It's bad enough that the house is so dusty that I don't want to be dusting decorations too.
And then on to the quilting side of this blog. I machine sewed the binding on to the last 2 quilts. Now all I have to do is the handsewing part of it. I really like these 2 quilts.I'll post pictures tomorrow.
Well I'm off to shower…………at my Mom's, of course.
Talk to you later.
Mary-Kay
December 8th, 2008 - Finish #8
 Last night I finished the binding on quilt #8. I have quite a pile of them and I have to decide soon who I'm giving them to. I thought that I could give the 2 girlie quilts to my great nieces but seeing as I now have 4 great nieces I can't really do that. Maybe I could because I made baby quilts for the 2 younger ones  and the 2 older ones do not have a quilt made by me.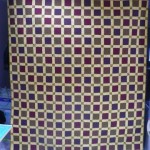 This is a disappearing 9-patch. The only reason that I made this quilt was I liked the yellow mosiac looking fabric and I needed a reason to by it. So the girl at the quilt shop suggested that I make this pattern. She even ran out to her car to get a quilt ,all wrapped up to give away, to show me. So I had to make it. I chose brown fabrics to go with it and I don't even like brown but I kind of like this quilt.
That's all for now.
Talk to you later.
Mary-Kay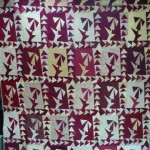 This is from Buggy Barn, Coneflowers, and I just love it. It is quilted in an allover stippling pattern in burgundy thread. Nice and simple so it doesn't make the quilt look even busier. I think it really complements the quilt. Kim couldn't have done a better job.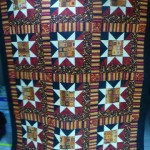 This was a free pattern fron Blank Quilting and I think it is called Tribeca Stars. I really like the fabric with the cicles in it. I'm not a brown person but I like the way this quilt is done. Deb quilted it in a square spiral pattern with a gold thread. Nice job Deb!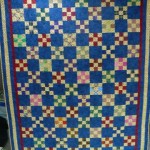 Lastly this is a nine-patch scrappy quilt. I got the idea from my friend who had joined a nine-patch exchange. I decided to make one in a more organized fashion. All the 9-patches have a common fabric in them and the other 4 squares are at least the same colour if not the same fabric. All from my stash, nothing was purchased to make this quilt. Even the backing is from my stash. Kim quilted it in a tan thread with an allover leaf pattern.
One more to show you later. All these quilts need labels but I don't know who I'm giving them to so that will have to wait.
Talk to you later.
Mary-Kay
December 7th, 2008 - Binding
 I have managed to put on the binding for 8 of the quilts that I had quilted. Seven are hand sewn down and I am working on the 8th. I have to make the binding for the last 2 and the attach them and then I will be done with the 10 quilts. I really don't want to start anything before the new year. There are lots of things that I would like to make but I'm saving up for the Stash Busters of 2009. I am on vacation the last week of December  and the first week of January. Think of how much I could accomplish and how much stash I could use up. I  actually went to Quilting Confections and only bought the BOM. I am so proud of myself! Granted there was a lot of stuff that I wanted but I showed self restraint.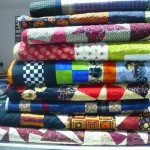 Here is a pile of some of the quilts that I have completed this year. I can't believe that I have more to be quilted. I think I have to quilt them myself. I know how to do it but I get all excited about a new project and start it before I complete the last one. Something I'm going to work on in the new year.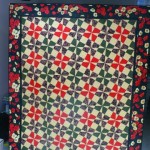 Here is the X-block quilt. I am going to use this as my November quilt because of the poppies on it. It's quilted in a light coloured thread in an allover pattern that kind of looks like  spades and clubs. I am trying to make a quilt for every month and I think I only have 3 months covered, October, November and December.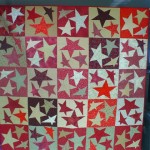 This is the Buggy Barn pattern, Triple Star Crazy. I bought this as a kit which included the backing. I like the reds and lights that were picked. Not the colours I would have chose but I like it anyway. This is quilted with an allover stipple in a tan coloured thread. It looks great.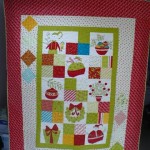 And lastly, this is Merry and Bright. Another kit that I picked up at Hearts to Holly which included the backing fabric. It used charm squares and a panel. It's quilted with an all over pattern that has snowflakes and holly leaves. My Mom really liked it so I am looking for another kit so I can give it to her for Christmas.
More later on. The quilt holder gets tired and cranky.
Talk to you later.
Mary-Kay
I don't know what day # of the renovation is but I'm ready to just loose it. I can't stand the mess anymore. But progress is being done and there seems to be a light at the end of the tunnel. I had hoped we would be done in a two week time frame but it looks more like three weeks. Most of the drywall has been hung on the walls with care and the plumbing doesn't drip all the way down the stairs. Now to just this job done so I can put up the Christmas decorations. That's hard to do when there is a bathtub in the living room. Okay I'll quit sounding like a nag. It will be well worth the wait.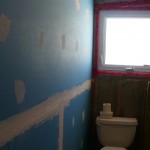 All that is left to drywall is the outside wall and the tud area. We are going to use cement board for the tub area.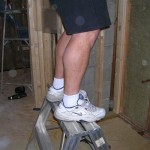 A mystery visitor on Thursday evening. He is not supposed to be here but occasionaly he drops in.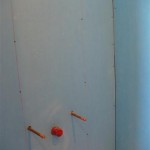 The vanity area. We did a water test last night and there was a leak but it was on the end cap not in the wall.
That's all for this post.
Talk to you later.
Mary-Kay