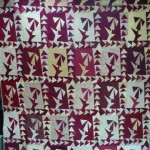 This is from Buggy Barn, Coneflowers, and I just love it. It is quilted in an allover stippling pattern in burgundy thread. Nice and simple so it doesn't make the quilt look even busier. I think it really complements the quilt. Kim couldn't have done a better job.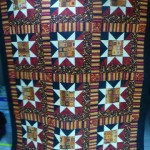 This was a free pattern fron Blank Quilting and I think it is called Tribeca Stars. I really like the fabric with the cicles in it. I'm not a brown person but I like the way this quilt is done. Deb quilted it in a square spiral pattern with a gold thread. Nice job Deb!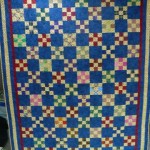 Lastly this is a nine-patch scrappy quilt. I got the idea from my friend who had joined a nine-patch exchange. I decided to make one in a more organized fashion. All the 9-patches have a common fabric in them and the other 4 squares are at least the same colour if not the same fabric. All from my stash, nothing was purchased to make this quilt. Even the backing is from my stash. Kim quilted it in a tan thread with an allover leaf pattern.
One more to show you later. All these quilts need labels but I don't know who I'm giving them to so that will have to wait.
Talk to you later.
Mary-Kay
Leave a Reply