Archive for the 'Quilting' Category
Here it is, my week already. I have not even had a chance to make any of the blocks in this quilt along. Time is flying by so fast this summer. Today, my neighbour motivated me to clean out the garage. The van is loaded up with stuff we are getting rid of – 5 years of junk, ready to go!
My block is all about being Canadian. Living in a border town, we are very American here. There's only one local Windsor tv channel so most of the local news and weather comes from Detroit. I love going over there shopping and visiting family. It's just that sometimes I think we should be more Canadian and be proud to show it, hence my block. My sister lives in the US and all her quilt patterns that come with an American flag are changed to Canadian flags.
Here's the link to my block.
Canadian Summer Quilt Along Seasons Block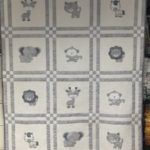 The Stash which never seems to get any smaller even though I do sew.  No fabric was purchased to make this cute Safari Friends baby quilt. This picture looks blurry but I think it's just the grey and the white that makes it look that way. Anyway, I had to learn how to do machine embroidery applique which was super easy in the end. And now that I made and sold this quilt, I'm going to make another one for a niece. Hopefully all from the stash as I have loads of grey and white fabric.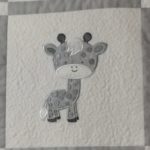 Isn't this the cutest giraffe ever! There were 22 thread changes in this design. First time I did all 22 but the second one I used a light coloured thread to do all the tacking down of fabric and then only changed the thread to do the satin stitching. Much quicker.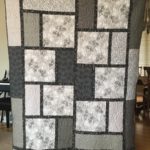 I just finished this quilt in three days. All that's needed is a label. Started on Thursday evening and had the binding on last night. It's maybe the fastest quilt I ever made.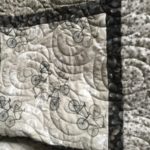 A little close up of the quilting. The pantograph is Hot Cocoa by Urban Elementz. It's my favourite go-to pantograph for comfort quilts. I just love the motion in it and it's quick and easy to quilt.
Now for some numbers.
Fabric used this week: 9.61 yds
Fabric used YTD: 123.24 yds
Fabric added this week: 0 yds
Fabric added YTD: 139.31 yds
Net fabric busted: -16.07 yds
I'm slowly getting out of the hole. I cannot buy any more fabric this year. That's my story and I really am trying to stick to it.
On the 15 Minutes to sew challenge, I have not sewn every day. The first week of July, I only sewed for 2 hours. But last week, I sewed for 27 hours. The only day I missed sewing was Wednesday. I was tired from having the munchkins for 2 days. I managed to sew on Tuesday with them here. There was a lot of stopping to tend to them but I sewed for 4 hours in total.
I'm linking up with Kate at Life in Pieces for the 15 Minutes to sew and with Donna at quiltpaintcreate for the stash report.
Have a wonderful week!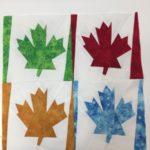 Happy Canada Day to all! You will be seeing a lot of this block this summer. It's my block for the 2018 Canadian Summer Quilt Along. Check out the quilt along here. Week 4 starts soon.
I've been good in the stash department and a little bit lazy in the sewing department. It's just a little too hot here in Southwestern Ontario to do anything. That's my excuse and I'm sticking to it.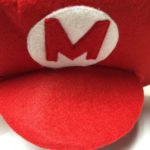 I have a custom quilt to finish and I hope to be done tomorrow. But I did make this last week. My grandson is going in to grade one and I was trying to think of something I could get him or make to mark the occasion. He's in to Super Mario and I had the bright idea to make him a hat. YouTube here I come! Very easy to make and the whole time the video was on, Mario music is playing in the background. You can't help but smile as you are making it. I made the child's size but it was too small so I had to make the adult sized one. I think he loved it.
Here's my numbers
Fabric used this week: 9.08 yds
Fabric used YTD: 113.63 yds
Fabric added this week: 0 yds but I was tempted by a closing sale
Fabric added YTD: 139.31 yds
Net fabric busted: -25.68 yds
On the 15 Minutes to Sew front, I managed to sew for 16 hours a week. I think that's pretty good seeing as I feel like I haven't even been sewing at all.
I'm linking up with Kate at Life in Pieces for 15 Minutes to Sew and Donna at quiltpaintcreate for the stash report. Have a great week and be safe!
I have never done this type of embroidery before. I bought an applique pattern off Etsy from The Applique Place and then watched a how-to video from YouTube. I really had no clue how they did this but now I know. So very cool!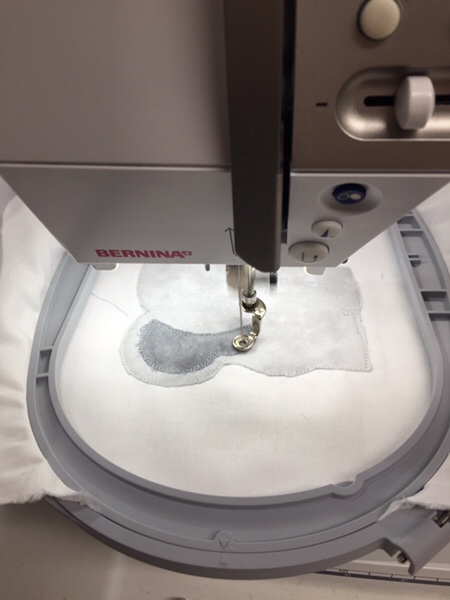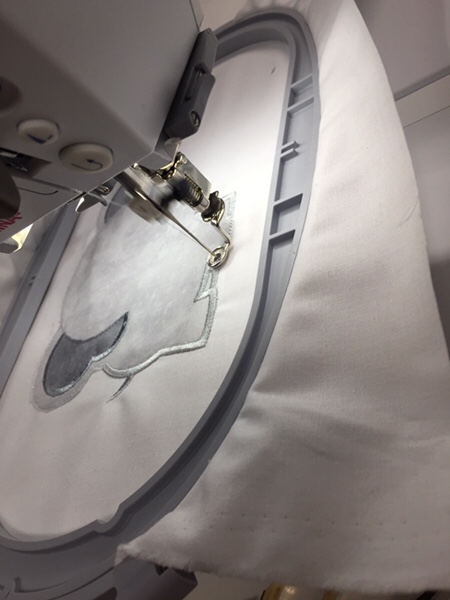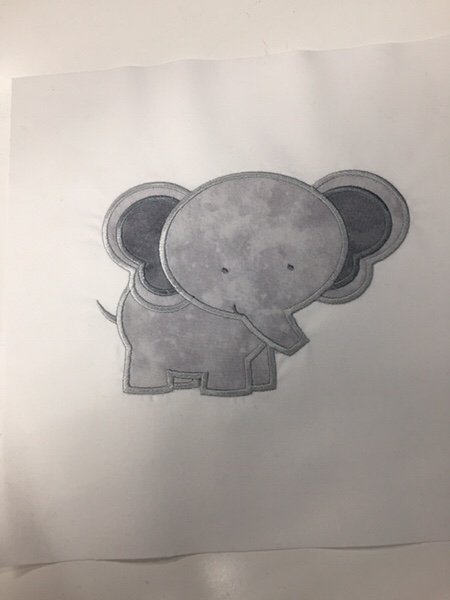 Now that was a really simple, not complicated like I was envisioning. Who knew! I can't wait to do some more and see how they look. I think I even have some applique embroidery designs that I was nervous to try out. Look out world, more to come!
I just love this new to me method of binding.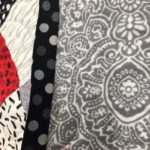 I made a 2″ binding. Sew it on the back and then use the #71 foot on my Bernina 450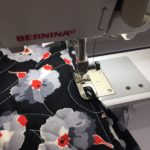 Then stitched it down on the front. This foot guides the binding to the right spot, just covering your stitching.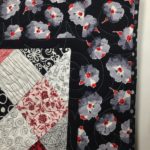 And in no time at all, the binding is sewn down, all neat and tidy. This was my 6th quilt using this method. I finished the binding on 3 quilts in less than 4 hours.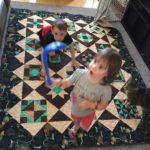 And today, I gave Lindsay her birthday quilt about 8 months late. But you know what they say. Better late then not at all! The munchkins and their cat gave it their seal of approval.
See you all later.
It starts tomorrow! Check it out at  Canadian Summer Quilt Along.  Anita LaHAy from Daydreams of Quilts put out a request for 12 blocks for this idea she had for a quilt along. 'What Canada means to you' was the theme. I can't believe the blocks. Gorgeous!
Every week a new block comes out on Monday with bonus blocks on some Thursdays. And you don't have to be Canadian to participate. Plus there are prizes too! Check it out here.
My block comes out in August.
Get your needles ready and your machines fired up for this epic event!
There is never the right fabric in my stash. I want to make a quilt for a friend who is into biking and I can't believe that I don't have any bicycle fabric in my stash. So I went shopping and found the perfect guy bike fabric. Plus I needed to get a fat quarter pack for my contribution to the 2018 Canadian Quilt Along. I didn't even count that in my stash because it's already mailed out.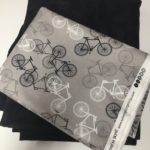 Now isn't that the perfect fabric? And a nice flannel backing too. Plus I bought a lot of grey fabric at the shop hop that will go great with this one.Once I finish my quilt top in greys, this will be the next one up. Of course, neither of these quilts are on my list of quilts to make but will be added on the Tops to Quilt list.
Here are this weeks numbers.
Fabric used this week: 8.17 yds
Fabric used YTD: 104.55 yds
Fabric added this week: 5.42 yds
Fabric added YTD: 139.31 yds
Net fabric busted: -34.76 yds
I also made 2 Necessary Clutch Wallets (NCW) this week. I have so many fabric combinations that I could possibly make that it's slightly overwhelming. Too bad one wallet uses only about 1 yard of fabric.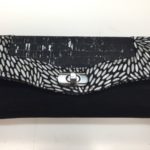 The black and silver NCW is listed on my etsy store, TheQuiltingJunkie.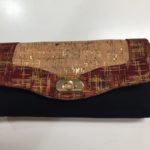 This one I made for a friend. She helped make it too which is a good thing seeing as I sewed the main piece and thought something was wrong with it. I even topstitched it too. Then I realized I forgot to sew the flap on. What a dough head! Too much talking going on! Anyway my friend unpicked that mistake and then I sewed it back together the right way.
On the 15 Minutes to Stitch front, I sewed for a total of 22 hours this week. Some days, I don't get to sew at all but I certainly make up for it on the days I do sew.
I'm linking up with Donna at QuiltPaintCreate for the stash report and Kate at Life in Pieces for the 15 Minutes to Sew.
So much for trying to use up my stash. I was looking for a particular grey and guess what? I don't have any. So the shop hop was going on in my area and I went on it.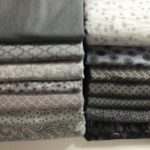 Many yards and yards of fabric later, I found the perfect fabric.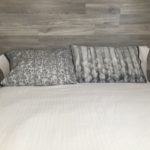 It's a gradiated fabric,  Sound in the Woods, by Robert Kaufman. I just love it! First I made some pillowcases and they look great against the wall in my room.  Well, then I had to design a quilt that would showcase the colour differences in the fabric. Hmmm…. time to fire up EQ7 again.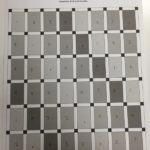 Nice and easy pattern, just the right size for my bed. I'm really just learning how to use EQ7 and while it's not all the hard, it's not all that easy either. Lots to remember.
Needless to say, the stash took a hit. Too bad that I found this fabric at the last store on the shop hop. Here are my numbers.
Fabric used this year: 96.38 yds
Fabric added this year: 133.89 yds
Net fabric busted: -37.51 yds
So, I still have to cut out the quilt and I did get backing for it also. Maybe this week I will get some major sewing done. I never seem to have time to do what I want. Sounds like I'm whining but I'm not. Just a busy life.
But I did get to sew a bit this week. My friend was gone and I used her long arm to quilt a few quilts. Three of my own and one for my sister. No pics, next post. I did manage to sew for 19 hours this past week.  That incudes long arm time too.
I'm linking up to quiltpaintcreate for the stash report and Life In Pieces for 15 Minutes to Sew.
Have a great day!
Well, here I am, back again. I guess I'm just not a regular blogging kind of person. I read blogs daily but I'm not really into posting daily or even weekly.
So my stash has taken a major hit. I went to a quilt shop with my sister looking for a particular fabric and ended up buying some plain white batik and a raspberry Toscana from Northcott. And then the wallet making bug hit me. I just love the Necessary Clutch Wallet from Emmaline Bags. I ordered the pattern a while ago and then was on the search for the hardware at various quilt shops. I had some cork that I bought at Bittersweet in Pinconning MI and Delphine's in Gaylord MI.  I ended up ordering the hardware right from Emmaline Bags. And then there's the stabilizers needed. I can't believe how much money Fabricland here in Windsor wants for that stuff. Actually I can't believe how much they charge for all their stuff. It's like a Joann store in the States but much more expensive. More expensive than a quilt shop too! I bought a little bit of stabilizer then went to Joann and bought 2 bolts of it for a fraction of the price. Lucky I live in a border town and it takes about 40 minutes to get to a Joann store. Here are my numbers for the last 3 weeks.
Fabric used these weeks: 5.91 yds
Fabric used YTD: 86 yds
Fabric added these weeks: 15.2 yds
Fabric added YTD: 91.11 yds
Net fabric busted: –5.11 yds
I signed up to create a block for a Canadian Quilt Along. It's due mid-May and even though I already have the block designed, I needed to get it into EQ7. I don't know how to use the program at all but I did a crash course, design as you go. Lots of cursing involved! Anyway, it's done, saved to a PDF and ready to be emailed to the host. I don't think this software is user friendly and I don't know how all these people even figure it out. I usually just use a piece of paper, draw it out, add sashing, add borders and then assemble. I'm pretty good at figuring out sizes and such, even remembering the seam allowance when adding borders. I guess you can teach an old dog new tricks. Now I'd like to learn how to add a pieced border in EQ7 as I've seen a few really intricate ones.
As for my 15 Minutes to Sew, let's say I sew a lot. I average at least 22 hours per week.  Sometimes I'm not actually sewing but like last week, working on EQ7 or helping other people sew at my house. I don't count reading blogs or computer time even though my computer is in my sewing room.
April 15-21: 16 hours
April 22-28: 18 hours
April 29-May 5: 27 hours
I'm linking up with Kate at Life In Pieces for 15 Minutes to Sew and  Donna at qiultpaintcreate for the Stash Report. Have a great week and enjoy this beautiful weather. I think spring is finally here!
And here it is, the Jelly Roll Flimsy. All ready to be quilted.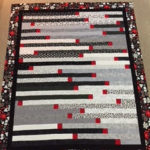 Linking up with Freemotion Quilting by the River. I hope I did that right.