Archive for the 'Quilting' Category
August 19th, 2019 - I tried
To not buy any more fabric. But I couldn't do it. A lady on FB Marketplace was getting rid of fabric and I went to look and guess what? I bought about 28 yards of it at a great price.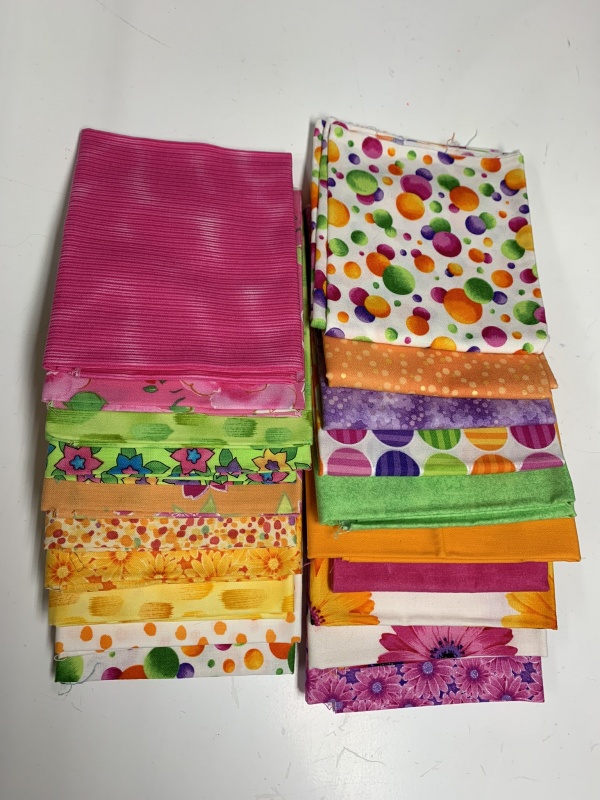 There are dots and chevrons and more dots. I know there is a quilt I want to make using dots and now I have them. Eleven FQs of the same size dots and the same colours of chevrons in FQs. Now to just find that pattern.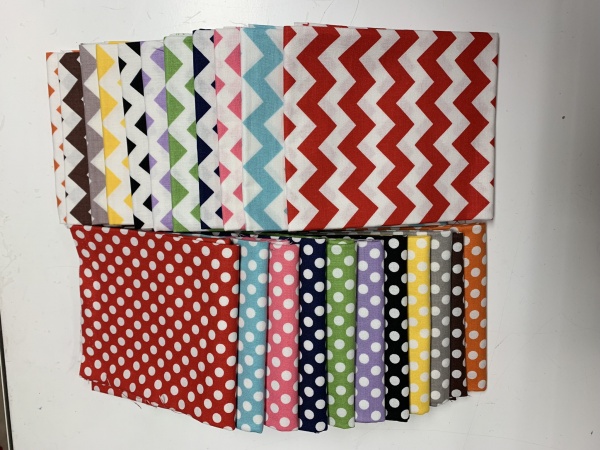 On the 15 Minutes to Stitch front, well let's say that it hasn't been happening here. Barely stitching in some weeks since I last posted.In the last 6 weeks, I've only averaged 13.6 hours per week and if you know me, I usually stitch around 25 hours per week. I think I didn't stitch for one week at all. Shame! Anyway, now I'm back in the groove of things.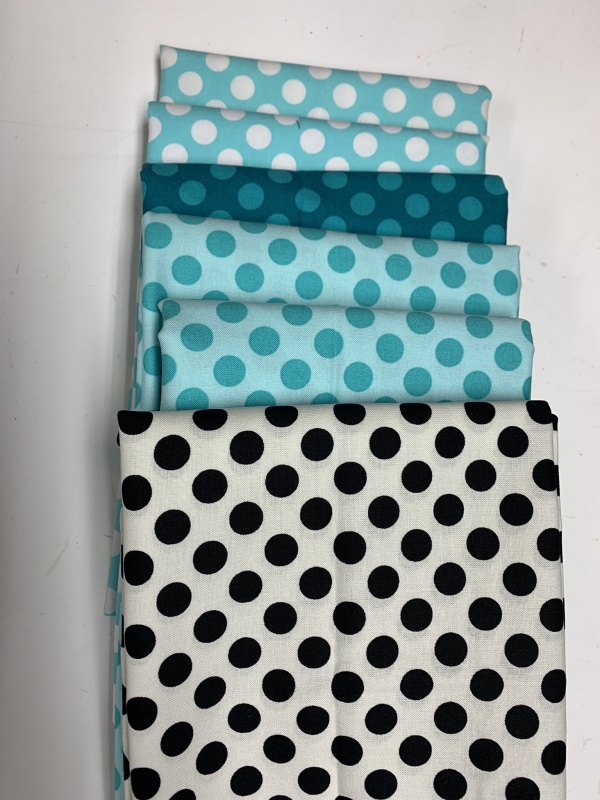 I bought a new machine in March and finally figured out a table for it. My hubby talked me into one of those 'sit/stand' tables that computer people use. Both him and my son use one at their workplaces. So we checked around the office furniture stores and boy they are expensive. When we got home, I started looking around on the internet and found just the frame for $299- CAD and ordered it. Once it came, it was a cinch to assemble, no arguments during this process at all. Then it sat in my sewing room with no top while we tried to decide on which top would work. The machine I have, Bernina 770, is quite heavy and from all I have read, you have to make sure your table doesn't bow or the embroidery module won't work. Hubby found a 30″ by 60″ by 3/4″, finished on all sides, table top at Home Depot for $36-. Now it's all set up and I can sew at any height. I have gotten used to sewing at table top height and this is not good for your body. Now with the table lower and at the correct height, I feel like it's too low. But it works and that's all good!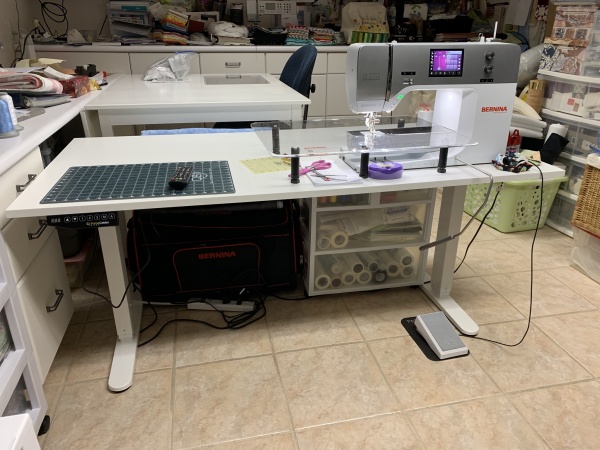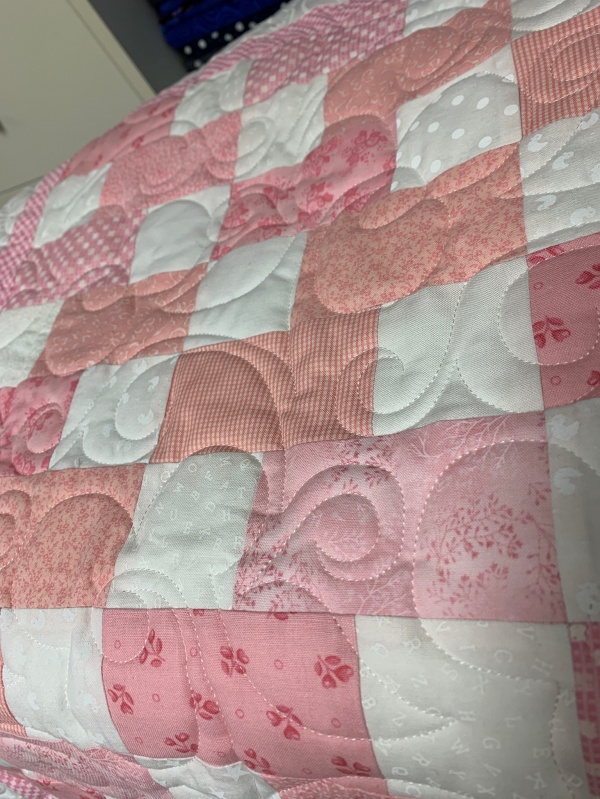 Now for some numbers
Fabric used since the last time(7 weeks ago): 14.04 yds
Fabric used YTD: 106.95
Fabric added since the last time: 32 yds
Fabric added YTD: 127.5 yds
Net fabric busted: -20.55 yds
If only I didn't buy any fabric! Oh well, that is life and I just love the fabric!
In the 15 Minutes to Stitch challenge, most weeks I stitched around 10 hours except last week. I managed to get 23 hours of stitching done. That included a few hours at The Mercantile in Chatham ON using their longarm machine. This week I go back on Thursday to quilt another quilt. I need one of these machines but sadly have no space for one.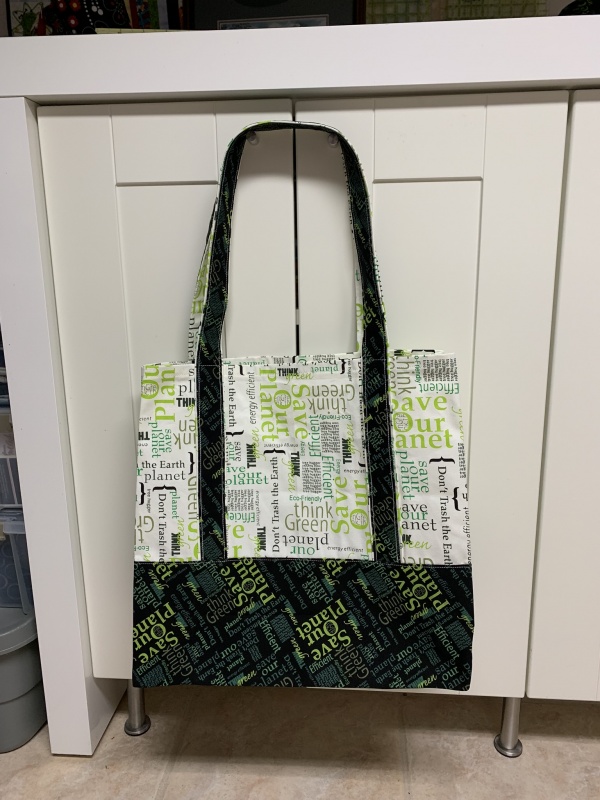 I hope everyone enjoys these last few weeks of summer. It has gone by all to quickly to actually enjoy. But I love the fall with cooler temperatures and it's just around the corner.
Have a great week!
There is a lot going on here at The Quilting Junkie lab. I've been busy, made 5 wallets and 2 retreat bags. The large retreat bag is huge!
All the wallets are listed in my Etsy shop, The Quilting Junkie.
My stash was getting used up. I count it as I cut it up. I kitted up all the flannel I received from Northcott for comfort quilts. One down, 3 more to sew up and get quilted.
My friend and I went to Quilt Canada in Ottawa ON, 2 weeks ago, and it was great. I really liked all the quilts, lots of inspiration. I didn't take one picture because there are tons already posted on social media. We met quilters from all over Canada. Very cool! And I didn't buy any fabric and I didn't even take the free fabric from the Trend Tex booth. My best purchase was the embroidery module for my Bernina 770. I got the absolute best deal ever! Now I need to finish up a few things and get that monster out and give it a whirl. It's at least twice the size of my old one.
In the stash department, I was doing really good. Almost back into the positive numbers but then I won a stack of fat quarters at the guild meeting. Check out these numbers.
Fabric used this week: 25.94 yds
Fabric used YTD: 92.91 yds
Fabric added this week: 2 yds(8 fqs I won)
Fabric added YTD: 95.5 yds
Net fabric busted: -2.59 yds
I know it wont take long to get back in to the positive numbers. I have a dress or two to make for my grand-daughter. Maybe this week I will get that done.
As for the 15 Minutes to Stitch Challenge, that's a different story. The first week, I stitched every day for a total of 31.5 hours. Not bad right? Well the next week which was Quilt Canada week, I managed to stitch for only13 hours, missing 3 days of stitching. Last week, I stitched 15 hours, again missing 3 days. But I made 5 wallets and 2 retreat bags,so I did get a few things accomplished.
I'm linking up with Donna for the stash report at quiltpaintcreate and with Kate for the 15 Minutes to Stitch Challenge at Life in Pieces.
I hope everyone has a great week!
June 2nd, 2019 - MIA
It's been a while since I have posted. Life!
I have many irons in many fires right now. My stash has taken a hit! Lots of fabrics purchased and the best of all, lots of fabric received.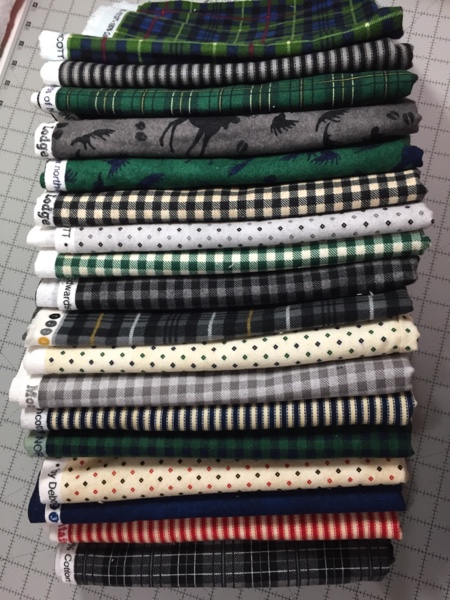 I wrote an email to Northcott for some man-themed fabric for comfort quilts and they sent me this pile of flannel. Mountain Lodge fabric line and it is beautiful! I decided to cut them up into 10″ squares and make them up in to this quilt top. I managed to get 4 quilt tops with some leftover strips for borders or binding.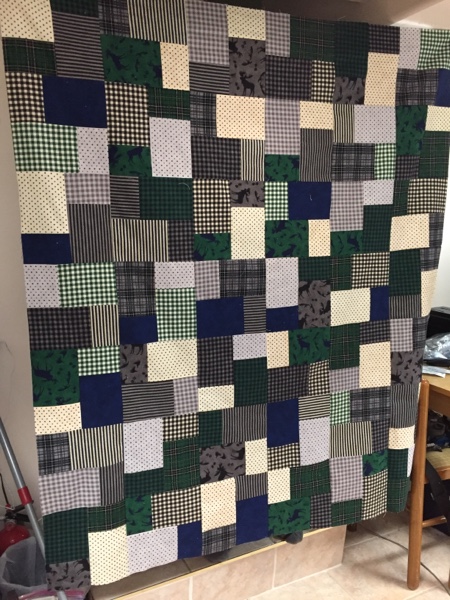 It needs a couple of borders. I bought some Northcott black flannel for the first border and then I will use some leftover strips for the outer border. Then I bought some wide-back Northcott flannel for backing. Quilt them up and The Quilters Three will have 4 guy comfort quilts to donate. Beautiful fabrics and super cozy!
I also have 2 commissioned quilts to make. One is a remake of a BOM from the local quilt shop or something along the same line in similar colours. I can't find the pattern so I used blocks from the Block Tool book and it looks great. Just need to get it quilted and that's another finish.
The second commissioned quilt is a tumbling block pattern. Not the easy one either. I'm not into y-seams so I found a pattern on Etsy that is strip pieced. Well, I made a sample block and the corners don't meet up. So I had to make the strips 1/4″ bigger and appears to work out. I emailed the pattern company and I am waiting to here back from them.
Now for some numbers
Fabric used this week: 9.08 yds
Fabric used YTD: 66.97 yds
Fabric added this week: 67.7 yds
Fabric added YTD: 93.5 yds
Net fabric busted: –26.53 yds
I think once I get all these half-finished projects logged in, I will be in the good. In my fabric added, I did include the donation fabric from Northcott, 16.6 yards of it. A big thank you to Northcott!
As for the 15 Minutes to Stitch, it's hard to make yourself sew every single day. After babysitting the grand kids, I can't seem to stitch anything. They tire me out. Mentally! And summer is coming. I will have to be on my game to keep up with them. But I'm not complaining, soon they will both be in school full-time and I will miss them a lot.
In the past weeks, I have managed to stitch on average, 19.5 hours per week. Not bad for missing a couple of days each week. I love marathon sewing days. I feel like I get so much accomplished. Today, I'm off to my friend's house to babysit her cat and do some marathon longarm quilting.
I'm linking up with Donna at quiltpaintcreate for the stash report and with Kate at Life in Pieces for the 15 Minutes to Stitch challenge.
That's it. Have a great week!
And I leave you with a little project I made for this sweetie pie. It took me hours to sew those 3 ruffles on.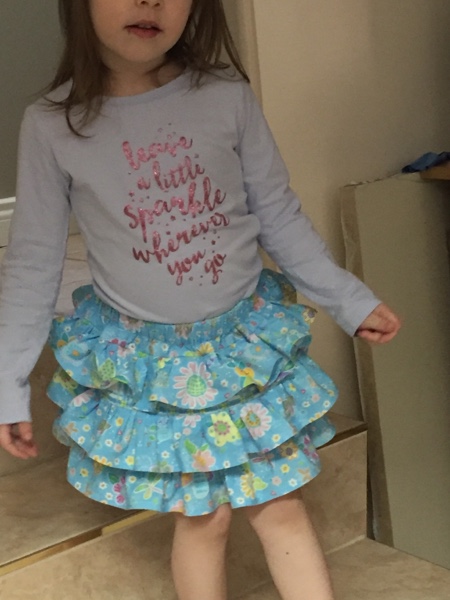 That's right. Last week was pretty scrappy. You know I've been cleaning my sewing room, trying to organize the chaos and there's this bag of binding scraps. I use up all the little black pieces but what do I do with the rest. Well this was my first project.
I started with the brights, pressing and organizing by width and length. I thought I should make a rainbow rug for the spare room. Not all from scrap binding, but all except one yellow strip are from the scrap bin.
Now what to make with this pile.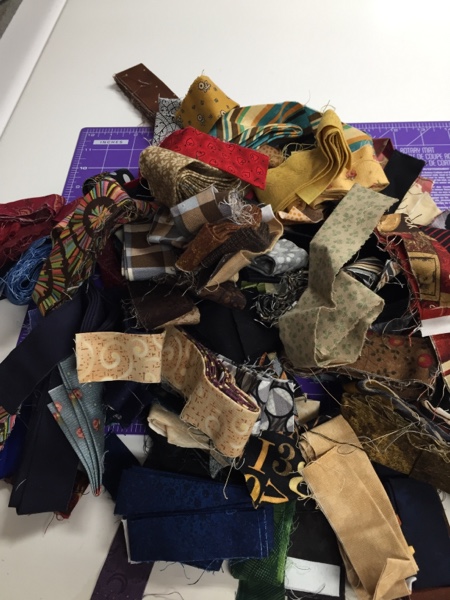 I thought these were mostly guy colours. We need a guy comfort quilt. What about a scrap binding quilt. In guy colours. Yeah that's what I made!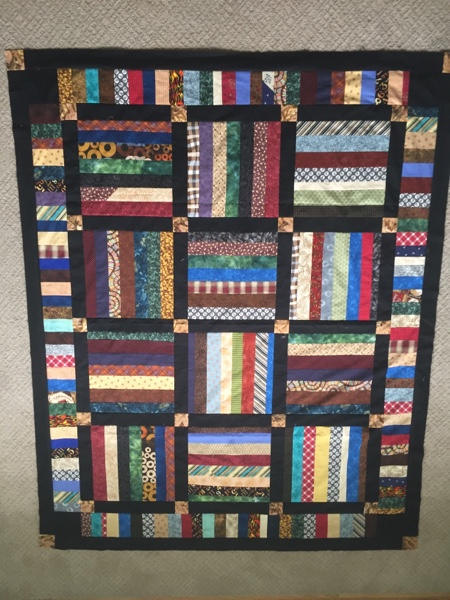 Not all fabric used was a piece of scrappy binding. The black sashing and cornerstones are from my stash. I will be making a scrappy binding to go with it. Maybe that bag will finally be empty.
Ciao!
I finally finished up Spool Snowmen. I had to sew on 23 buttons for their eyes and noses. I didn't have the right needle and my fingers are sore from trying to push a blunt ended needle through the fabric and batting.
Then I blanket-stitched their noses on. First I had to make them. The pattern has a button pack available but it's quite pricey so I thought I would use wool. But I didn't have any orange wool, just some yellow. I ended up colouring the yellow wool with a orange sharpie. My fingers look like I was in the Cheezies. I love using what I have on hand. Makes me feel good!
The eyes and noses are from my button find on FaceBook. Someone was selling a giant box of buttons for $40- and I bought it. I spent a day sorting out the buttons by colour and clipping off any threads I found. Once again my hands were filthy. I make sure to wash the buttons as I use them.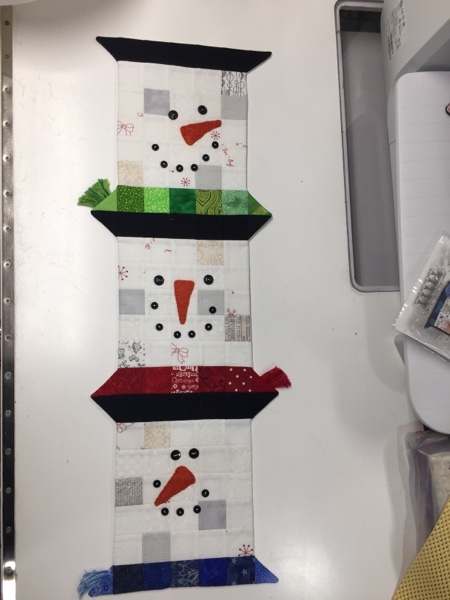 I also finished up the stitching on this Crabapple Hill project.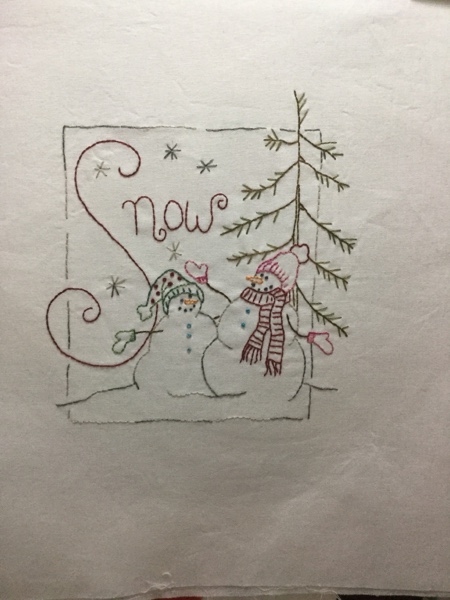 Now all I need to do is decide pillow or wall hanging. Then get it done!
I finished up a couple of Christmas table runners/ wall hangings. They needed to be quilted and bound. That's 3 things off my UFO list.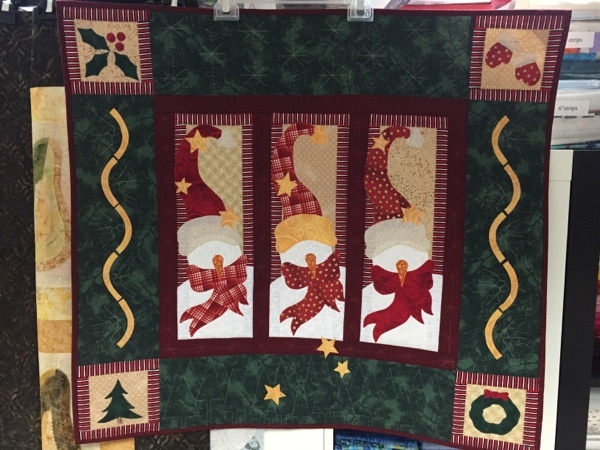 I put a lot of quilting in to the Snowman Trio. It was all layered and basted, ready to be quilted. I blanket-stitched the larger raw-edged applique and straight-stitched the small pieces. A little stippling in the background. The side borders are holly leaves, the top border is snowflakes and spirals from a Lori Kennedy book and the bottom border is layered trees that I chalked on. I really like how it turned out.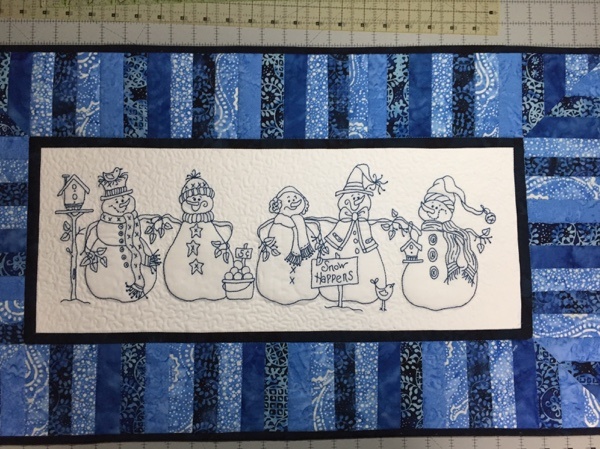 This one, Snow Happens, was getting done until my old machine started skipping stitches. I must have ripped out the stippling 3 times before I gave up. On the borders I stitched-in-the-ditch and then it's all stippled around the snowmen. Binding on both pieces is all by machine. I love my Bernina #71 foot for binding. It is a lap-seam foot but someone figured out how to use it for binding. What a genius! I love how the binding turns out. And instead of spending hours hand-stitching the binding down, they are done! Now to move on to other exciting projects.
As for stash busting, I failed. Oops! I made a quilt for a shop and got paid in fabric. That's okay as I do have a plan for it. More wallets. Just in time for Canada Day.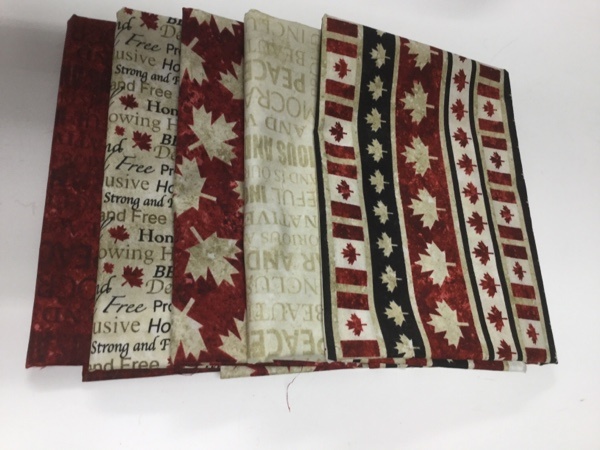 Now for some numbers.
Fabric used this week: 6.32 yds
Fabric used YTD: 57.89 yds
Fabric added this week: 6.6 yds
Fabric added YTD: 25.8 yds
Net fabric busted: 32.09 yds
And on the stitching front, I have managed to stitch 27 hours this week. I really range in my daily stitching times. Some days it's only a hour or 2 but then there are those marathon days where I get in 5 to 8 hours. I love those days the best!
I'm linking up with Donna at quiltpaintcreate for the Stash Report, with Kate at Life in Pieces for the 15 Minutes to Stitch challenge and with Kathy at Kathy's Quilts for Slow Stitching Sunday.
Have a great week!
Just a quick post. My mom broke her leg so I've been running back and forth from the Complex Care place and home. Craziness! And I have managed to sew every day fro the last 2 weeks. Imagine that! Lots of hand stitching has been done while I sit around waiting for doctors and geriatric nurses to meet with us. And I'm still not finished my latest embroidery. Almost done but not yet.
One the stash front, all I've been doing is quilting a few quilts while my friend was away and getting the bindings on them. Three quilts out of the 6 quilted in the last month are already in use. I did sign up for a monthly box of goodies and I'm thinking I don't need it but the price was right. Maybe quilty gifts for a few quilty friends. Or wallets in funky new fabric. Who knows? And I didn't include it in my totals yet. Here are my numbers.
Fabric used this week: 1.94 yds
Fabric used YTD: 51.57 yds
Fabric added this week: 0 yds
Fabric added YTD: 19.2 yds
Net fabric busted: 32.37 yds
Linking up with Kate at Life in Pieces and Donna at quiltpaintcreate.
Yesterday, I finished up the binding on 2 quilts. I have one project on the go but it doesn't interest me today. I really should be cleaning the house and that doesn't interest me either. But I saw a picture of a quilt on someone's blog yesterday and I'm all gun ho to make it.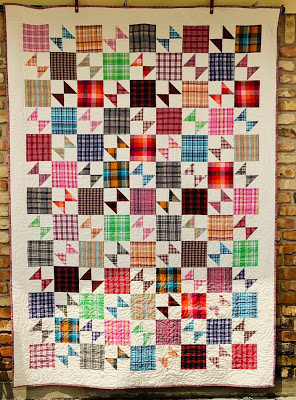 It's from Jamie at L' FAIR QUILTS I decided to make it a little smaller. Jamie's version shown here measures 62×86 and that's a little large for comfort quilts from The Quilters Three. I cut 2 rows off to make it 62×74, a perfect size. I need 50 plaids for the 6.5″ and 4″ squares. I dug around in my stash and I have 55 different homespun plaids. How cool is that! Now to start cutting all those fabrics. I will cut 2 at the same time. Our group needs some guy quilts and this is perfect.
And it's not fabric. Although I did sign up for a monthly box of goodies from Atelier Fiber Arts in Canada. For $35- CAD, which includes shipping, I get 2.5 m of fabric, thread and some other goodies. I thought it was a great deal and it's small enough pieces of new prints that would be ideal for wallets. I think I will do this for the rest of the year and see how it goes. Some of the fabric and goodies will be gifts.
But the new addition is a Bernina 770 QE.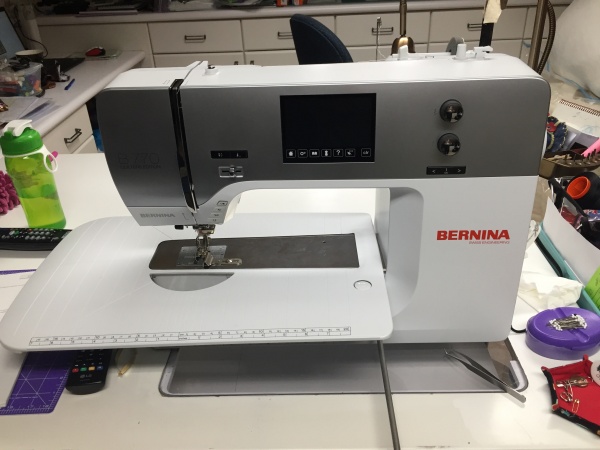 I'm very excited to have this awesome machine. There's a big learning curve here but lots of YouTube videos to make it all so easy. I need to get my table reworked and have the machine set in. Once I get a large piece of Lexan (thick plexi-glass), my neighbour will do the changes for me. He is the best neighbour a person could have. He made my table originally and is ready for this challenge. My son works at a tool shop and will have the Lexan cut to the exact shape to fit the bed of the machine. Then the sewing and quilting will really begin.
I have not done much sewing as both machines were in for service. The 770 got a clean bill of health seeing as I bought it used. How can a person have this machine and want to get rid of it? I jumped at the opportunity. Anyway my Bernina 450 needed service and cleaning. It will be my back up machine and will be used for embroidery as I didn't get the module for the 770.
In the stash department, I did a bit of sewing on my Featherweight. I had to sew something. So I started sewing 2.5″ squares together and made this quilt top.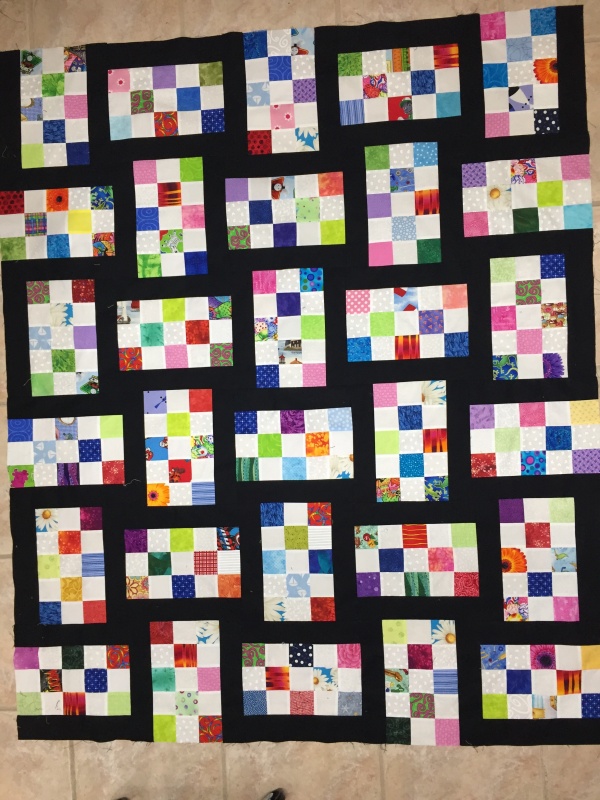 Just thinking I need to put a few borders on this to finish it up. The only stash I used was the black, the rest from the scraps. Now for some numbers.
Fabric used this week: 1.17 yds
Fabric used YTD: 49.63 yds
Fabric added this week" 0 yds
Fabric added YTD: 19.2 yds
Net fabric busted: 30.43 yds
I bought a couple of king-sized flat sheets to use for my Dear Jane quilt top and backing but I'm not including them in any totals. I also bought another sheet to use as a backing for another quilt. We will see how that goes once I get it quilted this week.
On the 15 Minutes to Stitch Challenge, I have managed to stitch 24 hours in Week #1 and 28 hours in Week #2. Only missed one day of stitching. Lots of organizing and batting cutting going on in my sewing room. I need to make room for that big machine.
I'm linking up with Kate at Life in Pieces for the 15 Minutes to Sew Challenge and with Donna at quiltpaintcreate for the Stash Report.
Have a great week and happy stitching!
And it does not appear to be getting any smaller. I wanted to finish up some small projects that need a little quilting but my machine needs servicing as it's skipping stitches. So I started cleaning up my scraps from a few projects.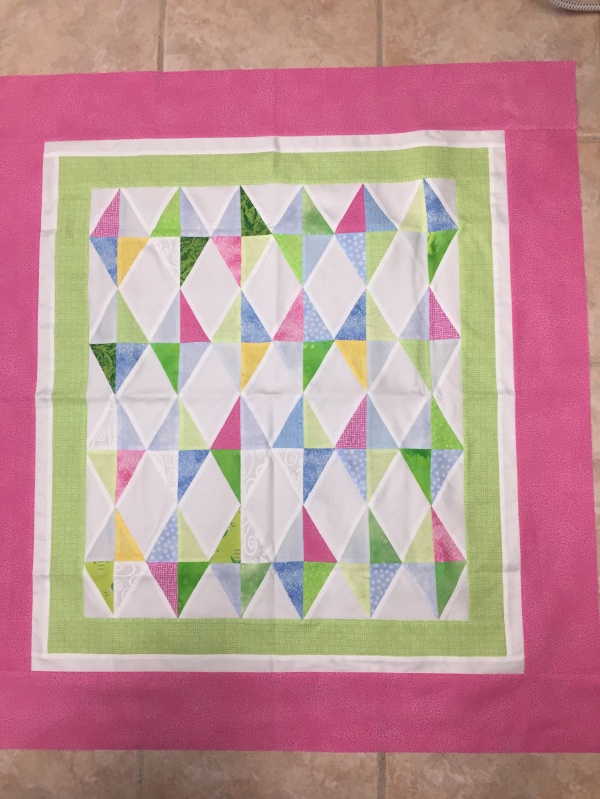 I had all these weird angle pieces from the Sheep Shape quilt and I thought I should sew them together. I made the diamonds and then had to figure out how to make the solid white pieces. I looked a few things on the net and needed a specific ruler. Checked my ruler list on my phone and low and behold, I had the right ruler! That's the second time the ruler list has come through. Anyway, all the white is from the scrap bins. The only fabric from the stash is the pink and green borders.
Then I decided to work on a kit. Oh but this kit needs some crazy quilt stitches. My machine did not skip a stitch during this process. Only when straight sewing or trying to do a little free motion.
I made this wall hanging which ended up being way too big for any walls in my house. It's not quilted yet so I'm thinking of taking it apart and maybe making a 4 patch table topper/wall hanging and a few pillows. Very undecided about it. Here's a close up of one of the blocks.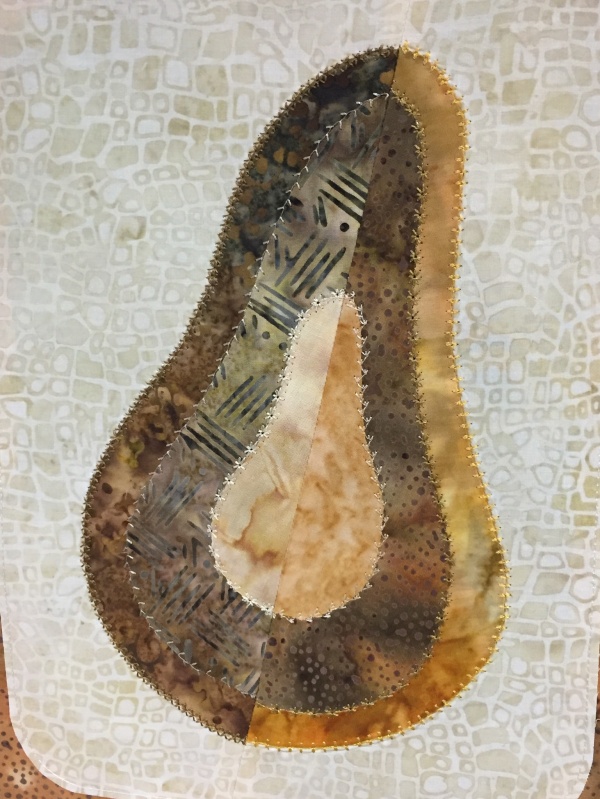 I love all the stitches along the edges. Most came out great but a few really pulled the fabric in. I didn't use stabilizer but lots of starch. Next time, I will use a stabilizer. I also cut out 2 wallets that sit there, half sewn. I got tired of unpicking the top-stitching. I have since taken my machine in for service. I'm hoping in the upcoming weeks, I will be able to cut out a few kits and get them all prepped for sewing. Now for some numbers.
Fabric used this week: 6.17 yds
Fabric used YTD: 48.46 yds
Fabric added this week: 0 yds
Fabric added YTD: 19.2 yds
Net fabric busted: 29.26 yds
Now on to the 15 Minutes to Stitch Challenge. During the first week, I managed to stitch every day for a grand total of 23 hours. Last week, I only managed to sew for 10.5 hours. I missed 3 days but in my defense, I do have some sort of cold thing and am on antibiotics, trying to clear up the congestion in my lungs. I don't feel all that bad but I don't feel like sewing.
I'm linking up with Kate at Life In Pieces for the 15 Minutes to Sew Challenge and with Donna at quiltpaintcreate for the Stash Report.
Have a great week and enjoy this spring like weather. I hope it lasts!
I finally have the time to do a blog post. I have not posted for 4 weeks. My plan was to post at least every 2 weeks when my grandkids are not here but sometimes that doesn't work. Oh well. The only good thing is that my numbers look awesome and then you realize that's for 4 weeks. Still, I managed to get some sewing time in except for one day out of 4 weeks. Overall, I stitched on average 3.5 hours each day. And I have not made any dents in this stash.
I made backings for 2 quilts out of the flannel I purchased in January. I made a binding for a comfort quilt. Then I just had to make this quilt from a picture I saw online.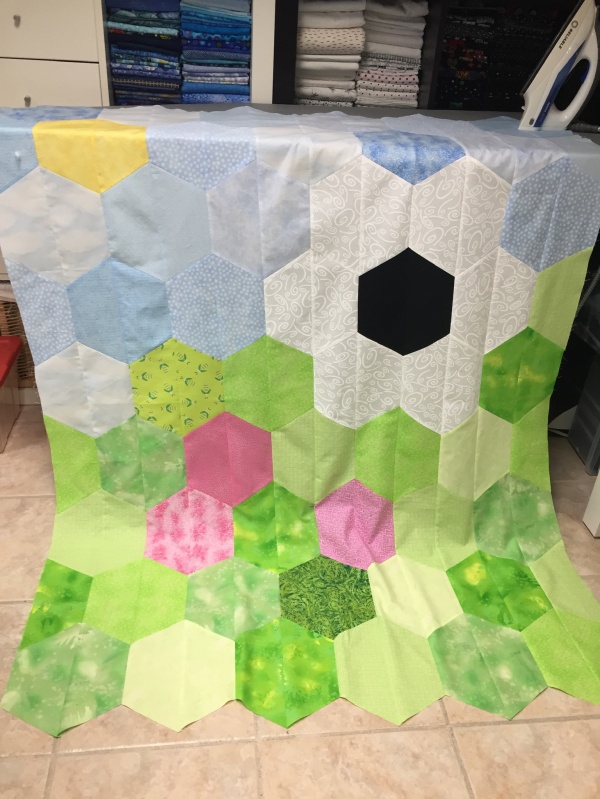 It's huge. This is why patterns are good. Sizes! I think it's called Sheep Shape. Anyway, it will be for a very large baby.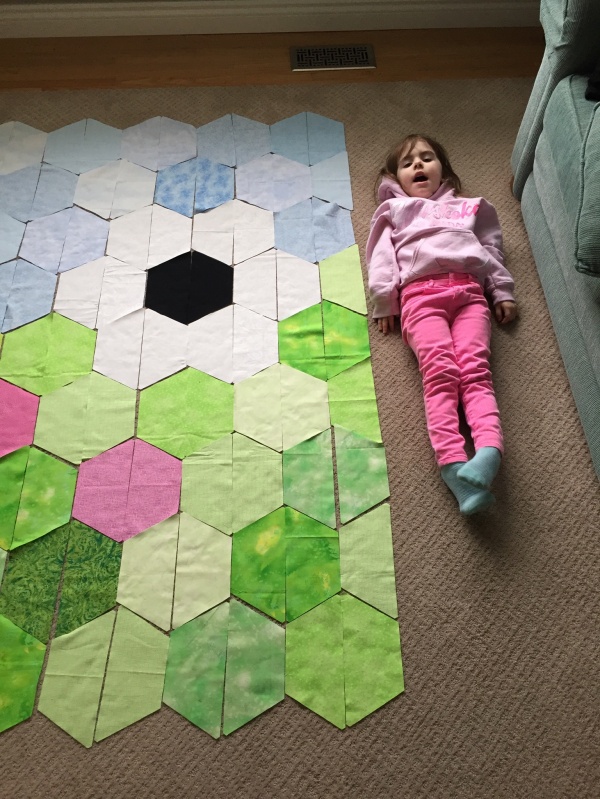 Then I decided that I cannot make any more quilt tops until I get some of them quilted. So I started working on some kits that I have in my stash.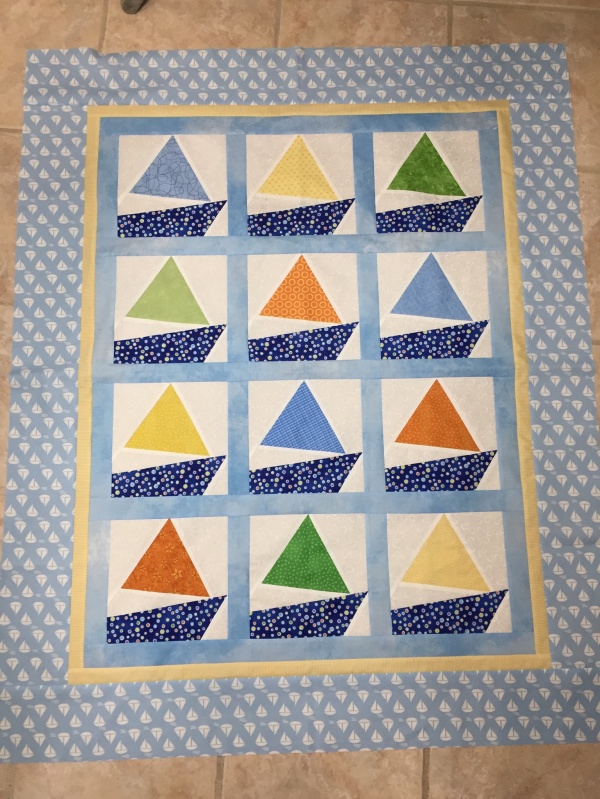 Ship Shape. And it's a quilt. This is a paper pieced project that I thought was hard. Seeing as there are not that many pieces in each block, I was done in no time. On to the next kit.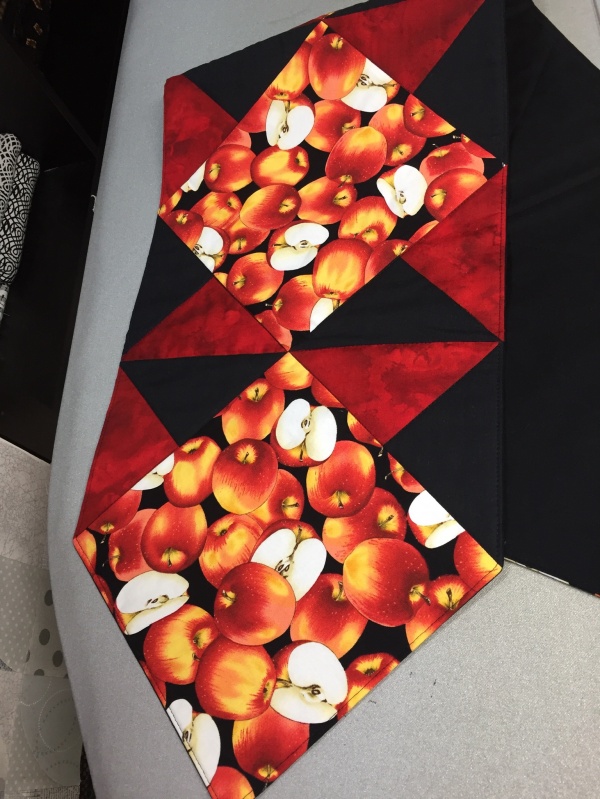 Sew Square table runner (folded in half) Completely finished, just waiting for the fall to use it.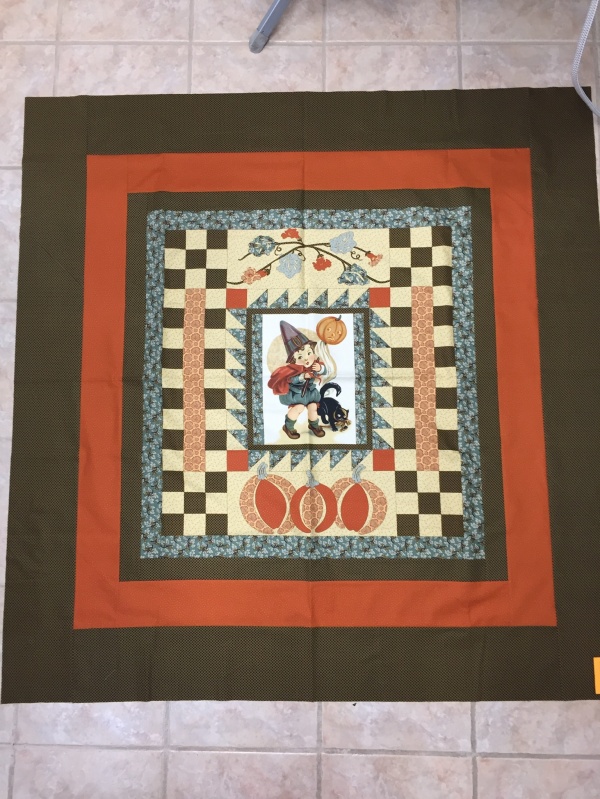 This little kit took me a whole 2 hours to make. And another quilt. There's a date stamp in the selvedge, 2007, so I've had this for a while. Wonder why I never made it.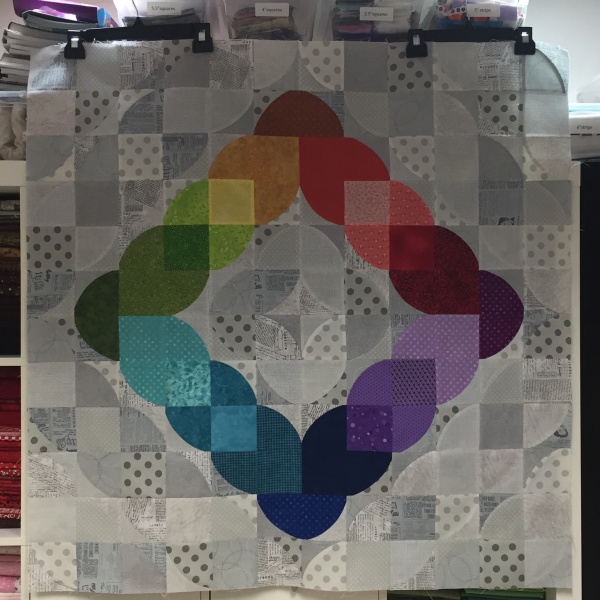 And another quilt! I just finished this one on Saturday. It's only been in the stash since last fall. I can't wait to quilt it and hang it up in my dining room! I love this quilt. Maybe that's why it's called Colour Love. It's from the Mini Wonderful Curves book using the QCR Mini. I added a few fabrics as some of the colours in the kit didn't work for me.
I better work on the kits that are table runners and smaller things that I can quilt myself. The "To Be Quilted" list has 30 items on it. Some I can do myself but my machine needs to be serviced as it is skipping stitches. I check all my seams to make sure there are no skipped stitches. Funny how I was just thinking that it must be about time to get it serviced and then it starts skipping. Then the service icon comes up. And the place I take it to is about 2.5 hours away. I was hoping to take it in when the weather gets nice. If that ever happens!
Now for those numbers.
Fabric used since the last time: 24.72 yds
Fabric used YTD: 42.27 yds
Fabric added since the last time: 2.2 yds
Fabric added YTD: 19.2 yds
Net fabric busted: 23.09 yds
I'm linking up with Donna for the Stash Report at quiltpaintcreate and with Kate at Life in Pieces for the !5 Minutes to Stitch Challenge.
See you next time you visit. Have a great week!