Guess what? I finally bought a long arm. Woo Hoo!!!! But it's not completely reassembled yet. It's a Gammill Statler Stitch Supreme and it is gigantic. A 14′ table and a 36″ throat. Completely computerized too! And I don't have a clue how to use it but I can't wait to give it a whirl. I bought it from a lady who is going out of business for health reasons and I got the greatest deal on it. It needs a new updated computer with Windows 10 and to be professionally serviced. I had to put it in my mom's basement as it doesn't fit in my house and our garage needs to be fixed up before it goes in there. Maybe we will get it moved next year.
In the fabric useage department, I am terrible. I was really trying to get my numbers in to the positives but stores lured me in with new fabrics. Quilt instructions got me with incorrect fabric requirements. I just had to buy fabric. On a good note, I cancelled my Stash Builders Box that came in monthly with 2.77 yards of fabric. I was thinking it would be cool to get fabric outside of my normal colours but in the end, I don't really like what I was sent. Now I need to use it up and get rid of it.
I was going through my stash and found a few panels ready to sew up. I had 3 of these with the coordinating fabric. Now they are in the "To Be Quilted" pile.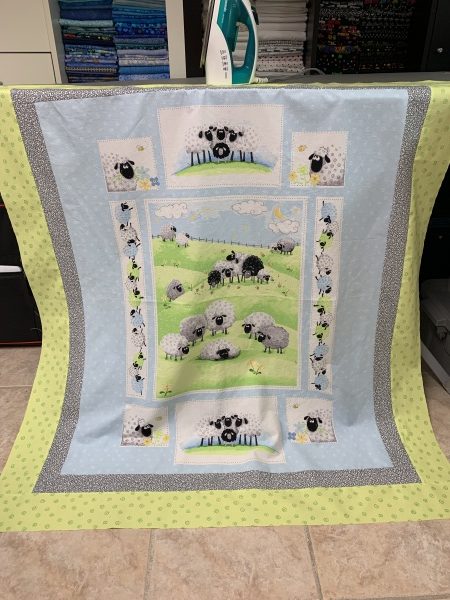 I also bought a layer cake, jelly roll and fat 8th bundle in all the same fabric and cut out 2 quilt tops. I sewed up one and saved the other for a quilt retreat.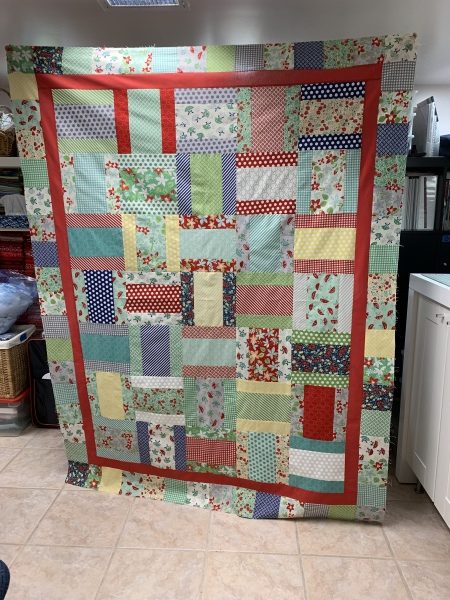 Now for some numbers
Fabric used this week: 32.5 yds
Fabric used YTD: 139.45 yds
Fabric added this week: 40.49 yds
Fabric added YTD: 170.76 yds
Net fabric busted: -31.31 yds
I am sure once we get the long arm up and running, I can start quilting my big pile of tops. Most needs backs so I'm hoping that my numbers will be in the positives by the year end.
I also took a class put on by the Erie Shores Quilt Guild which I joined last year. It was taught by Melanie McDonald, a certified Jacqueline DeJong teacher. The quilts in the Be Colourful line are awesome. All paper pieced.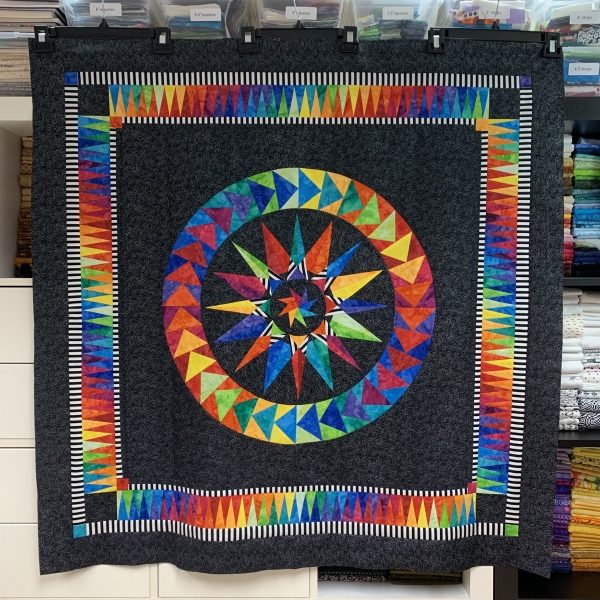 This is Chasing Dreams. I worked on it until it was done which took me the whole week after the class. I didn't want to forget anything I learned in the classes. I even watched a few videos as refreshers. I don't think I would ever make another one as it was really an intense paper pieced project.
I also rented time on a long arm, which I don't need to do anymore, and quilted up a quilt for my grandkids. It's a Holly Bunch pattern, Moving Day, which uses up 12 fat quarters, a Holly Bunch, from Hearts to Holly quilt Shop in Charlevoix MI. I bought it last year and wanted to make sure it was done before Christmas.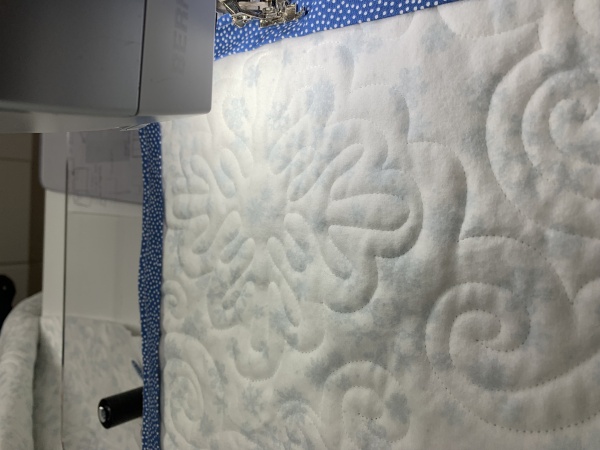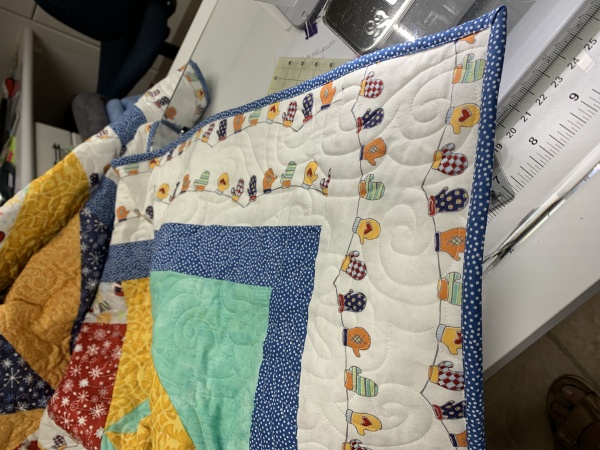 I don't know why I don't have a picture of the entire quilt and it's already folded up and put away for Christmas. I made some pillowcases last year or the year before with this mitten print on the cuff so now they have a matching quilt. One usually makes the quilt first. I'm just a little backwards.
In the 15 Minutes to Stitch challenge, I have stitched or tinkered in my sewing room every day in the last 5 weeks except for 1 day. I have managed to sew on average for 30 hours per week. I am not watching my grandkids during the week anymore as they are both in school which equals more sewing time. They come on the weekends and their dad is here, so he gets to do the dad thing. I usually only watch them if he works or goes out. They are growing up so fast!
I'm linking up with Donna for the Stash Report at quiltpaintcreate and with Kate at Life in Pieces for the 15 Minutes to Stitch challenge.
Have a great week and enjoy this cooler weather. I love fall!
3 Responses to "The Machine"
Sunday Stash October 6, 2019 | quiltpaintcreate Says:
October 6th, 2019 at 3:23 pm

[…] No fabric added this week. I finished the Holly Runner, but not until later in the week. I also finished one of the two pillowcases using the coordinating Christmas prints. I'll finish the other one today but will count it out next week. It feels good to move in the right direction, finishing projects and using fabric. Both projects are on the October Short List. Fabric Added: 58.2 Fabric Used: 20.625 yards Net Fabric In: 37.575 yards How did you do this week? 1 Chrisknits 2 Meloney 3 Julie in GA 4 Mary-Kay […]

Donna Says:
October 6th, 2019 at 3:27 pm

I'm jealous! We don't have room for a long arm in our house, so I feel your pain. Good job on the class quilt. She taught at my LQS both last year and this year. Those quilts are a lot of work.

Kate Says:
October 8th, 2019 at 7:10 am

Congrats on the new sewing buddy. That will be really, really helpful in moving things along. You've been busy, great metrics on the stash and the sewing time.
Leave a Reply