Archive for April, 2010
I went shopping but nothing like Judy did. I only bought 2.66 yards and it is for the binding on  a few quilts. I also bought a few books and I should considering stash busting on them. I have way too many books but I love looking at the pictures of quilts and they are great for inspiration.
Fabric added this week: 2.66 yds
Fabric added YTD: 55.2 yds
Fabric used this week: 5.45 yds
Fabric used YTD: 100.29 yds
Net fabric busted: 45.09 yds
 See, I reached the 100 yard mark but now I need to use up 55 yards or so and not add any more fabric and I'll be at my year-end goal. So 55 yards is about 6 or 7 quilts for the rest of the year. I wonder if I can find enough fabric in my stash that goes together to accomplish this. Time to get busy and finish up what I've started and get working on my goals.
Mary-Kay
 No sewing but I managed to cut out a quilt and a bag this morning. Anything to make it look like I did something. Actually I was supposed to be working on these 2 projects last week but laziness was the main priority. That's my excuse and I'm sticking to it. Now if only I could stick to my plan to buy no  fabric unless it's absolutlely necessary. Yeah right!
Fabric added this week: 4.33 yds
Fabric added YTD: 52.54 yds
Fabric used this week: 6.4 yds
Fabric used YTD: 94.84 yds
Net fabric busted: 42.3 yds
 I know I'll be buying some backing for my Lucky Stars. It's a queen size and all batiks and it needs a special backing. It could possibly be a wedding gift for the a  niece or nephew. I don't even have enough white  fabric for a pieced back. I know the exact backing I want for it and it's an extra-wide fabric so no piecing there. But that's for next week.
Have a great week and try to get some sewing done. I know I'll be sewing up a storm. But only on Monday and Tuesday. The rest of the week, I'll be burnt out. One good thing, my mom doesn't have any appointments this week, so no mad scambling to get done early.
Mary-Kay
Not much going on in this sewing room. The only fabric I used was for my "To Good To Cut" challenge and a BOM that I had picked up last month. But I was a naughty girl. I bought a whack of fabric. 19.27 yards of it. A lot of it is kind of for the stash but I intend to make a few baby quilts to have on hand. I also picked up some fabric for a quilt I have in mind. So none was "just because" fabric.
Fabric added this week: 19.27 yds
Fabric added YTD: 48.21 yds
Fabric used this week: 1.13 yds
Fabric used YTD: 88.34 yds
Net fabric busted: 40.13 yds 
 Hopefully this week, I'll get some sewing done. I only have appointments on Monday and Tuesday.It's supposed to rain for 3 days, so those will definitely be sewing days. Have a great week!
Mary-Kay
Well really it was dessert. I made 2 Easter pies from a recipe  Judy posted over at Patchwork Times. They turned out great!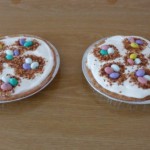 Don't they look yummy? I took one to my mom's house and one to my in-laws for their dinner. I think they were soo cute. And now I should walk after eating all that food especially the desserts.
 I hope you have a good evening.
Mary-Kay
I put more binding on this week. I still have 2 quilts that need binding and I really don't like doing binding. Very boring, mindless and boring. You can really tell how much I like it. But it needs to be done and then it's the label. Another one of those jobs. What I don't like is how long it takes and the hand sewing. I don't like the look of machine finished bindings so I guess I should just shut up about it. Ok!
Fabric added this week: 0 yds
Fabric added YTD: 28.94 yds
Fabric used this week: .42 yds
Fabric used YTD: 87.21 yds
 Net fabric busted: 58.27 yds
 I've been itching to start a new quilt but I have a few projects that need to be finished. I've been working on the "Too Good To Cut Challenge" and would like to get the top done today before we go for dinner at my in-laws. My sister is supposed to coming for a couple of days this week. My mom has a few appointments for her cancer treatment (good prognosis) and she wanted to be there for them. I have the week off, so maybe we'll get time to do some sewing in between.
Have a Happy Easter and a great week.
Mary-Kay