Well really it was dessert. I made 2 Easter pies from a recipe  Judy posted over at Patchwork Times. They turned out great!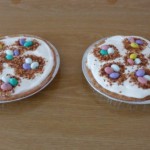 Don't they look yummy? I took one to my mom's house and one to my in-laws for their dinner. I think they were soo cute. And now I should walk after eating all that food especially the desserts.
 I hope you have a good evening.
Mary-Kay
One Response to "Easter Dinner"
Allie Says:
April 4th, 2010 at 11:59 pm

They do look good! Happy Easter, Mary-Kay!
Leave a Reply